The Wrong Team for Conservatives
For lawmakers on the right, there's little upside to joining the whip operation.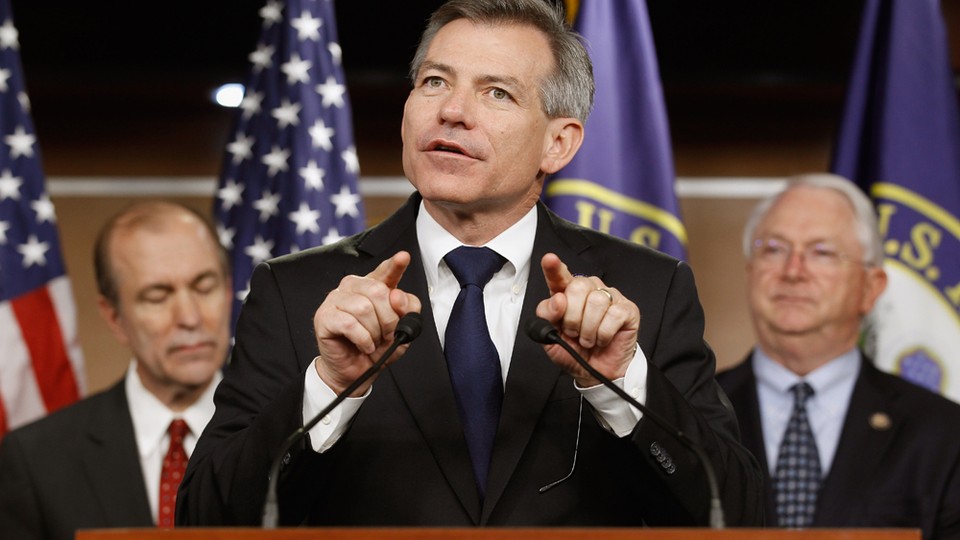 When a handful of House conservatives split from the Republican whip team earlier this year, few on Capitol Hill were very surprised. What was more surprising was that anyone from the party's rightmost flank would want to be on the team in the first place.
Sure, there is a certain allure to being involved in the behind-the-scenes decision-making process and staying in the leadership's good graces. But as the gulf between GOP leaders and their most hard-line members widens, being part of the team has lost much of its luster—especially as leaders demand party unity on votes.
On a basic level for conservatives, the perks of being inside leadership may not outweigh the freedom of being outside it.
"In some ways, there's a certain level of communal acceptance around the whip team, but with it—whether it be real or perception—you lose a bit of your optionality," said Rep. David Schweikert, who served on the whip team from 2010 until disagreements caused him to part ways with leaders in 2011. "I think it's becoming more understood "¦ if you participate here, is that in some ways a dampening of your ability to express frustration?"
Reps. Jeff Duncan and Ron DeSantis became the latest GOP members to leave the whip team earlier this year, as Politico first reported, after Duncan voted against Speaker John Boehner in his bid to be reelected speaker and the leadership team decided to crack down on rebels. But their exits have members and staffers wondering who will communicate with their hardest-to-reach members if those voices are not included in the leadership orbit—and indeed whether there is a place for those voices in the leadership orbit at all.
Before the most recent departures, then-Majority Whip Kevin McCarthy booted Rep. Marlin Stutzman from the whip team in 2013 for voting against a rule to advance a farm bill that he viewed as fatally flawed. So while the policy is hardly new, the divide is now so pronounced that leadership insiders are hard-pressed to point to a single member of the whip squad who also identifies as one of the most conservative members of the conference.
"Obviously, it's a tool of the leadership, and it's an important position, but that's what everyone's got to decide: Is that a place for them?" Stutzman said. "I enjoyed it, but I felt that where the farm bill was headed—which ultimately did fail—was worth voting against the rule, and knowing that he was going to take me off the whip team."
Under pressure from constituents, conservative outside groups, and pundits, members are making the calculation that it is easier to operate on the fringes. That is a troubling trend, Republican sources said privately, especially as a group of conservative members, including some of the departing whips, considers a guerrilla strategy of threatening to vote down the rules for objectionable bills.
DeSantis said in an interview that he decided that his constituents in his Florida district are the ones who determine how he should vote on legislation, a stance that could not be reconciled with Majority Whip Steve Scalise's assertion that freelancing, especially voting against rules, will not be tolerated.
"They're the ones that send me here, and my voting card is going to be with them. It's not going to be with anyone else up here, and that's just how I've got to keep it," De Santis said. "If you saw, with the Boehner vote, there's a big gap between our voter base and our leadership up here. That's just not sustainable. "¦ I just don't think that gap can persist."
Still, both he and Duncan said that they maintain good relationships with Scalise and McCarthy. Duncan, for his part, said his responsibilities as a subcommittee chairman caused him to leave the team.
"There never has been any malice. It's just busy," Duncan said. "I just want to continue working on the things we worked on ... pushing conservative policies. And I just felt like, right now, given all the things I've got going on, it would probably be better to go a different angle."
Others, however, see that as a counterproductive attitude. Trent Lott, who was the House Republican whip from 1981 until he moved to the Senate in 1989, said he understands that the 24-hour pressures members face these days surpass what he dealt with as a member. But he said there is still value to being on the team.
"It's easier, in a way, to not be in a leadership and be critical of the leadership and score political points, but if you want to get things done, you should be in the leadership," he said. "A lot of these newer members that I could consider members of the 'Hell-No Caucus' don't understand what leadership is all about and how you get things done."
The whip team exists not only to twist members' arms into voting on tough bills, although that is part of the job. It also serves as an intelligence-gathering operation for leadership. The implications of losing an intimate connection to the party's far-right caucus have yet to manifest themselves, though they likely will as the party faces more difficult votes, including a funding measure for the Homeland Security Department and a debt-ceiling increase.
Sources close to Scalise insist he has a good relationship with conservative members, and that, in fact, he is one himself. After all, Scalise is a former chairman of the Republican Study Committee. But even that emeritus title may not do him much good, as a group called the House Freedom Caucus has formed as an even more-conservative alternative to the RSC.
"A diverse whip team is the strongest whip team," said a former House GOP leadership aide, speaking anonymously to discuss internal party dynamics. "You're losing people who are in touch with that part of the conference. You're losing those people's resources on both sides of the dialogue."
CORRECTION: An earlier version of this article incorrectly stated that Rep. Ron DeSantis voted against John Boehner's reelection as House Speaker.