The U.S. Now Has Its First Bisexual Governor. Does That First Still Matter?
Even as the LGBT-rights movement picks up victory after victory, Oregon's Kate Brown still makes a difference.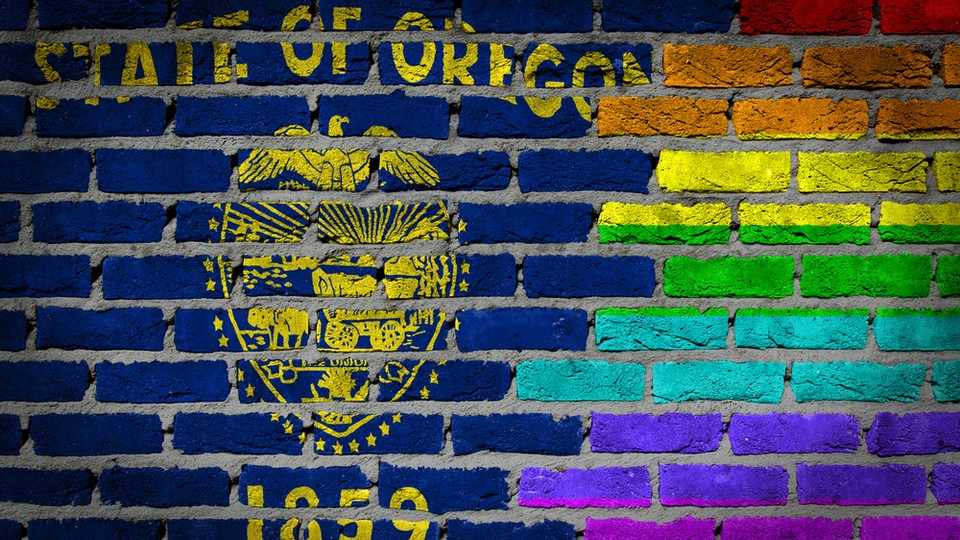 Oregon is turning a scandal-marred political climate into a historic moment.
On Wednesday, Democrat Kate Brown, Oregon's secretary of state, took over for Gov. John Kitzhaber, who resigned Friday amid a billowing ethics scandal. By doing so, she makes history, becoming the country's first openly bisexual governor. In an age where gay rights have made rapid gains and same-sex marriage is legal in more than 30 states, though, Brown's history-making moment isn't the rare victory for the movement it once would have been.
For many in states where gay marriage is legal and LGBT people serve openly in government, Brown's ascendancy isn't monumental. But for young people in the LGBT community, having a role model like them helps send the message that the viral gay advocacy campaign has some credence: It does get better.
"It sends a very, very meaningful message to LGBT youth across this country that you can be open and honest and have great both personal and professional success in your life," Human Rights Campaign spokesman Fred Sainz told National Journal.
On a personal level, that could still make a big difference. According to the Gay, Lesbian & Straight Education Network, or GLSEN, a gay-rights group that focuses on K-12 education, more than 80 percent of LGBT students have been harassed because of their sexual orientation, while 63.5 percent feel unsafe at school for the same reason.
"We still live in a country where young LGBT people face routine name-calling, denigration, bullying, and violence in our schools," Eliza Byard, GLSEN's executive director, told National Journal. Though the gay-rights movement has made gains at the state and national level, on the ground in the high schools of America, LGBT youth still face enormous discrimination. "The difference between the life of a significant public figure and a child living in Nebraska wondering if they're going to be OK as a lesbian, gay, bisexual, or transgender person is vast."
But Brown's rise to power, Sainz said, shows that kids who are bullied for being gay, lesbian, bisexual, or transgender in the world outside of passing periods and cafeteria lunches, they don't have to hide their sexual orientation to achieve.
The LGBT community is certainly proud of her, he said. More importantly, though, her rise "lends great hope to LGBT youth and LGBT people in general that they are just as important a part of American society as anyone else."
Brown won't be the first LGBT governor in the country's history, although her circumstances are drastically different than those of the first. New Jersey Gov. Jim McGreevey came out in 2004 after it was revealed he'd had an affair with a man, announcing his resignation in the same news conference and leaving office three months later. Brown's public bisexuality, Sainz said, is by itself a major milestone.
"Among LGBT people, they are among the most pilloried, because gay people believe that they should just make a decision, and straight people believe them to be gay," he said of bisexual Americans. "They get criticism and stigma from all sides."
When they aren't being specifically targeted, Byard told National Journal, bisexuals are often forgotten about. Openly bisexual government officials are a rarity; only one, Arizona's Krysten Sinema, serves in Congress.
"Often, the B in LGBT is neglected," she said. By virtue of being married to a man, Brown "is someone who could simply 'pass' for straight and chooses to be who she is in public. And that's important."
Brown also reflects Oregon's diversity. The state has one of the highest LGBT populations in the country, with 4.9 percent of adults saying they fall under the LGBT umbrella. Nationally, that rate is much lower: According to the Centers for Disease Control and Prevention, 1.6 percent of adults identify as gay or lesbian, and 0.7 percent as bisexual.
"Across the board, you get better laws and policy when our elected officials represent the diversity of the communities that they serve," Byard said. "LGBT people are a part of the nation's fabric, and having out LGBT people elected to public office can only benefit all of us by giving us the kind of good policies and legislation that we need."
But more important than her sexual orientation, Sainz said, is her record of political service. Brown became a member of Oregon's State House in 1991 and was elected to the state Senate in 1997. She won her first term as secretary of state in 2008.
"For three decades, she has served that state with great competence, supremely good leadership skills, and with a significant amount of grace under pressure," Sainz said. "And right now, Oregonians desperately need good leadership. They need their state to return to calm waters and for it to be led effectively."
It's up for debate whether Brown can be that leader. Her 2012 re-election bid left her embattled after The Oregonian, the state's biggest newspaper, as well as many other papers, endorsed her opponent in the race. She has also been criticized for endorsing Comcast's attempt to take over Time Warner while simultaneously receiving thousands in campaign contributions from the corporation.
Still, her ascendancy is historic—and as long as kids continue to be bullied for being bisexual, Sainz said, occasions like these will remain significant.
"Not all that long from now, we'll be looking back at it and thinking how quaintly anachronistic it is," he said. "But for today, it matters."
This story was updated after Brown was officially sworn in.