The Netanyahu Speech Drama Goes On
The prime minister doubles down, making a bad initial calculation worse.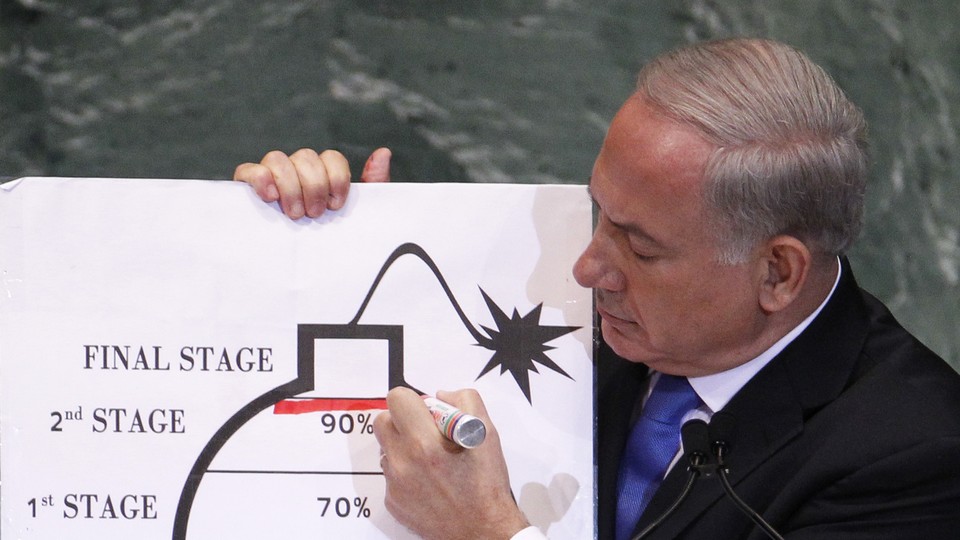 I have been on the road and off line during the festering of the Netanyahu speech drama. Updates:
1) Now that Even Abraham Foxman™ and Even Commentary Magazine have said that the speech is a bad idea, it has seemed a matter of time before Benjamin Netanyahu develops a cold or hangnail, has a pressing last-minute commitment, needs to wash his hair, or has some other reason not to become the first foreign leader ever to criticize existing U.S. policy address before a joint meeting of Congress. (See past foreign-leader addresses here.)
2) The most valuable positive idea for moving past this imbroglio comes from Matt Duss of the Foundation for Middle East Peace. He suggests:
If it really is that important for Congress to hear from Netanyahu in person, I propose this conflict-ending solution: Invite Netanyahu to testify.

I recognize that having foreign heads of state testify before Congress is not something that's usually done, but having foreign heads of state attack the President of the United States' foreign policy agenda before Congress isn't something that's usually done, either. [JF note: Actually, never.] Not only would this arrangement address concerns that Netanyahu might use his speech to Congress for his own domestic political advantage, it would also give members of Congress the opportunity to ask questions and probe his views more deeply.
Sign me up.
3) Netanyahu himself apparently is not deterred. According to Haaretz:

Interesting to speculate on the reaction to any other international figure who purported to "speak for all Catholics," "speak for all Sunnis," "speak for all Buddhists"—or even, for a religion with a comparable number of worldwide adherents as Judaism, "speak for all Mormons." Additionally interesting given that Netanyahu manifestly does not even "speak for all Israelis."
4) A week ago I argued that Netanyahu's presentations on Iran boil down to "it's always 1938," which is in fact the way he put it at one point. From a reader who agrees:
Another reason it is not 1938 is Iran has no borders with Israel. Germany, on the other hand bordered Poland, France, Belgium, Holland, Denmark.

Israel to Iran, 1000 miles.

So if Iran was developing weapons, it would need accurate delivery systems.  It does not have these.

Perhaps one day a wise Iranian leader will say we will end all our atomic programs and destroy all materials if Israel does the same. Then what?
4A) From another:
As far as the threat of an actual nuclear altercation between Iran and Israel, some people like to refer to former Iran President Rafsanjani's musing that in such instance 8 million Iranians might die, but all of Israel would be destroyed.

Really? Israel is thought to have 200 deliverable warheads. Tehran alone has 8 million inhabitants. The biggest six-dozen-plus cities in Iran, including Tehran, contain 30 million people. Israel can not only take out all of those cities and people but render the rest of Iran as habitable as Chernobyl.

In the meantime, regarding the destruction of Israel, nuclear kill zones have a nasty habit of being circular. In order to fully destroy Israel with nuclear weapons, Iran would also have to destroy much of Jordan, Lebanon, and the most inhabited western part of Syria, to say nothing of 4.4 million mostly Muslim Palestinians in the West Bank and Gaza, and 1.7 million mostly Muslim Israeli Arabs. So who in fact has the most effectively deployed human shields?
4B) From Efraim Halevy, the former head of the Israeli intelligence agency Mossad, in an interview with The Times of Israel:
Netanyahu commits a "terrible mistake" by defining the Iran's nuclear ambitions as a matter of life or death, Halevy said, "because I do not believe there is an existential threat to Israel. I think the Iranians can cause us a lot of damage, if they succeed in one way or another to launch a nuclear device which will actually hit the ground here in Israel. But this in itself would not bring the state of Israel to an end."

'Netanyahu preaches despair as a motive for making aliyah to Israel and this is abhorrent'

Speaking of Iran's nuclear drive in those existential terms tells the Iranians that Israelis believe Tehran actually has the power to destroy the Jewish state, said Halevy, who spent most of his career in the Mossad, served also as Israel's ambassador to the EU, and was national security adviser to prime minister Ariel Sharon.

"It's almost inviting them to do so, because they will say, 'If the Israelis themselves believe that they are vulnerable and can be destroyed then that is sufficient basis to go and do it.'"
5) On the other hand, from a reader who disagrees:
We don't know what Netanyahu will say in front of Congress, and I doubt he will be directly critical of the White House.  He is not seeking to influence a U.S election, he is seeking to influence U.S policy.

Given that Israel has been our partner in trying to contain Iran's nuclear ambitions, and has not taken military action to attempt to stop uranium enrichment, they have been acting under the administration's negotiating umbrella.  Why should Congress not hear from a partner who believes we may go astray on regional proliferation?  Particularly as the administration is purported to be seeking a way to structure any agreement so as not to require Senate approval.

This is an existential issue for Israel in the near term, and for much of the world should a nuclear arms race develop in the Middle East as a result of Iran going nuclear.  I can think of few topics more important for our elected leaders to spend their time on, perceptions of comity notwithstanding.
I'll just say: If Netanyahu wants to influence U.S. perceptions, he has never been lacking for outlets. And on this trip a Congressional hearing would be an ideal venue.
6) On the general prospect of an allied foreign leader addressing a joint meeting of Congress to dissent from existing U.S. policy—something that, I will say once again, has never happened before—here is a message representing many I have received:
I have been thinking about Iran as you have as a potential breakthrough based on sanctions working and long term reality, demographics and economics.

The total disrespect and dog whistle play to the meme of our "black, Kenyan, socialist, Muslim loving, community organizer, weak, appeasing, naive" President is what is at work here. The entire inane racist meme is at work here. If he were white Boehner would NEVER have done this.

I hope we can reach an accord with Iran because the chicken Hawks have no clue what a real war would look like with a real, armed nation like Iran with a huge, well equipped army would look like. WW III could explode here and I can see an early casualty being a US aircraft carrier sunk early on sending a message to the world we are not invincible ... besides losses in the tens or hundreds of thousands.

Tom Clancy probably wrote this book... Iran goes up ...Israel goes rogue... China goes for Taiwan and the Seikaku isles, Russia blitzes Ukraine....and so it begins....but the right is so oblivious to the real world they cannot accept we cannot win that war ...no one will.
6A) More bluntly in the same vein, from another reader, in Texas:
Forgive the language I'm about to use, but I think it's necessary.

With all due respect, I think you and lots of others have this issue all wrong.  The title of the article on this subject which needs to be written is "The President as Nigger."

The North did in fact win the Civil War but now that the Republicans have won both houses, I think their goal is to win it back and the contemporary Confederates sure aren't going to cotton to any black President.