The Governors Chris Christie Supported Aren't Returning the Favor
The New Jersey governor raised record amounts for GOP candidates, but thus far, few are throwing in with his presidential bid.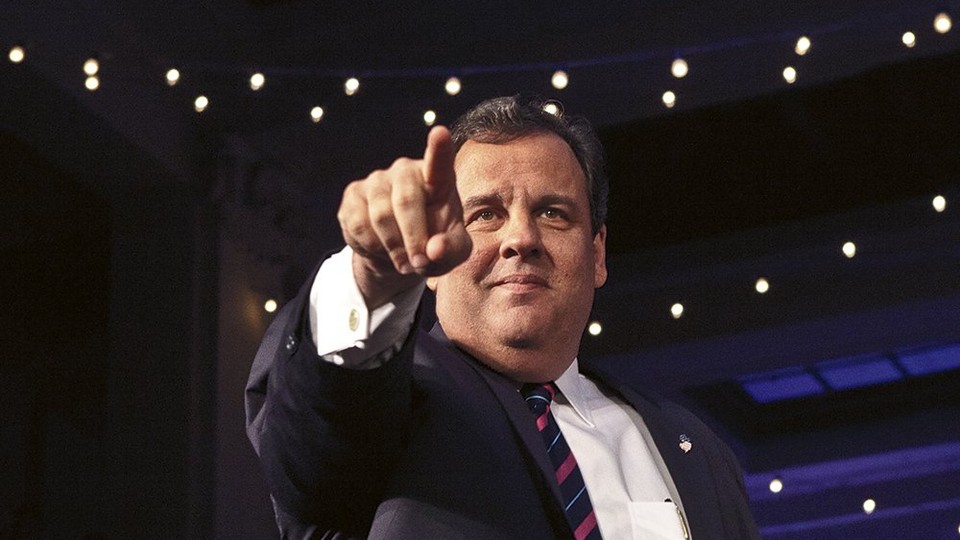 How much loyalty can you buy for $106 million? Not as much as Chris Christie would like.
No 2016 Republican presidential hopeful can say he or she did more for the party's candidates last year than can Christie. During his tenure as chairman of the Republican Governors Association, Christie spent roughly two out of every five days outside of New Jersey, traveling to 36 states and raising a record $106 million to help elect GOP governors in 2014.
But now, as Christie gears up for a White House bid, few of his beneficiaries appear eager to return the favor. None of them have ruled out supporting Christie down the road, but most want to sit back a while longer and see how a crowded GOP race that features a number of high-profile current and former governors plays out before picking sides.
"I'm very, very grateful for Governor Christie being here during the last cycle and in his role as chairman of the RGA," said Walt Havenstein, a Republican whose unsuccessful run for governor in New Hampshire benefitted from Christie's backing. However, there's a "but."
"At the end of the day, I'll help Governor Christie where I think it's appropriate, but I don't know that it's appropriate, certainly not now, for me to weigh in on any candidate's particular side," Havenstein said.
Christie made five trips to New Hampshire to campaign for the GOP nominee, despite the fact that Havenstein was the consistent underdog in his bid to unseat Gov. Maggie Hassan.
Havenstein also noted that a number of other potential White House contenders, including Louisiana Gov. Bobby Jindal, Indiana Gov. Mike Pence, and Sen. Marco Rubio of Florida, stumped for him last year as well. "I'm looking forward to all of them coming back to New Hampshire," Havenstein said, adding that he will likely lend his support to a candidate "later in the cycle."
Christie finds himself in a similar situation in Iowa and South Carolina—the other two early-voting states in the nominating process. In Iowa, Christie has worked tirelessly to cultivate a relationship with the governor, Terry Branstad. Two operatives with ties to Branstad are helping Christie get his presidential campaign off the ground in Iowa, and Branstad told National Journal earlier this month that Christie has "certainly been very helpful" over the years, including in his 2014 reelection contest. However, Branstad will not officially place his stamp of approval on any candidate in the 2016 race.
Unlike Branstad, South Carolina Gov. Nikki Haley has a history of backing presidential candidates during the primary, as she was an early supporter of Mitt Romney in 2008 and 2012. Christie campaigned for Haley on two occasions in 2014, even though her race was not all that competitive. Haley has yet to offer an endorsement this time around, but she recently told The Washington Post that she is "a fan of governors."
There are two Republicans Christie campaigned for as RGA chairman who have signed on to help his likely presidential campaign. Tom Foley, a former U.S. ambassador to Ireland under George W. Bush who narrowly lost to Gov. Dannel Malloy in Connecticut last year, hosted a fundraiser for Christie at his Greenwich home earlier this month. And after pulling off an upset victory last November in deep-blue Maryland, Gov. Larry Hogan is ready to go to bat for Christie too.
"Governor Hogan believes Governor Christie would make a terrific president, and has said that he would be willing to help Governor Christie in any way he asked him to," said Erin Montgomery, Hogan's press secretary. She added that Christie and Hogan "had a chance to catch up" at the National Governors Association winter meeting in Washington this past weekend.
In addition, former Minnesota gubernatorial candidate Scott Honour, who failed to advance out of the GOP primary, is supporting Christie, even though Christie didn't actively campaign for Honour in 2014.
Christie political strategist Mike DuHaime said he is "confident" that other Republicans the governor stumped for will eventually help out, adding that "no one is even officially in the race."
Christie met privately with Florida Gov. Rick Scott in Washington last Friday. The two became well-acquainted during the 2014 campaign; no state, other than New Jersey, saw more of Christie last year than Florida. He traveled to the state nine times to aid Scott, who was locked in a tough race with Democrat Charlie Crist, and the RGA directly contributed $19 million to Scott's campaign.
But with Christie and two fellow Floridians—Rubio and Jeb Bush—eyeing the presidential race, Scott's support is still up for grabs. Scott said at a conference hosted by Politico last week that he will "most likely" make an endorsement before Florida's 2016 presidential primary.
After Florida, Illinois was the state Christie visited the most in 2014. He made eight trips to campaign for Bruce Rauner, who ultimately defeated Democrat Pat Quinn last November, but it's unclear if that will translate into 2016 payback: A spokeswoman for Rauner declined to comment on whether he will get involved in the White House race.