The GOP's Flavors of the Month
Early leads in the presidential polls don't predict success, but falling too far behind can produce failure.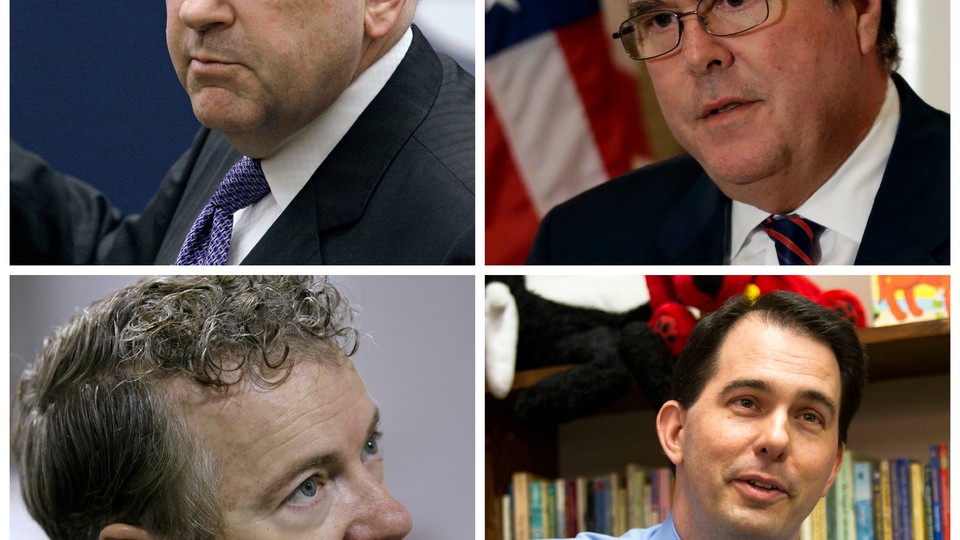 Mitt Romney leads the pack. No, it's Scott Walker, or maybe Jeb Bush. Hang on, Mike Huckabee's support is rising—is he the favorite?
It can be tough to make sense of the polling data about the potential candidates for the 2016 Republican presidential nomination. The GOP is home to a remarkably deep group of Oval Office hopefuls, and no Republican has anything close to the massive polling lead Hillary Clinton enjoys over the Democratic field, as recent lead changes show. Fox News released a poll showing Romney in first place on the very day he announced he wasn't running. Scott Walker's numbers surged a few days later, after an impassioned speech to conservatives at the Iowa Freedom Summit. A Des Moines Register/Bloomberg poll then showed Walker at the top of the polls in that key, early-primary state—well ahead of Jeb Bush, who has polled the strongest overall in the last month or so. Mike Huckabee, meanwhile, tops the field among Republicans nationwide, according to the latest CNN/ORC data.
Can one predict the 2016 winner based on these numbers?
No.
A 2011 analysis by Chris Wlezien and Robert Erikson found presidential polls taken 300 days before the election have little to no predictive value. The 2016 election, incidentally, is over 600 days away. Brendan Nyhan makes the same point at The Times: The average voter isn't thinking much about the election right now, and responses to early polls mostly reflect simple name recognition instead of voting preference. Barack Obama lagged 18 points behind the better-known Hillary Clinton in December 2007, while the graph of polling for the Republican nomination in 2012 looks like some sort of jagged, confused rainbow. Rick Perry, Newt Gingrich, and even Herman Cain temporarily rose to the top.
---
Polling for the 2012 Republican Presidential Nomination
---
The numbers are fluctuating now, and history suggests that they are likely to keep fluctuating. In other words, a poll showing that 18 percent of New Hampshire Republicans say they'll vote for Jeb Bush in February 2015 doesn't mean that 18 percent of New Hampshire Republicans will vote for Jeb Bush in January 2016.
Though survey numbers at this stage don't predict success, they can sometimes predict failure. Polling is a crucial part of the "invisible primary": the jostling for advisors, campaign operatives, establishment support, and—most importantly—money that goes a long way towards deciding the nominee. If the media gives extra coverage to the leader of the horse race, that leader can start to make an impression on primary voters. To some degree, calling someone a front-runner is a self-fulfilling prophecy.
What's more, bad polls may choke off the flow of donations necessary for a candidate's success. Yes, the significance of super PAC spending means a wealthy benefactor can help keep any candidate afloat. Billionaire Sheldon Adelson funded most of Newt Gingrich's 2012 campaign, through good polling and bad. Jon Huntsman's 2012 campaign was also funded heavily by a single donor: Huntsman's father. But Huntsman's pollster that year, searching for more support, felt compelled to send out a memo highlighting just how wrong the presidential polls had been in 2008. The point was to show donors Huntsman was still viable—one suspects a "first-place" candidate would be inclined to let the numbers do the talking.
And survey numbers can affect the candidates' decisions on entering or leaving the race. Encouraging poll results helped push Mitt Romney to consider a third try at the White House. Some Republican longshots, like George Pataki and Bob Ehrlich, might see their rock-bottom numbers and forego their campaigns before they start.
These lead changes also indicate that Republicans are likely in store for the same type of race they got in 2012, with new favorites being anointed at every shift in the cycle. There will be more strong speeches, like Walker's in Iowa, to elevate a candidate's profile. And there will be more mediocre speeches that reveal chinks in a candidate's armor, like Jeb Bush's February 18th address on foreign policy in Chicago.
GOP donors and party leaders are hoping to rally around an early favorite, avoiding some of the primary squabbles that arguably damaged Romney's chances in 2012. The party's conservative and moderate wings are eager to boost anyone who seems like a savior. However, signs of ideological unsuitability or the usual gaffes can quickly doom even the most ambitious candidates. Think of the Rick Perry supernova in the last presidential election, when the Texas governor flared brightly in August 2011 only to burn out after bumbling through the debates.
Even with Walker's strong early numbers, it's too soon to say whether his boomlet in the polls can endure. Jeb Bush is reportedly already scooping up the top donors in Chris Christie's camp as the New Jersey governor's support disappears. Other potential contenders like Marco Rubio and Rand Paul have yet to get their campaigns moving in earnest. What voters say doesn't actually count until next year, and one can't predict a victor based on these early polls. But among Republican power players, these numbers are already a key factor.