The Culture Clash in Mississippi's Mosques
African-American Muslims who once preached black separatism have opened their mosques to Muslims of all cultures. It has been a bumpy ride.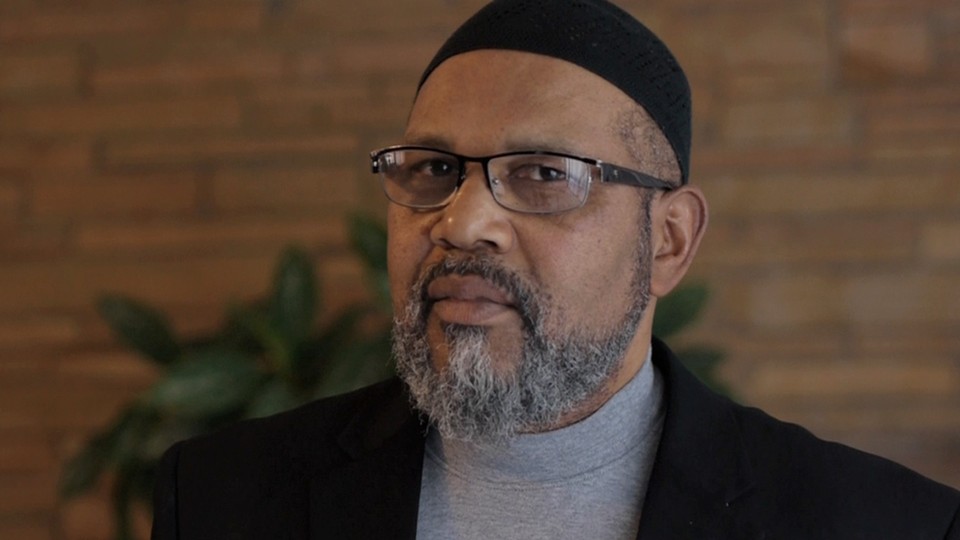 Jackson, Mississippi—An African-American imam leads Friday prayer in Arabic at a mosque in Jackson. Not so many years ago, most of the Muslim worshippers here were blacks who "reverted" to Islam during the civil rights era. Now, most of those kneeling in prayer toward Mecca come from Egypt, Pakistan, and Southeast Asia.
"Our gates have flooded," says Ameen Abdur-Rashied, one of the Imams at Masjid Muhammad, a plain ranch house converted into a mosque and tucked away in a secluded patch of trees in a working-class black neighborhood. The nine-acre property even has a Muslim cemetery, with 40 people buried here, their bodies facing Mecca.
Friday is the holiest day in Islam, so the muṣallā is packed with with nearly 100 men taking a break from work to attend the midday service. Some wear jeans and leather jackets, others wear kaftans and skull caps. Abdur-Rasheid chants the universal call to prayer in Arabic.
"Allahu akbar," he sings with his hands in the air. God is the greatest.
Abdur-Rashied, an African-American professor at Jackson State University, grew up in a Baptist family and converted to Islam in college. Like him, most black Muslims in the South joined the faith through the Nation of Islam, the black nationalist movement based on Islamic teachings. Malcolm X was one of the group's most influential leaders and attracted thousands of followers to the faith in the 1960s.
Many eventually abandoned the movement and its push for black separatism. In 1978, the Nation's leader was Warith Mohammed, who disbanded the original group and converted thousands of his followers to orthodox Sunni Islam. So Abdur-Rashied and members of Masjid Muhammad in Jackson did the same. They started praying five times a day, studying Arabic, and reading the Koran. Instead of focusing on black separatism, they decided to reach out to other Muslims groups and races.
Now Islam is one of the fastest-growing religions in the Mississippi Bible Belt. The number of Muslims in the state grew 28 percent from 2000 to 2010, according to estimates from the Association of Statisticians of American Religious Bodies. However, the estimated 5,000 Muslims in Mississippi are still a tiny group compared with the state's 900,000 Southern Baptists.
The growth of Islam in Mississippi is largely due to two factors: (1) its strong presence in the prison system, where imams from mosques (like Masjid Muhammad) work as chaplains to bring inmates to the faith; and (2) the influx of Muslim immigrants from the Middle East and Southern Asia. Many of the latter are doctors who are filling the shortage of physicians and nurses across the state. Nearly two out of every 10 physicians in Mississippi graduated from foreign medical schools.
Bridging these cultures can be tough, says Abdur-Rashied. Not everyone is comfortable with the idea—at its most extreme—of poor ex-cons praying next to wealthy, foreign doctors. Abdur-Rashied describes the situation more delicately.
"Part of the residual of slavery here in Mississippi is that we [local African-Americans] might not be the most sophisticated group," he says.
A few years ago, immigrants opened a mosque in a wealthy suburb of Jackson, the third mosque in Hinds County. In an effort to be more inclusive, Masjid Muhammad restructured its leadership team to include imams from other countries, not just African-Americans.
This change has caused some cultural conflicts, especially when it comes to women at the mosque. At Friday's service, Okolo Rashid and six other women prayed in a room down the hall from the men. They wore head scarves or turbans and listened to the imam's sermon through a speaker. Rashid, an African-American member of Masjid and a former board member, said that many foreign men were not comfortable praying in the same room as the women, even though the Koran does not prohibit it.
Muslim men from some cultures have different ideas about how genders should interact and whether or not women should share leadership roles, Rashid added.
"That's a dynamic that can sometimes cause conflict," says Rashid, who has been praying at the mosque for more than 40 years. "We really have evolved into a community that's pretty diverse, even though we are still having our challenges."
So Rashid and her husband pray in separate rooms for now, but it's all with intention of finding multicultural unity. In 2001, Rashid and a male board member who is Palestinian opened the International Museum of Muslim Cultures in downtown Jackson. The small, bright museum celebrates the contributions of West Africa to the global expansion of Islam. The main exhibit highlights the Mali Empire in the 1300s as a center of Islamic wealth, research, and scholarship.
Rashid, who works as executive director of the museum, wants the public to see that Islam has a long history in black Southern culture. Many enslaved West Africans who arrived in the Deep South came from Muslim countries like Mali, she says.
"African-Americans returning to Islam in Mississippi is very significant to that legacy and that history," she says. "In a sense, we are returning to our roots."