The Case for Democrats Skipping the Netanyahu Speech
Why should they willingly serve as GOP-Likud campaign props?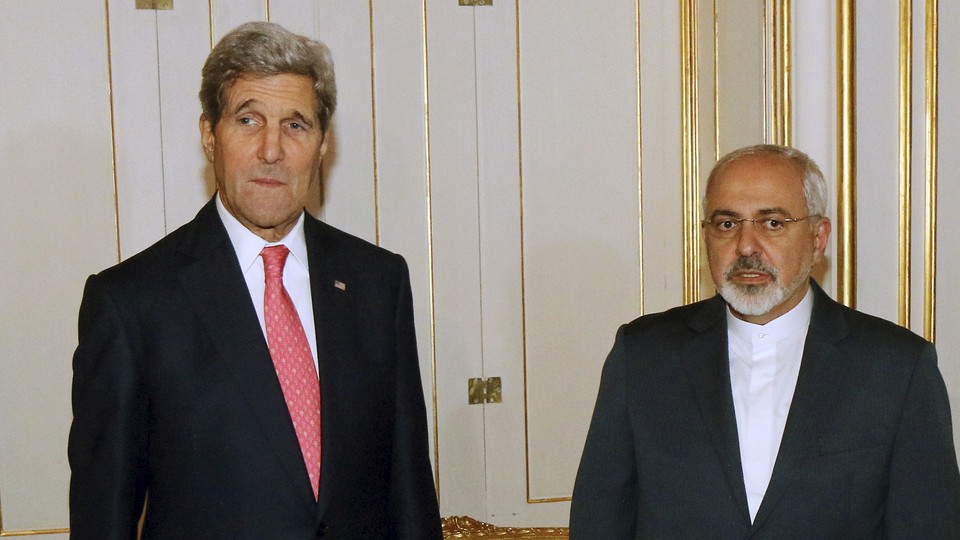 For the record, and as explained in posts collected here, I am not a fan of:
(a) the idea of a foreign leader being invited to criticize existing U.S. foreign policy before a joint meeting of Congress, something that has never happened before; or
(b) the specific critique Prime Minister Benjamin Netanyahu is likely to advance in this setting, which, based on his statements over the past decade, is likely to involve such impossible conditions and strictures for an "acceptable" deal with Iran as to torpedo the negotiations. Not to mention ...
(c) the idea that a military strike on Iran's nuclear installations merits serious consideration for either the U.S. or Israel.
So, factor that in as you will. A recent crop of developments:
1) A Congressional statement you really should read. Vice President Biden showed one way of distancing himself from this spectacle, through the super-important though not-yet-specified "foreign trip" he'll need to make just when Netanyahu is here.
Representative John Yarmuth of Kentucky, a Democrat from Louisville (and one of 19 Jewish members of the House) demonstrated the other approach. Yesterday he put out a remarkable statement with the heading "Why I Will Not Be Attending PM Netanyahu's Speech to Congress."
Seriously, this is worth reading, for what it says both about the specifics of U.S.-Israeli relations and about larger institutional dangers in the conduct of foreign policy as a whole. Here are a few samples.
On the conversion of a "policy" speech into a political and lobbying stunt, with emphasis added:
It is both sad and ridiculous that attending this speech will be used as a litmus test for support of Israel. In short, roll will be taken, and some outside organizations have even threatened potential absentees with electoral repercussions ...

It will become a matter of score-keeping as to who stands up and applauds and who doesn't. Having visited Israel only months after Netanyahu addressed Congress in 2011, I know how much political impact these scenes have in that country. There is pressure to join the applause even if a member does not agree with statements made.
On the "informational" value of the appearance:
We know what he is going to say. Netanyahu's position on the ongoing negotiations on Iran's nuclear program is not a secret. Like many other members, I have been visited by the Israeli ambassador and understand what they want and how that differs from what U.S. negotiators are attempting to accomplish.

The Prime Minister has plenty of other places to express his opinions. In fact he has done so many times.
On interference in U.S. policy-making by a foreign leader:
Speaker Boehner invited the Prime Minister to address Congress specifically to refute President Obama's position. I will not contribute to the impression that this body does not support the President of the United States in foreign affairs.

Congress has a broader responsibility than the security interests of Israel. While it certainly is important that we understand the Israeli perspective, the American people will hear only Netanyahu's perspective, creating a public perception that could undermine a broadly supported resolution to the Iranian nuclear situation.
This is as gutsy and non-boilerplate a statement as you're going to see from any congressional office. The way to encourage more such behavior by elected officials is to recognize it when it occurs.
2) Why the obligatory applause lines can be the most damaging parts of the speech. From a reader who makes a point parallel to Yarmuth's:
I just had a flash of what that address to a joint Congress will look like. All members must attend, lest they be branded anti-Israel. And, in the fashion of a State of the Union address, Netanyahu will deliver his speech with the intention to evoke applause. And, like the State of the Union address, the cameras will pan, and if a member is seen not applauding to a key policy point, he/she will be branded anti-Israel. Netanyahu will have been given an extreme American political power, given only to one other person on earth: the President of the United States ...  

This, for me, brings into clear focus the patent harm caused by Citizens United: The ability of money to highjack [sic] American political processes is a dangerous thing. And the, shall I say, chutzpah of Israel, a foreign power, to inject itself (with disrespectful swagger) into the heart of the American political process should be seen as a real harbinger of those dangers. How much of the dark money being invested into 501(c)(4)'s has its origins in foreign treasuries? Israel is a potent example of how a savvy foreign power can, with careful political management and financial investment, hijack American politics. The analogy to a virus or a cancer springs to mind. And the vector is money. And its ability to neutralize our own self-protective evaluative and deliberative mechanisms very directly resembles an auto-immune disorder ...

And I must make what seems to have become the obligatory disclaimer: I must clarify that I am not anti-Israel, anti-Jew, anti-semite [sic]; I'm actually part Jewish by culture, though not by faith. And I do think that the interests of the Jewish state are very important. But that should never displace a clear-headed perspective on what American interests are, and an independent evaluation of Israel's policies and actions, on our terms.
As the doubly partisan nature of this spectacle becomes more obvious—partisan in U.S. terms, as part of the struggle between Obama and the Republicans, partisan in Israel as its own election nears—the case for Democrats simply absenting themselves becomes more powerful.
As an intellectual matter, there is nothing they will learn by attending the speech that they haven't already heard. As a matter of short-term politics, they put themselves and their president in a no-win situation just by showing up. (If they don't applaud, they "lose." If they do applaud, they "don't win.") And as a question of long-term governance, everything about the situation is bad. As Josh Marshall argued two days ago, emphasis in original:
The idea of a foreign head of state appearing before Congress as an advocate in a debate that is a matter of great controversy within the United States is basically without precedent. This is quite apart from the equally unprecedented idea of a foreign head of state addressing Congress to advocate against a sitting President. Mainly this is because foreign heads of state or government are by definition not American.
Why enable any of this? Why agree to serve as props for what has become a GOP-Likud stunt? If Vice President Biden and Representative Yarmuth can stay away, so can the rest of you.
* * *
3) I've also received a lot of mail on the merits of the Iran negotiations. More about that shortly. For now, one more reader note on an under-covered aspect of the situation:
I'm not as bothered by Netanyahu's speech as you are, but I am disgusted more generally by the ongoing efforts to sabotage negotiations and I don't see it covered much elsewhere in my media universe. Anyway, my point is below:

It seems to me that Israel's chest thumping about war has moved the center of the Iran debate into such extreme territory that crippling economic sanctions are treated as merely symbolic. Many of the same politicians who take sanctions so lightly talk a lot about the suffering in America caused by the Great Recession (and rightly so). Well, we've done much worse things to Iran's economy than the recession did to ours. We've caused immense human misery in the Iranian population. Is economic suffering only real when it happens in America?

Maybe after weighing the risks and benefits, sanctions were indeed the right thing to do (particularly if these negotiations succeed). I'm skeptical but uncertain. But I am fairly certain that the sanctions aren't weighing on the consciences of those who are inflicting them to the degree that they should.
In the realpolitik of this moment, sanctions seem the only plausible alternative to talk of outright military confrontation. Thus for me they are clearly the lesser evil. But the reader rightly points out how taken-for-granted they have become.