The Bobby Jindal Contradiction
The Louisiana governor is one of the most accomplished candidates in the Republican field. But as a presidential candidate, he's been shamelessly pandering to the base.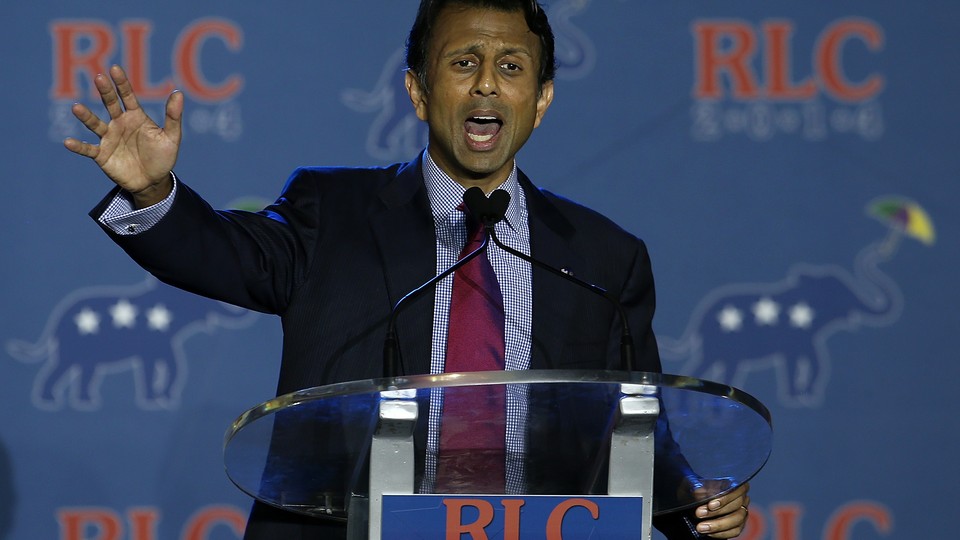 Louisiana Gov. Bobby Jindal came to Washington this week to make his case for education reform. It was part of his bid to burnish his credentials as the "ideas candidate" as he mulls over a presidential campaign. His proposal shared many similarities with Jeb Bush's educational reforms, but the governor chose to focus on their one big disagreement—over the Common Core educational standards.
Jindal's detailed plan symbolized better than anything why his underdog presidential campaign is so complicated. He's trying to win over both the party's establishment wing and its grassroots base, even though they're at odds with each other over many fundamental issues. As Jindal mulls over a national race, his advisers have urged him to play up his appeal to "Bubba" voters—white, working-class, mostly evangelical Americans. He recently headlined an all-day evangelical prayer rally, and even made a summer cameo on the hit show Duck Dynasty as part of that outreach. But in doing so, Jindal is downplaying his own blue-chip biography as a Rhodes scholar wunderkind who ran the Louisiana health system at age 24 and first ran for governor at 32.
Jindal's risk is that, by trying to appeal to everyone, he'll be left out of the mix entirely. He's running as a reform-oriented conservative in a field that's likely to include Jeb Bush, Marco Rubio, and Scott Walker—all of whom have laid claim to that mantle. Yet there's not much space left to compete for evangelical support, with Sen. Ted Cruz of Texas, former Arkansas Gov. Mike Huckabee and former Sen. Rick Santorum of Pennsylvania already engaging in outreach to those communities.
So where does that leave Jindal? He makes the case that he's one of the few deeply conservative Republicans running for president who also knows what he's talking about. To polish his image as the leading policy thinker in the field, the Louisiana governor has released detailed papers on foreign policy, energy, health care, and education, as part of the work of his policy nonprofit, America Next. Jindal relishes delivering provocative conservative arguments—calling for Obamacare's repeal, warning against Muslim "no-go zones" in Europe, supporting cutting back the Education Department—and then surprising his critics with a wonky, intellectual case backing up his views.
"There is a tendency among the Left and some Republicans that say you can either be conservative or smart. And I think that's insulting and not true. I'm making the case that we can be both," Jindal said in an interview with National Journal. "Folks that disagree with conservative ideas should resort to debating the ideas instead of name-calling."
Jindal told National Journal that if he runs for president, his campaign would center on telling hard truths. But, in reality, Jindal has avoided many of the tough political choices in favor of what's in his short-term political interest. On education, he's embraced numerous state-level measures aimed at increasing accountability and choice—but, given that he's calling for no federal involvement in education, he would be utterly powerless as president to implement those reforms. On foreign policy, he sharply criticized President Obama's handling of terrorism but said he'd prefer to see other options to tackle ISIS's gains "short of sending ground troops." Back home, Louisiana's debt has grown, causing Jindal to cut some state services, but the governor has avoided tax hikes to close the budget deficit, and he opposes expanding Medicaid to make up some of the difference.
Even many conservative Republicans who once counted themselves as Jindal fans are starting to cry foul. In an American Conservative piece headlined "How Bobby Jindal Wrecked Louisiana," conservative writer Rod Dreher wrote, "if Bobby Jindal's presidential campaign goes anywhere, it will not be because of his record governing Louisiana, but in spite of it." The column was notable because the same author was one of Jindal's biggest champions when he was first elected, saying he was confident that Jindal was "going to write the next great Louisiana story." Conservative columnist Ramesh Ponnuru criticized Jindal's health care plan on Bloomberg, writing, "The great flaw in Jindal's plan is that it would cause millions to lose coverage." Most significantly: GOP Sen. David Vitter of Louisiana, who's looking to succeed Jindal as governor, told The New York Times that the state's fiscal policy was "broken" and said he didn't agree with Jindal's "general approach."
Jindal dismissed the criticism as the product of bold leadership, and said that Vitter is holding a grudge because Jindal didn't endorse his Senate campaign.
"It's easy to be popular as a politician—kiss babies, don't do anything controversial. I was elected to make the big changes in Louisiana. I got elected after [Hurricane] Katrina, when our economy was stagnant, people were leaving the state. There was educational inequality. We did make big changes. And we upset folks in the status quo. As a result, we have the strongest private-sector economy in a generation," Jindal said. "If I were to run nationally, voters want leaders who tell them the hard truths, make the tough decisions. They're not looking for someone who wants to be governor or president. There are plenty of politicians who just want the office, want the trappings."
But it's clear that the governor is very cognizant of the political realities of running for higher office—and the frequent contradictions in trying to combine good politics with good policy. During the course of our 35-minute interview, Jindal ruminated about how important it is to be likable as a politician, before quickly sounding dismissive of popular politicians "who kiss babies" but don't take on big challenges. He joked about how much he enjoyed participating in the Louisiana Shrimp and Petroleum Festival, an annual statewide tradition where candidates spend hours on a barge schmoozing with voters on the Cajun Coast. He then quickly segued into how he set a different tone as governor from many of his colorful predecessors, referencing his first-term pledge to be the "most boring and effective governor in our state's history." ("We took our kids to Disney World after the election. Edwin [Edwards], when he won, went to Monte Carlo," Jindal joked.)
"In campaigns, candidates' personalities will come out for better or worse. Voters will see that. Likability is more important than a lot of consultants like to think in a campaign," Jindal said. "I'm not saying that voters will vote for the most colorful or entertaining candidate, but, at some level, they've got to know you understand them, like them, respect them. So my philosophy and platforms are all about trusting people."