Southern Democrats Should Just Forget About 2016
In Arkansas and West Virginia, Dems don't see a comeback without at least an extra two years of distance from Obama.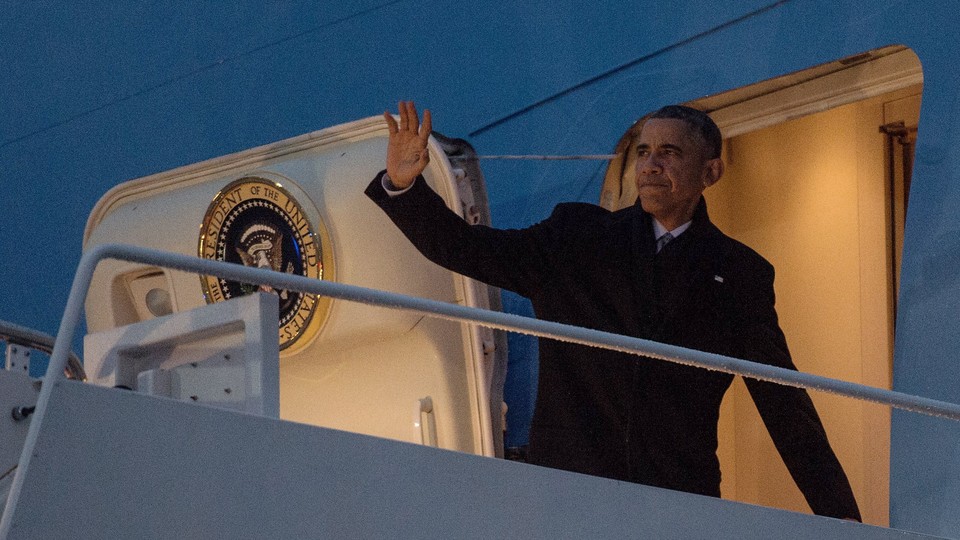 Think President Obama hurt Democrats in 2014? It's not over yet.
While many of the party's strategists are banking on 2016 as a comeback year, in the South, the party's congressional contenders can't envision a rebound before at least 2018.
In fact, Democratic strategists think an extra two years of distance will be the minimum needed to separate their candidates from Obama's record. That's especially true in West Virginia and Arkansas, states where the local Democratic brand had stubbornly endured until last year's Republican sweep.
"The farther he gets off the stage, the better," said Arkansas Democratic strategist Robert McLarty.
At the beginning of 2013, then-Democratic Congressional Campaign Committee Chairman Steve Israel pointed to about 20 districts around the country where Democratic performance typically improves in midterm cycles versus presidential ones. Those districts were largely in Southern and rural areas that otherwise were slipping from the party's grasp. But a year later, that trend was over, as Republicans relentlessly tied Democrats to the president.
Certainly, Democrats running for Congress from West Virginia and Arkansas would face tough odds no matter the timing. Long known as Democratic strongholds, both states have seen their Democratic ranks diminish over the past decade. November's elections were only the latest chapter.
Six years ago, just one of Arkansas's six members of Congress was a Republican; now, the GOP has a monopoly. Democrats in 2014 fell short in two competitive House races and an expensive Senate race that unseated Sen. Mark Pryor.
And in West Virginia, Republicans flipped a Senate seat and won two contested House elections, giving the GOP complete control of the House delegation for the first time since 1921.
National Democrats say they aren't giving up hope for 2016 and are counting on the presidential election to drive higher turnout. "With a more favorable electorate, Democrats are on offense in West Virginia and Arkansas this cycle," said Tyrone Gayle, spokesman for the Democratic Congressional Campaign Committee.
But Democrats' 2014 losses speak to how far the party must go in the South. And even though Obama will never be on the ballot again, Democrats expect Republicans to continue trying to link their candidates to him through the 2016 cycle.
"You'll still see the Republican Party in West Virginia use Obama as much as they can" in 2016, said Derek Scarbro, campaign manager for Democrat Nick Casey, who ran and lost last year in West Virginia's 2nd District.
Indeed, West Virginia Democrats have little confidence they can win the district—their best chance at a pickup in the state—in 2016.
"Republicans will beat up any Democrat that runs by saying they're a continuation of Obama's anti-jobs, anti-coal policy," said one West Virginia Democratic operative who has worked on multiple congressional races in the state. "In 2018, we'd be able to put it back into the D category, but next year will be another tough election."
The party's mood is similarly bleak in Arkansas.
"You don't go from a complete shellacking one cycle to thinking you could take back congressional seats the next," conceded Michael Cook, an Arkansas Democratic strategist.
This is likely the case even with Hillary Clinton sitting atop the ticket. While many Democrats argue that the former secretary of State and senator from New York could draw back to the party some of the Southern and blue-collar white voters who supported her husband's presidential run, strategists on both sides acknowledge that the politics of the South have since changed.
"That's the last hope Democrats in the state are clinging to," said Conrad Lucas, chairman of the West Virginia Republican Party. "But the West Virginia of 2016 is not the West Virginia of 1992."
And in Arkansas, more USA Today/Suffolk University poll respondents had negative views about Clinton than positive ones, and others are pessimistic that Clinton could compete in her onetime home state, much less win it.
"The landscape for Democrats in Arkansas does not look promising," said Skip Rutherford, dean of the Clinton School of Public Service and a veteran of Arkansas politics. "Barring any major developments, it's going to be a very steep climb."
Some Southern Democrats are even thinking about a helper of last resort: a Republican president. A backlash against a GOP White House, they say, could rejuvenate the party in states where Obama has never been popular.
"With all of these nationalized elections, it might take that," Cook said.