So Far, a Congress About Nothing
Republicans thought they'd get easy wins at the start of the 114th Congress. Instead they got internal strife.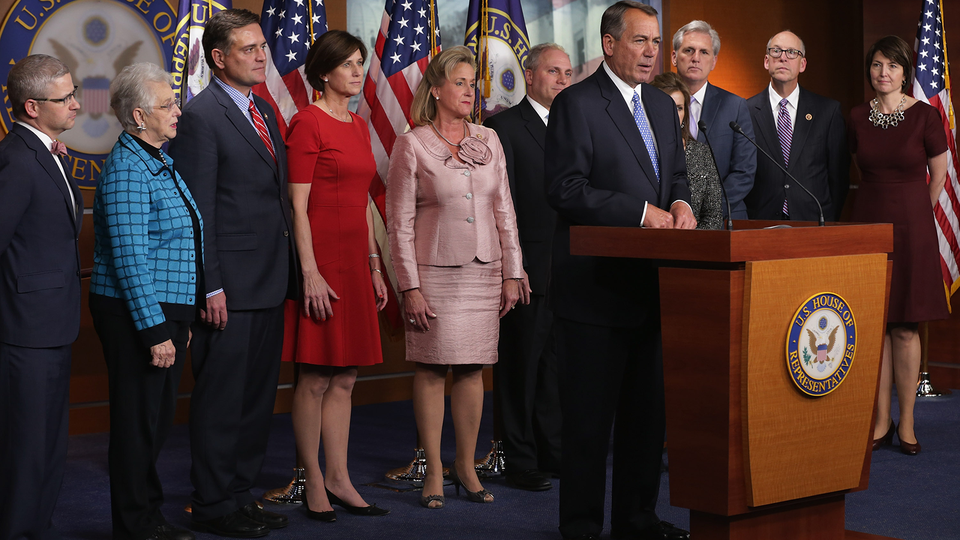 House Republicans are leaving town after a rare six-week stint in session, one that was meant to unify the GOP conference around easy legislative measures. Instead, members of all stripes complain, they're heading home mostly empty-handed.
Both members aligned with leadership and those more inclined to vote against leaders' priorities are griping that, with the exception of legislation meant to spur construction of the Keystone XL pipeline—a bill that passed the House Wednesday, but that President Obama will veto—Congress has gotten little done.
Even with GOP control of both chambers, the Hill has sent scant legislation to the White House—neither bills the president can sign, nor measures meant to complicate Democrats' lives politically. So far, the 114th Congress has yielded just one Public Law: a measure reauthorizing the terrorism risk insurance program.
"It's been ugly," said one conservative member, speaking anonymously to discuss internal conference dynamics. "It's kind of like we're an old rickety boat trying to get out of the dock. "¦ It's been kind of ugly getting out of the harbor. We've bumped into some other boats. We hit our own dock once. "¦ If we can just get to sea, then maybe once we start sailing, get that main sail up, it will be a lot smoother ride."
What leaders thought would be a month marked by small-bore measures meant to foster unity instead turned out to be one legislative fight after another, and mostly amongst themselves.
The first week in session was marred by a failed coup to overthrow House Speaker John Boehner. The second week brought a Department of Homeland Security funding measure that has the House and Senate in a standoff over provisions targeting Obama's immigration executive actions.
During the third week, Republicans fought over an abortion bill, the Pain-Capable Unborn Child Protection Act, which mired the party in a no-win conversation about defining rape. Eventually, the legislation was pulled, but the incident left hurt feelings both among antiabortion activists and House Republican women members who complained about the measure in the first place. Finally, leaders pulled a border-security bill, one they hoped would set them on a path to Republican-centric immigration reform, because they did not have enough support in their conference to pass it.
Usually lawmakers are in Washington, D.C., for just three weeks at a time, and members are looking forward to a week back in their districts after the six-week session. But waiting on the other side is a thorny vote on the DHS measure when they return during the last week of February, one that is already giving some members pause.
"Nobody's brought up border security, which died," said a second member, also speaking anonymously to be more candid. "The pain-capable thing was a disaster. The DHS thing—we thought we were being smart, but all that happened is we sent it to the Senate and it's going to come back with a clean [continuing resolution]."
Others, though frustrated, are trying to look on the bright side. Rep. Steve Stivers said much of the legwork that could yield legislative wins in the future has been set during the first few weeks of the session. Committees are organized and ready to hold markups, and bills can be more properly vetted before they come to the floor.
"It's been a long six weeks, is all I can say. That is true," Stivers said, laughing. "It's always tough at the beginning of a Congress because you do a bunch of things that you think are going to pass, but you don't really know. So now we can take a step back, we get a week at home to serve our constituents and re-familiarize ourselves with what people back home want, and then hopefully come back and start to do some of those small-bore things where we agree. I think we need to get back to that to start, and then build to the harder things over time."
Rep. Mario Diaz-Balart said expectations for passing legislation should be tempered by the fact that although there are Republican majorities in both chambers, bills still need Democratic votes to ultimately pass.
"One of the things that we have to remember is in the Senate, to get most things done it requires 60 votes," Diaz-Balart said. "The problem is sometimes elevating expectations to the point that are unrealistic. ... The lesson is that we can do a lot, we can change a lot, we can contain the president a lot of different ways. But we have to remember that most things in the Senate require 60 votes."
One problem is the issue of trust, said Rep. Marlin Stutzman. There was already a trust gap between leadership and many of their more hard-line conservative members, but he said the vote last year to pass the so-called "CRomnibus" appropriations bill was damaging.
"We've got to be able to trust them, and they've got to be able to trust us. And once that trust level is high and people are more comfortable, that's when more things will get done," Stutzman said. "I'm more concerned about Republicans getting on the same page as Republicans and our leadership, because if we're not on the same page, we'll never be able to accomplish anything with the president."
---
Alex Brown contributed to this article