Should Democrats Double Down on Attacking the Koch Brothers?
As top strategists autopsy their midterm campaigns, they're coming up with very different results.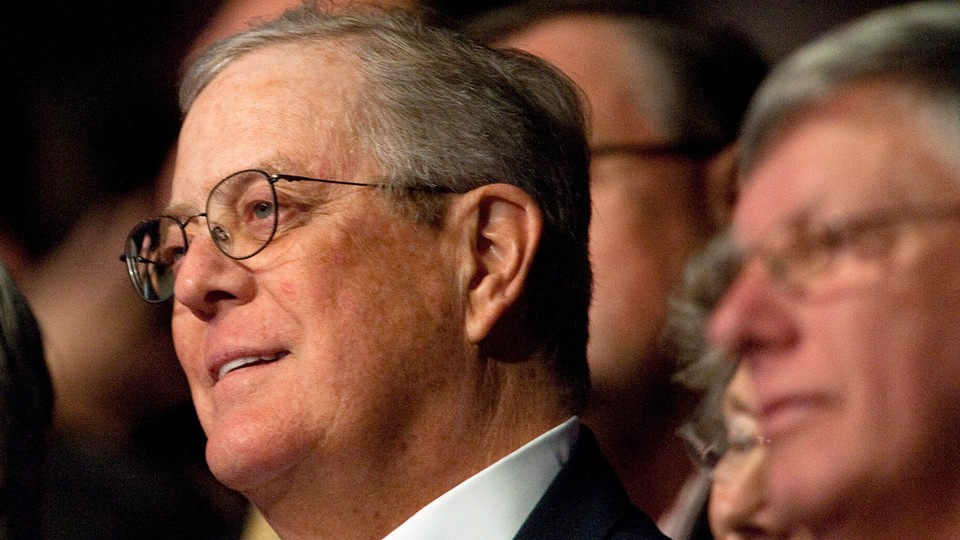 No Democratic strategy got more attention in 2014 than the party's ritualized slamming of the conservative Koch brothers. From Harry Reid's floor speeches to TV ads broadcast across the country, Democrats bloodied the billionaire brothers and they candidates they funded—yet most of the Koch candidates won anyway.
But one of Democrats' top campaigners has a bold message for his colleagues: Despite the losses of 2014, double down on the Kochs in 2016.
It's one of several strategies—including the vaunted "war on women" playbook—that many Democrats hope to resurrect in the next election, even as Republicans scoff and other Democrats push for the party to change course.
Paul Tencher, who managed Democratic Sen. Gary Peters's victorious 2014 campaign in Michigan, says his team's efforts demonstrate that the strategy is too potent to give up, especially with the Kochs' political network planning to spend a gargantuan $889 million in 2016. Tencher says their methods are the only way to keep the ever-growing influx of Koch-network money from swinging elections.
"We have to be smarter and more disciplined about shutting off the spigot of outside money," Tencher said in an interview. ""¦ This isn't just about bruising up the Koch brothers and raising money. It's about shutting off that spigot and making their brand incapable of carrying the Republican message.
"There's nothing worse than a campaign manager who talks about how campaigns should be run," Tencher laughed. "It's a choose-your-own-adventure business, and some others had strategies that worked as well."¦ But I think other campaigns could and should have bought into this messaging better."
Yet not every Democrat wants to double down on the Kochs. It's expensive, for one thing, to raise the profiles of businessmen most people have never heard of in order to attack them. "I think the Kochs are a great fundraising foil, but I continue to believe they're not the best line of attack for Democrats," said Travis Lowe, a Democratic ad-maker.
"Any number of entities used the Kochs as a foil last time, and it didn't work," Lowe continued. "That doesn't mean it can't in a better environment. But ... there are better arguments."
And Republicans have long jeered Democrats' attacks on the Kochs; they say the Democratic Party's record in 2014 speaks for itself. "When you're cleaning out the fridge, if it stinks, you get rid of it," said GOP strategist Brad Todd. "The Democrats have been totally unwilling to clean out their campaign fridge after 2014."
Democratic Senate strategists caution that nearly two years before the 2016 election, they have made no decisions about whether the Kochs will figure as strongly in their messaging as they did last year. But Tencher says his Michigan experience shows that a Koch-focused attack has promise.
Peters's campaign in Michigan was one of the few November bright spots for his party, and it came after months of relentless TV ads linking Republican nominee Terri Lynn Land to the Kochs and a trio of environmental and economic issues with Koch-owned companies in the state. According to analysis from Kantar Media/CMAG and The Cook Political Report, 35 percent of Democratic TV ads in Michigan's 2014 Senate race attacked the Kochs—the highest rate in the country.
When Tencher started as Peters's campaign manager last winter, Koch-affiliated groups such as Americans for Prosperity had been advertising against Peters for months, and Land was doing better in both public and private polling. So Peters's campaign shifted resources to opposition research—but on the Kochs, not Land.
"We set out to find things to shut the spigot off, because I felt there was no way we could compete with their money," Tencher said. "If they were going to come in and spend $10, $12, $15 million, there was literally nothing we could do, so we had to find a way to stop them from doing it."
Democratic outside groups picked up on the campaign's research, which highlighted chemical storage along the Detroit River and major layoffs in northern Michigan, and aired TV ads attacking the Kochs' motivations for backing Land. And from the spring through the early fall, as Peters pulled away and Land's unfavorable ratings grew in Democratic polling from 25 percent to the 40s, the Kochs' name recognition and unfavorable ratings grew in lockstep, too.
"The Kochs left in August," Tencher said. "Whether it was because she became a non-viable candidate or they became a non-viable messenger, one way or another we stopped their money."
Tencher has an enviable campaign record; in the election before last, he managed Sen. Joe Donnelly's successful long-shot campaign in Indiana. But critics note that Michigan, a reliably blue state where Republicans nominated a flawed Senate candidate, may not be the best place to rely on to test a national strategy.
And while Republican strategists generally criticize Democratic strategy whatever it is, they are notably unafraid—even in private conversations—of their candidates being tied back to the Kochs.
"I feel like their strategy is, they don't have a bogeyman and so they have to make one up," said Andrea Bozek, the communications director for the National Republican Senatorial Committee. "We have a lot of scary characters to pick from: Nancy Pelosi, Barack Obama, Harry Reid. They don't have anyone who galvanizes emotional discomfort to that level, according to the polling I've seen."
"My look at the election results shows that that was a resounding failure," said Levi Russell, communications director for Americans for Prosperity. "Because that strategy was tried in every single competitive Senate race without fail."
Tencher insists the answer is to invest more time, energy, and money into connecting the Kochs to local issues, like the environment in Michigan, and linking it all back to Republican candidates who benefit from their spending.
"We have to do the research," Tencher said. "We sat down, made it a priority, and said this is what we're going to do. Huge credit to our communications and research staff, they went and found it. For 2016, this has to be a concentrated effort.
"Obviously they have a pretty specific [spending] number in mind," he said.
---
Alex Roarty contributed to this article