Senate Republicans and Democrats Finally Had Lunch Together. They Talked About Food.
With weighty debates raging on the chamber floor, a bipartisan group spent Wednesday discussing pie and lobster.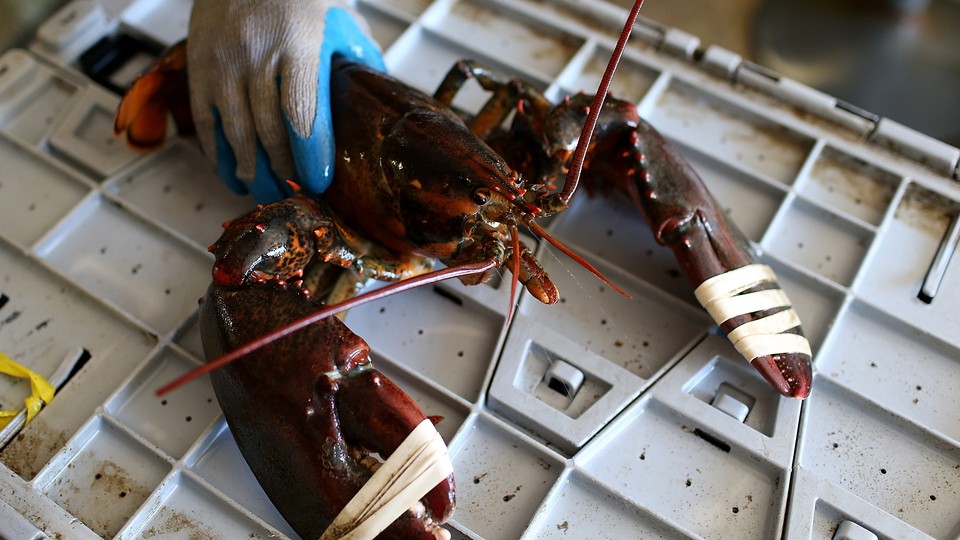 Senators meet with their individual parties for lunch every week, sometimes multiple times a week. And yet they haven't convened all together for any formal meal in almost two years.
So at Wednesday's historic event, a joint lunch among Senate Republicans and Democrats, with a huge fight raging in the chamber over immigration and funding to protect the nation, this is what they could agree on: The Maine blueberry pie was delicious.
There was ham, biscuits, and lobster salad, but sadly no booze, and substantive discussions were not on the menu. Democrat Robert Casey of Pennsylvania owned that he did have ice cream. Republican Susan Collins of Maine, who supplied the lobster, sat at a table with Senate Minority Whip Dick Durbin and Majority Leader Mitch McConnell.
"We talked about lobster," Durbin said, noting that he doesn't often rub shoulders socially with the Republican leader. The conversation, he said, "was all pretty light."
The event was organized by Sen. John Thune of South Dakota, the number three Republican in the Senate, and Sen. Chuck Schumer of New York, the chamber's number three Democrat. The idea was to get people hanging out together. That's all.
Although Schumer posited hopefully afterward, "I'll bet the seeds of substantive conversation started at these tables."
At those tables where senators largely sat staggered, Democrat-to-Republican, there was a lot of talk about food. There were amusing anecdotes about the late Edward Kennedy (ask Sen. Orrin Hatch, one of Kennedy's closest friends). There were a few serious notes. GOP Sen. Mark Kirk of Illinois, a recovering stroke victim, expressed concern after the luncheon about Senate Minority Leader Harry Reid, who recently had surgery on his right eye.
Republicans haven't had many opportunities to see Reid since he returned to the Senate this week after the surgery -- he had injured his eye in an exercise accident -- so it makes sense that they would be curious. "I was looking at him with that big patch on his eye. So we were all kind of assessing his health status there," Kirk said.
Sen. Ron Wyden of Oregon arrived late and thus was the only Democrat at a table of Republican latecomers. "I was so outnumbered," he said as he rushed out.
Republican Sen. Bob Corker of Tennessee was at Wyden's table, which was up at the front. "It's kind of like church. You have to sit up front when you're late," he said.
There were a few lighthearted jabs. According to Republican Sen. Rob Portman of Ohio, Thune said he figured that the Democrats had to "draw straws" to select the luncheon's freshman speaker, Sen. Gary Peters of Michigan. Except, for the Democrats, he's the only freshman. Get it?
Playing along, Peters then thanked Schumer for selecting him to represent the newly elected Democrats. Hilarious.
Wouldn't wine have loosened the participants even more? It's a little early, remarked one aide outside the room. Alexander smiled at the suggestion that next time, maybe the senators could imbibe together. "We do that, too," he said. Just not today.
McConnell and Reid both offered their thoughts at the lunch on how the parties can work together over the next year. But Kirk said he didn't hear much of what Reid said. He was focused on the minority leader's eye, which is still bandaged. Reid looked "pretty good," Kirk said. "He could definitely try out for pirate now."
Peters, who sat between Collins and Republican Sen. Kelly Ayotte of New Hampshire, impressed many Republicans who hadn't met him. Kirk, for example, said he had no idea that Peters was a fellow Navy reservist and hoped that the two could work together in the future.
Collins, too, was surprised by Peters's history and now wants to work with him on legislation coming out of the Aging Committee, which she chairs. "I had no idea that he has a background in finance. He worked for Merrill Lynch, and then he ran the lottery in Michigan for a time. And I only knew that he'd been a congressman."
Kirk sat with his "best buddy in the Senate," Democrat Joe Manchin of West Virginia, saying that he's looking forward to getting back in Manchin's boat, The Black Tie, the site of previous handshake deals -- perhaps a better venue for real work than a Senate room.
"The boat is the key," Kirk said. "Once you trap members in the middle of the Potomac with a case of beer, good things happen."