Senate Conservatives Concede, Won't Delay DHS Bill
Passage of a "clean" measure expected before Friday deadline, though House prospects remain uncertain.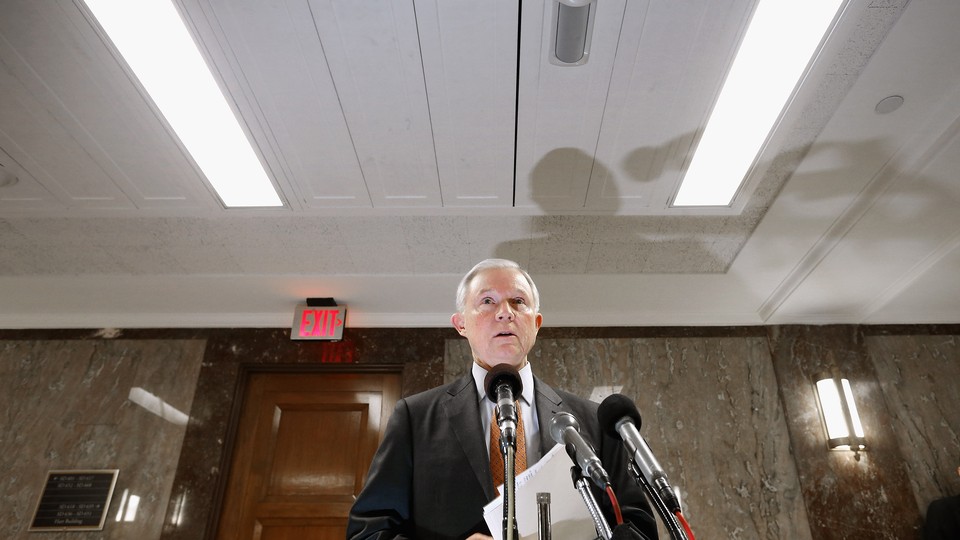 The Senate will pass a clean bill funding the Department of Homeland Security Friday morning, roughly 12 hours before the department is set to run out of funding.
Despite conservative groups and blogs blasting Senate Majority Leader Mitch McConnell's "surrender," immigration hardliners in the Senate appeared to wave their own white flags on Thursday, allowing leaders to come to a deal to fund the department before Friday night's shutdown deadline.
With a deal to pass a clean DHS funding bill moving forward some time in the next two weeks no matter what they did, conservatives did not raise any objections to McConnell's strategy during a conference luncheon on Thursday. A four vote series to pass the DHS bill is scheduled to begin at approximately 10 a.m. Friday.
McConnell filed cloture Thursday evening on separate legislation from Sen. Susan Collins that would defund President Obama's executive action. Republicans hope to pass that bill immediately after funding DHS, but Democrats have said they will not consent to moving forward with the Collins measure until after a clean DHS bill has made it to Obama's desk. That disagreement over timing nearly scuttled the DHS agreement Thursday.
Earlier Thursday, over tacos, Republicans discussed their options moving forward and exited the meeting largely optimistic that the DHS bill will clear the Senate by Friday evening, before the department shuts down at midnight that night.
Prospects for the DHS bill in the House are uncertain, with GOP leadership in that chamber now considering passage of a short-term continuing resolution, likely three weeks, to buy themselves more time. But what happens in the lower-chamber is of little concern to senators who have had the DHS bill on their plates for two months.
"We've got to fund DHS and say to the House: 'Here's a straw so you can suck it up,'" Sen. Mark Kirk said.
Although Sens. Jeff Sessions and James Inhofe had been highly critical of McConnell's decision to pass a clean funding bill and voted against moving forward with that strategy on Wednesday, neither raised concerns about the legislation during Thursday's lunch, several Republican members said. Asked after the meeting whether he would hold up the bill through the weekend, Inhofe said emphatically: "No!"
"I don't look to have any unnecessary delays in this process," Sessions said, acknowledging that he will not hold up the bill either. "I like to see what kind of [Unanimous Consent] we're looking at but I think it's appropriate to move forward with the bill. "¦ I'm not interested in delay merely for the sake of delay."
Based on conversations during the luncheon, half a dozen Republican members, including the GOP Whip, said they did not believe any of their colleagues would hold up the bill.
Sessions and Inhofe follow on the heels of Sen. Ted Cruz, who has long called on the Senate to defund the president's executive action, but said earlier this week that he would not hold up the bill. Cruz didn't even attend Thursday's lunch, opting instead to speak at the Conservative Political Action Conference in Maryland.
Kirk expressed frustration with the "hardliners," including Sessions, who have pushed DHS so close to the precipice. "This battle should be the end of the strategy of attaching whatever you're upset with the president [about] to a vital piece of government," Kirk said.
Those concessions will allow Republicans, along with the cooperation of Democrats, to move much more quickly through the process of passing the DHS bill and sending it back to the House. Had Inhofe, Sessions or another member objected the process could have lasted through Sunday, forcing a two-day shutdown at DHS. Heading into the meeting, many Republican members thought that was likely.
But the prospect of spending the weekend in Washington with DHS shuttered was unpopular with the vast majority of members. With Republicans and Democrats now in unanimous agreement to move forward, the Senate will be able to leave Washington for the weekend on Friday, leaving the fate of the Department of Homeland Security in the hands of the House.