Scott Walker Is Winning the Rush Limbaugh Primary
After going unmentioned on Rush Limbaugh's radio program for weeks, Walker was mentioned more than 200 times after a well-received speech in Iowa.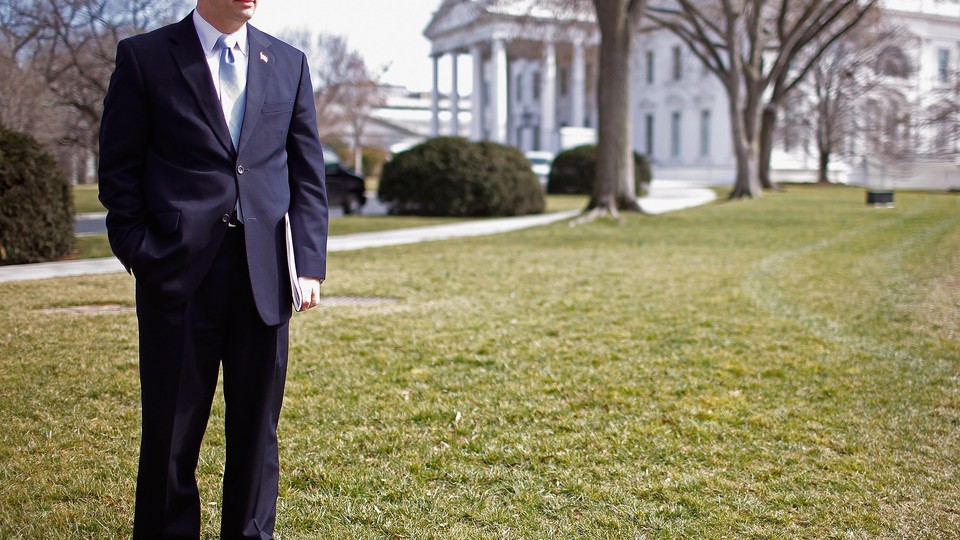 Wisconsin Gov. Scott Walker has experienced a "boomlet" over the last few weeks—a few well-received speeches, increased attention, heady public poll results. But plenty of political observers, including conservative radio host Rush Limbaugh, say they have seen it coming.
"He has come out of nowhere, and my point is he hasn't come out of nowhere," Limbaugh said on his Jan. 26 show, referencing Walker's rave reviews after a weekend in Iowa. "He's been front and center but unreported on. But Republicans and conservative voters and so forth know exactly who he is and what he stands for."
Limbaugh's own show, though, shows another side of what happens when a candidate surges in the Republican presidential contest. While Jeb Bush and Mitt Romney dominated the headlines throughout most of January, Limbaugh barely mentioned the Wisconsin governor. But since Walker's performance at the Iowa Freedom Summit garnered a standing ovation near the end of the month, the high-rated talk radio program has been awash in all things Walker.
After three weeks without a mention by Limbaugh, Walker appears 200 times in transcripts of The Rush Limbaugh Show over the last week of January and the first week of February, a feedback loop broadcasting Walker's name to thousands upon thousands of Republican listeners across the country.
"The important thing about Scott Walker—I mean, all of a sudden people are saying, 'Who is this guy? Where'd this guy go to get a charisma transplant?' " Limbaugh said in a Jan. 29 segment. "He's always been who he is. It's just that he's never been touted."
Limbaugh has said repeatedly on his show that he hasn't endorsed Walker, but he has touted Walker over the last two years as "the blueprint for the Republican Party if they are serious about beating the Left."
But at the beginning of the month, Walker seemed to have been forgotten by the host. Limbaugh didn't mention Walker in a single segment between Jan. 8 and Jan. 26. Two days after Walker spoke at the Iowa summit, Limbaugh was one of many lauding a speech that yielded a standing ovation.
The speech was the first major sign that Walker could compete with bigger names in the Republican primary field. A string of polls in Iowa and New Hampshire over the next two weeks showed Walker to be well-liked and competitive with potential rivals despite not having nearly as much name recognition.
Limbaugh has credited himself for casting Walker in a presidential light, and he linked his show to the supporters who have joined the "Scott Walker bandwagon" since the end of January.
"I wanted to find the earliest mention of Scott Walker as a man showing the way—with a blueprint, how to win—and how long I've been talking about this, and how long I was the only one talking about it," Limbaugh said on Jan. 30, which also happens to be the day Romney announced he wouldn't run for president a third time. "Now to see all the people getting on the bandwagon—which I did, and that's coming up."
Whether Walker's increased prominence on Limbaugh's show was a cause or an effect of his good start to the year, it does highlight the major role talk radio could play in the 2016 Republican primaries. Former Florida Gov. Jeb Bush's more moderate positions on issues like immigration have already gotten him in trouble with influential hosts.
One of Walker's early weaknesses is that fewer people know who he is. But if a big radio show takes note of your good news, that problem could fade quickly.