Rick Santorum on ISIS: 'Bomb Them Back to the Seventh Century'
The former senator touted his national security credentials at CPAC on Friday.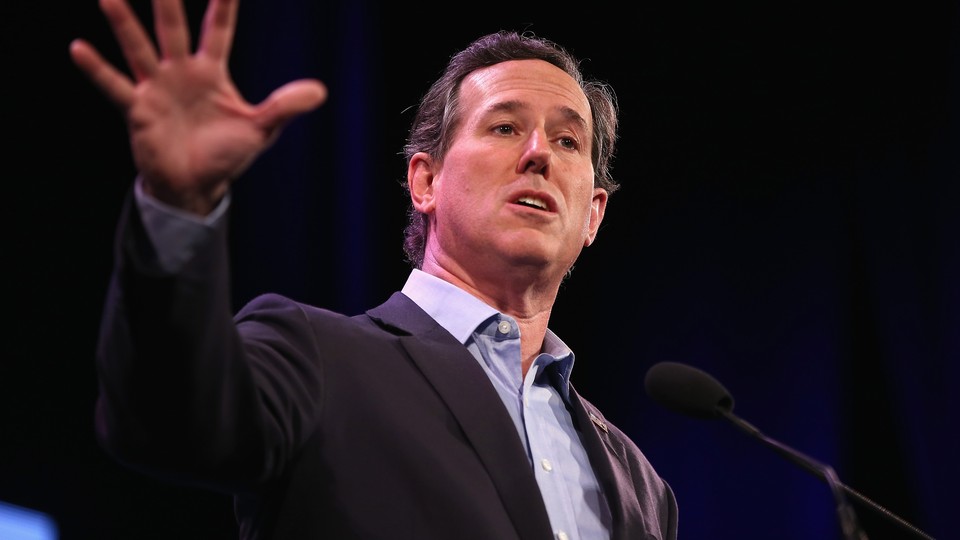 The national security issues facing the United States today are old hat for Rick Santorum.
Speaking at the Conservative Political Action Conference on Friday, the former Pennsylvania senator emphasized his eight-year tenure on the Senate Armed Services Committee. He said that he "worked to retool our military" to combat terrorists in the days before and after September 11—and that another retooling is in order today from the next commander in chief.
"We need someone with real experience to be able to rebuild our military," Santorum said. "The likelihood that we're going to face a former secretary of State means that we need someone who has a long and deep understanding of the threats that confront us, particularly the threat of radical Islam."
The threat of the Islamic State, he said, should be countered with a more aggressive U.S. mission. "If ISIS wants to establish a seventh-century caliphate, let's oblige them by bombing them back to the seventh century."
Santorum said the Obama administration's foreign policy strategy has hurt American credibility worldwide.
"In fact, the president's popularity is so bad around the world today that I heard this report from a source that the Kenyan government is actually developing proof that Barack Obama was actually born in America," he joked.
In recent months, Santorum—a former senator froom Pennsylvania who edged out Mitt Romney for a surprise first-place finish in the 2012 Iowa caucuses—has played up his experience on national security, deemphasizing the strict social conservatism he built his brand on.At Friday's appearance, Santorum said he long ago predicted the threat currently posed by terrorists abroad, giving his farewell address in the Senate about radical Islam, which he called "the gathering storm of the 21st century." He said his terrorism-related experience goes back even further, when after 9/ 11 he studied al-Qaida, finding that "this is an enemy that has been attacking the West for over a thousand years."
In a CBS affiliate interview on Thursday to preview his CPAC appearance, Santorum said his foreign policy-focused speech is designed to showcase the "message that the Republican Party has to articulate in order to be successful, whoever the candidate is."
Santorum clearly sees himself as that candidate already. He has been slowly building his 2016 campaign since at least early 2014, assembling fundraisers, growing his Patriot Voices super PAC, and meeting with advisers to talk strategy (including whether he should ditch his signature sweater-vests). He's surely hoping the slow build pays off—Santorum was largely underestimated in the 2012 primary until his Iowa victory, and he'll likely be written off this time around, too.
In the years since he last held office in 2007, Santorum has softened a bit on proclaiming conservative social values, rightly expecting that the Republican base knows where he stands and trying to appeal beyond the family-values crowd. His vocal antiabortion, anti-gay-marriage stances led to a whopping defeat in the 2006 midterm election against Democratic Sen. Bob Casey, in what one pollster called "a referendum on Rick Santorum" whose "confrontational style ... polarizes the electorate."
In 2012, Santorum began switching gears, promoting his blue-collar roots and populism in an effort to contrast himself with blue-blooded Romney. This time around, his pitch is similar, centered on building a "pro-worker" Republican Party.
On Friday, he credited his Iowa victory to that very idea. "I won because I stood for someone: the little guy, the American worker. And if we're going to win in 2016, we need to stand for the little guy, too."