Rick Perry Is Trying to Get His Groove Back at CPAC
Once a GOP front-runner, the former Texas governor is attempting to remake his reputation in a crowded field of 2016 contenders.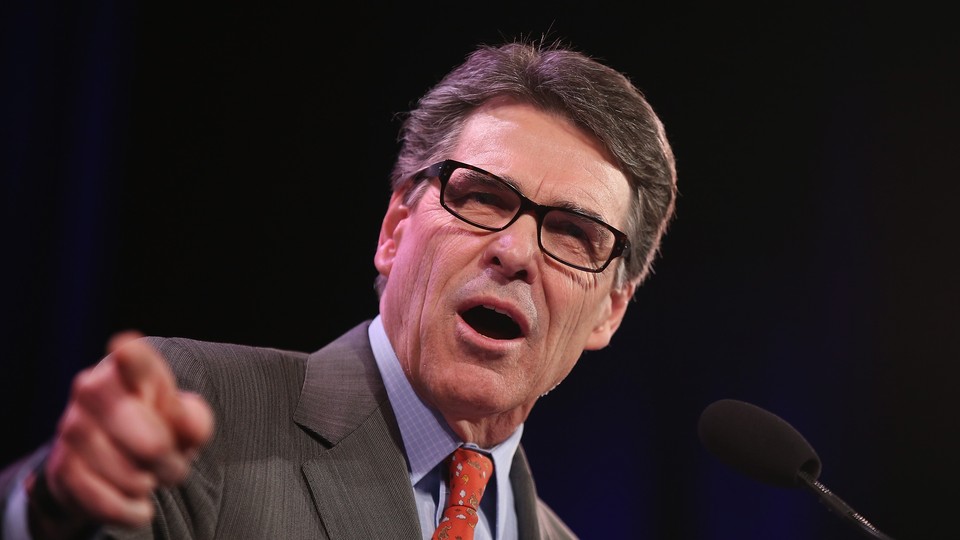 Rick Perry is on the hunt for redemption.
The former governor of Texas presented himself as a retooled candidate at the Conservative Political Action Conference on Friday, who came to "speak plainly about the world we live in." He also played up his tough-talking Texan image, and made a promise not to back down from Iran or ISIS if he is elected to the White House in 2016.
Perry blasted the Obama administration for sitting down at the negotiating table with Iran, which he said shows disrespect to Israel and allows world leaders to cross "red lines" without facing consequences.
"There are no real consequences when dictators and adversaries defy America, and this must change," Perry said. "For the world to be safer, America must be stronger."
While Obama has tried to define the Islamic State as an outlier in its religious manifesto, Perry attacked the president for not calling out the terrorist group for what he believes it is.
"To deny the fundamental religious nature of the threat and to downplay the seriousness of it is naive," Perry said. "It is dangerous, and it is misguided. ISIS represents the worst threat to freedom since Communism."
On the domestic front, Perry had a long list of complaints against Obama. He made the case that as a former Texas governor, he knows more about securing the border than the president ever could.
"They talk, and people literally die," Perry said of the slow-rolling immigration debate in Washington. "You don't trust Washington to deal with this—I don't trust Washington to deal with this—until they secure the border. And we know how to do this. We can show them how to do it."
On economics, Perry told the audience not to believe the Obama administration's statement that the national unemployment rate had dropped to less than 6 percent.
"The unemployment rate is a sham," Perry shouted. "It leaves millions of American workers uncounted. And if the Republican Party doesn't take a stand for these uncounted Americans, who will?"
When it came to the contentious issue of climate change, Perry again reached back in history and pulled out another one of his actions as governor. But Perry didn't fall into the trap many GOPers have found themselves in. Instead of talking about whether climate change exists, Perry explained how Texas managed to reduce pollution during an economic boom.
"The point is, you can have job creation, and you can make your environment better," he said. "That ought to be our goal in this country, and it all starts with energy policy. Open up the XL pipeline, create jobs."
Perry's task is unique among many other potential 2016ers who are standing on the stage at CPAC to prove they are conservative enough to trust. In his 2012 presidential attempt, Perry resonated with the grassroots. But he also exhibited signs then—debate fumbles, tongue-tied speeches—that he was not ready for the rigorous demands of the presidential campaign trail. This year at CPAC, he's looking for a second chance.
Over the past year, Perry has been traveling to early-primary states, delivering foreign policy speeches and building his team. But Perry's struggle since leaving the Texas Governor's Mansion has been to stay relevant and ahead of a felony charge accusing him of misusing the power of his office. As he weighs a potential 2016 presidential bid, he has had to wrestle with the potential that a legal challenge could plague him well into a presidential campaign.
While in 2012 Perry enjoyed the early perks of a front-runner on the campaign trail—a conservative who was able to pull down millions of dollars in fundraising while still firing up the base. Today, Perry is entering a much more crowded 2016 landscape, in which Wisconsin Gov. Scott Walker is occupying the space where Perry once stood.
On Thursday, Walker generated a warm reception at CPAC, and the crowd erupted in "Run, Scott, run" chants as he walked off stage. Perry has been quick to try to knock the Wisconsin governor from his position as an early front-runner. During an appearance on MSNBC's Morning Joe on Friday, Perry accused Walker of overstepping his bounds at the annual conservative conference when Walker told the audience that his fight with unions was akin to the one the U.S. was waging against the Islamic State.
"You are talking about, in the case of ISIS, people who are beheading individuals and committing heinous crimes, who are the face of evil," Perry told MSNBC. "To try to make the relationship between them and the unions is in appropriate."