Even Republicans Love Obama's Immigration Policies
GOP voters support the executive actions in principal, but oppose them once they're linked to the president.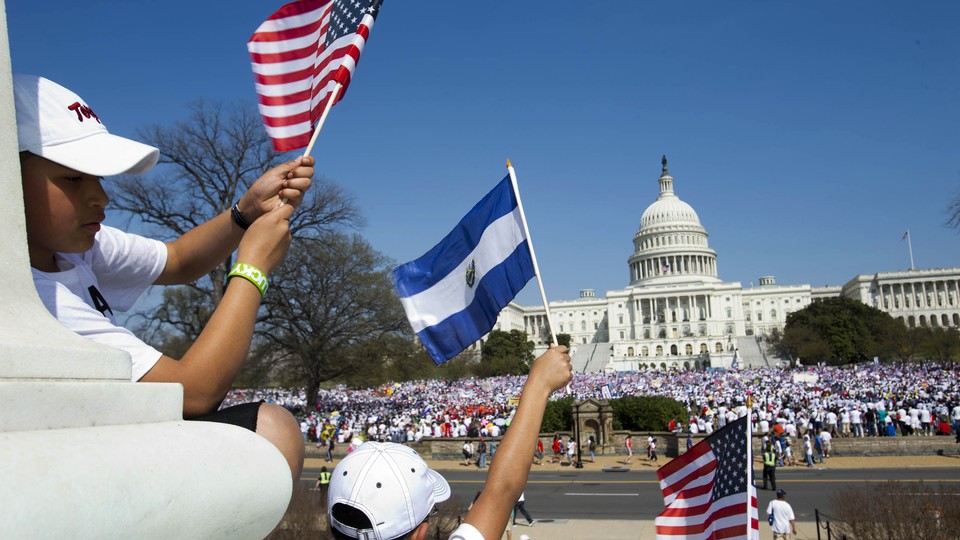 At first glance, the battle over immigration reform seems like nothing new—just one more example of partisan gridlock. But new research from Public Religion Research Institute (PRRI) shows that President Obama's actions on immigration are broadly popular, particularly when they are not identified with him. The survey also shows why GOP strategists would do well to advise against a partisan showdown on this terrain. By catering to their most conservative voters, congressional Republicans risk not only opposing policies supported by the mainstream of their own party but also undermining efforts to reach out to the growing number of Hispanic voters who will be key to successes in 2016 and beyond.
On February 18, President Obama's executive action expanding the Deferred Action for Childhood Arrivals (DACA) program will go into effect. One of its central provisions will allow immigrants living in the country illegally, but who are the parents of children with legal status, to remain in the United States. They can stay for up to three years, if they pass a background check and have been in the country for at least five years. Obama took this action after bipartisan, comprehensive immigration-reform legislation passed in the Senate but repeatedly stalled in the House of Representatives.
It is truly remarkable that an issue like immigration reform, which enjoys such broad support among the public, has become so mired in politics. PRRI's most recent survey—released this week—finds that roughly three-quarters (76 percent) of Americans support the specifics of Obama's executive action allowing the parents of children with legal status to stay in the country for up to three years if they meet certain requirements. Just one in five Americans (19 percent) is opposed to this policy. Moreover, this policy enjoys strong majority support across partisan and religious lines. 87 percent of Democrats, 77 percent of independents, and 67 percent of Republicans support this policy, as do majorities of Catholics (76 percent) and white evangelical Protestants (68 percent).
Support for the central provisions of the DREAM Act is similarly broad. Nearly seven in ten (68 percent) Americans favor allowing illegal immigrants brought to the U.S. as children to gain legal resident status if they join the military or go to college, including 79 percent of Democrats, 66 percent of independents, and 60 percent of Republicans.
However, the survey also found strong evidence of the power of partisanship at work among rank and file Americans. The survey split the sample into two demographically identical groups. The first group simply received the executive action on immigration and DREAM Act policy questions; the second group received the same verbatim questions, with a twist—the proposal was identified as "Obama's policy." The findings show a significant "Obama Effect" across both questions.
---
The "Obama Effect" Among Republicans (Percent Who Favor)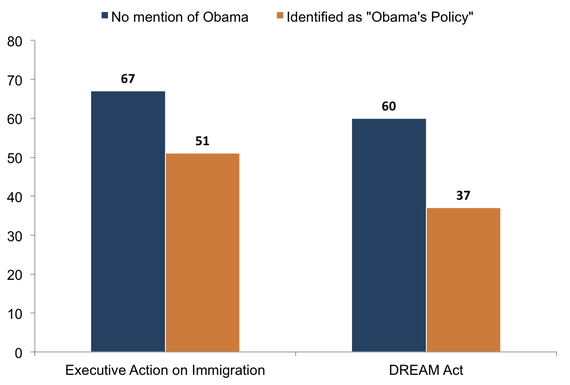 ---
When there is no mention of Obama, two-thirds (67 percent) of Republicans favor allowing illegal immigrants who are parents of those with legal status to avoid deportation if they meet certain requirements. But when Obama is linked to the policy, support among Republicans drops 16 points to 51 percent. Support among independents also falls 13 points when Obama is linked to the policy, from 77 percent to 64 percent. Among Democrats, there is no statistically significant effect in support.
The "Obama Effect" is even more pronounced in attitudes about the DREAM Act. When Obama is not identified with the policy, six in ten (60 percent) Republicans favor allowing illegal immigrants brought to the U.S. as children to gain legal resident status if they attend college or join the military. Once Obama is identified with the policy, Republican attitudes invert: Support plummets 23 points to only 37 percent, while opposition rises to nearly 6-in-10 (58 percent).
Of course, these measures capture only the power of partisanship on the ground. There is an additional, powerful layer of partisan forces at work among Republican members of Congress, especially in the House, who have been driven by short-term tactical thinking focused on appeasing their most conservative constituents, who show up in low-turnout primaries and midterm elections. But now that the midterms are in the rear-view mirror and GOP strategists are looking down the road to 2016, the survey offers three findings that would be prudent inputs to the longer-term political calculus.
First, given that majorities of rank and file Republicans generally support most immigration-reform policies—not only temporary deferred action for children brought here as minors and their parents, but even a path to citizenship (53 percent)—Republican candidates could back these immigration policies without stepping outside the mainstream opinion of their party.
Second, the GOP should take note that nearly three-quarters (73 percent) of Americans—including 62 percent of Republicans—say Republicans in Congress should prioritize passing comprehensive immigration-reform legislation over legislation that would overturn Obama's immigration policies.
Perhaps most importantly, the Republican Party should take notice of President Obama's rapidly rising job approval among Hispanics. In October 2014, Hispanics were clearly frustrated with Obama; fewer than half (46 percent) approved of the job he was doing as president. Shortly after his December announcement to take executive action on immigration, Obama's approval rating increased 16 points to 62 percent. Gallup's most recent numbers from late January have Obama's job approval among Hispanics up a few more points to 65 percent.
All of these dynamics suggest that Republican strategists and candidates would not need to do much more than dust off their copies of the GOP's 2012 election post-mortem report, which laid out a straightforward recommendation:
… Among the steps Republicans take in the Hispanic community and beyond we must embrace and champion comprehensive immigration reform. If we do not, our Party's appeal will continue to shrink to its core constituencies only. We also believe that comprehensive immigration reform is consistent with Republican economic policies that promote job growth and opportunity for all.
As the GOP looks to 2016 and beyond, it will certainly be easier to chart a more familiar course that avoids conflict with a Tea Party base that holds more negative views toward immigrants and is opposed to immigration reform. But PRRI's recent research, consistent with the GOP's own post-mortem report, suggests that this path is a temptation that should be avoided, at least if the GOP is serious about finding inroads to connect with Hispanic voters.