Republicans Go Full Steam at Obama's Energy and Climate Agenda
Wednesday features Keystone XL vote, attacks on EPA rules and natural-gas plans.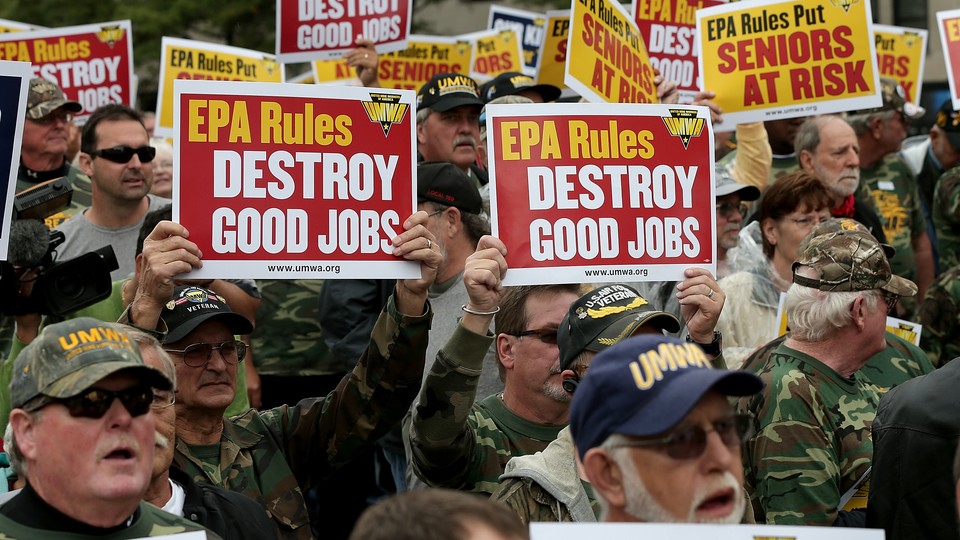 The energy battle between congressional Republicans and the White House is on.
Wednesday, the House will vote to send legislation mandating approval of the Keystone XL pipeline to Obama's desk, where it awaits his veto pen. A key Senate committee is holding a hearing in the first step to action against the Environmental Protection Agency's high-profile rules to limit greenhouse gas emissions from coal-fired power plants. And Energy Secretary Ernest Moniz will likely be grilled about the administration's natural gas export policies.
Those hearings should be followed by more confrontational sessions this month and next with EPA Administrator Gina McCarthy and Interior Secretary Sally Jewell, whose agency is forging ahead with hydraulic fracturing rules that are unpopular with Republicans.
And a top House Republican just released a broad framework for comprehensive energy legislation that will likely prompt collisions with Democrats.
The debates will be far more wide-ranging and consequential than the Keystone pipeline issue that Republicans used to start the year. Obama is expected to veto the bill, and the GOP doesn't have the votes to override. That outcome was expected and the debate symbolic, but the rest of the year will feature GOP attempts to beat back environmental and climate rules that Obama wants to be part of his legacy.
The White House has signaled that Obama won't sacrifice his big initiatives to cut carbon emissions in the name of forging fiscal deals with Capitol Hill. But that won't prevent Republicans from looking for openings to undermine his agenda.
The Senate Environment and Public Works Committee will hold its first hearing on the EPA's planned rules for new and existing power plants Wednesday, with Janet McCabe, EPA's top air pollution official, as the sole witness.
Senate Majority Leader Mitch McConnell has already vowed an effort to attach provisions to spending legislation that block the EPA rules, putting himself on the appropriations subcommittee that handles the agency's budget.
"I think some of it will focus on appropriations," Sen. Roy Blunt, a member of the GOP's leadership team, said of effort to thwart the rules.
"The more people find out about the EPA rules that will increase their utility bills, the less they will like them, and all those things may come together about the time we get to the Interior Appropriations bill," Blunt added, referring to spending legislation for EPA and the Interior Department.
Spending bills are just one option Republicans have available to them.
They also could seek to use the Congressional Review Act, a mid-1990s law that was part of then-Speaker Newt Gingrich's "Contract with America." It gives lawmakers power to overturn final agency regulations, but has been used successfully just once. EPA plans to complete emissions rules for new and existing power plants this summer.
Democrats say they're ready for a fight. "We are prepared to protect the Clean Air Act. The Clean Air Act is clear and it certainly gives not just the authority but the obligation to the administration to regulate all pollutants, and carbon is a pollutant, so we will look forward to that discussion," said Sen. Brian Schatz, a Hawaii Democrat who is active in climate policy battles.
The coming days and weeks will also feature Republicans and top Cabinet officials jousting in public. Moniz will appear before a House Energy and Commerce panel Wednesday and the Senate Energy and Natural Resources Committee on Thursday to discuss his agency's budget request.
Moniz has a good rapport with Republicans—the administration energy policies that anger them the most tend to come from the Interior Department and EPA, and Moniz's pro-nuclear and pro-natural gas stances are popular across the aisle. But he'll likely still face criticism over the pace of his agency's approval of natural gas export applications, which advocates want quickened.
Elsewhere, House Energy and Commerce Committee Chairman Fred Upton on Monday released a wide-ranging and short-on-details outline for potential energy legislation.
Upton's framework pledges to tackle "permitting challenges" that thwart development of infrastructure to modernize electricity systems and make them more secure; efforts on development of an energy workforce that can address "21st Century challenges" and include more minority and low-income workers; provisions on energy exports; and provisions on energy efficiency.
The document's neutral wording is hardly an all-out assault on Obama's policies, and indeed could contain the seeds of agreement on some topics like efficiency.
But it's also an early signal of policy fights ahead. For instance, past GOP efforts to speed permitting have led to White House charges that Republicans are trying to gut environmental reviews. Also unclear is how hard Republicans might push on easing decades-old bans on crude-oil exports, an area of potential collision with Obama.
And the brief document also promises some clear battles over Obama's use of the Clean Air Act.
"The committee will also address regulatory overreach of the Environmental Protection Agency, including its power plant rules under Section 111 of the Clear Air Act and recent ozone proposal," it states.
The House can easily pass measures to thwart EPA's climate change rules, while the Senate is tougher terrain.
But Republicans also must grapple with conflicting plans: Following through on efforts to restore normal Senate procedures rather than reverting catch-all spending bills at the eleventh hour, yet also making good on threats to demand language that thwarts Obama's climate agenda, which the White House has vowed to protect.
Those fault lines were on display last week when Sen. Lisa Murkowski, who heads the Appropriations Committee sub-panel that controls EPA's budget, fielded a reporter's question about McConnell's demand for provisions that block EPA's power plant regulations.
Her long, very careful answer highlights the balancing act that the GOP faces. Here's a portion of it:
"It is my intent, and I am working with my appropriations staff—and they know full well what my directive is—and that is, where we are going to be working aggressively every step of the way [is] to put together a bill that is responsive and is something that we can gain support for passage, not a messaging bill, but support for passage," said Murkowski, who also chairs the Senate Energy and Natural Resources Committee.
"You are going to have folks that will want to load this particular bill with a lot of different clever ideas as to ways that they can either make things happen or stop things from happening," she added. "And so this is where it is going to take a pretty patient skill set to sift through."
Beyond the spending bill fights, Murkowski also expressed hope that she could find some common ground with Democrats on legislation that she wants to move through the Energy panel, and hopes to hold hearings by early spring.
Murkowski is among the chamber's strongest oil-and-gas industry allies, and strongly supports opening far more areas for drilling offshore than Obama or most Democrats support, among other areas of conflict. But Murkowski said she held out hope for finding common ground with Sen. Maria Cantwell, the panel's top Democrat, citing possibility for agreement on energy efficiency, nuclear-waste policy, and public-lands issues.