Republicans Focused on Protecting Kelly Ayotte
The party already is going after the freshman Republican's most likely opponent, underscoring how concerned they are about holding the New Hampshire seat.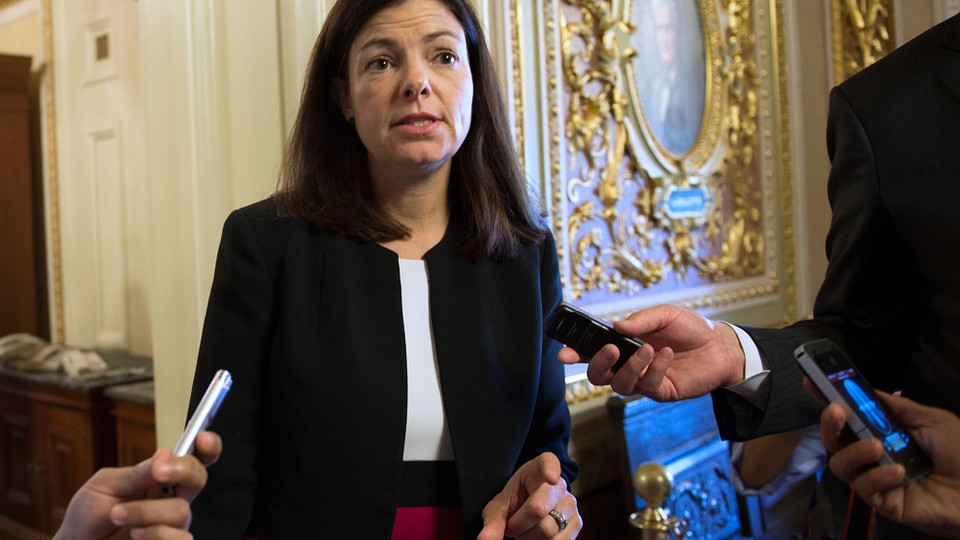 New Hampshire Republicans have begun a pre-emptive strike this month against the strongest prospective challenger to Sen. Kelly Ayotte, targeting Democratic Gov. Maggie Hassan months before she's even set to decide whether she'll enter the race.
The early and aggressive campaign against Hassan demonstrates how seriously they take her as a challenger. Republicans already have filed a legal request to reveal her out-of-state travel and even have gotten prospective presidential candidates to criticize her stewardship of the state. This is unusual because Hassan has yet to determine whether she'll run for Senate at alland won't be deciding until the summer.
To Democrats, that's proof that Republicans are worried about defending freshman Ayotte's swing-state seat in a presidential year. Polls suggest the GOP would be right to be nervous: A survey released last weekend from NBC/Marist found Hassan winning a hypothetical matchup, 48 percent to 44 percent.
Republicans, meanwhile, say they're just doing their due diligence on a candidate they believe has been eyeing a Senate seat since her first gubernatorial win in 2012.
"There's been constant quiet talk about it in Concord from the first day she became governor, at the beginning of her first term," said Jennifer Horn, the state GOP chairwoman. "It's the worst-kept secret in political circles that Governor Hassan would like to be Senator Hassan."
Horn's office started sparring with Hassan this month, making a right-to-know request about all of the governor's out-of-state travel in January—a request it says it plans to make every month. In a press release, Horn said the state's residents deserve to know that their governor, who Horn contends loses the power of her office when she leaves New Hampshire's borders, was using her position as a "stepping stone" to higher office.
Hassan's legal counsel said the law did not apply to the governorship in New Hampshire, but that elicited a response from state GOP lawmakers in Concord. They introduced legislation in the state Senate to close the loophole in the state's right-to-know law.
Politically, it does little to alter the course of a possible Senate campaign. But it is representative of a party that already is using all of its resources to tear down Hassan's bid before it even starts.
"[Hassan] will use this platform as a way to increase her own visibility and run for the next job," said Gov. Chris Christie, the former Republican Governors Association chairman and presidential candidate, at a local GOP dinner in Concord on Monday. "Let's be careful. We've got enough of those types in Washington, D.C., already. We don't need you to send any more there."
To many Republicans, Ayotte has remained a popular figure in New Hampshire since her landslide election victory in 2010. She has built a moderate reputation on issues like the environment, developed an expertise in foreign policy, and kept a personal touch with voters through town halls and other events.
But they're also cognizant that New Hampshire leans left in presidential years, and while Hassan isn't perfect, she's a popular governor who just won a relatively easy re-election in an otherwise dismal year for the party. If Hassan ran, Democrats would consider her one of their top recruits on the 2016 Senate map.
Which explains why, in the words of one senior Republican strategist in New Hampshire, the GOP will demonstrate a "campaign-level mentality" for as long as Hassan is a potential or real candidate.
"The prevailing assumption is Governor Hassan will run against Senator Ayotte, and until she says otherwise, she'll be treated like a candidate for Senate," the Republican operative said. "The right-to-know stuff is the tip of the iceberg."
Asked about a potential Senate candidacy, Hassan's gubernatorial spokesman issued a statement saying the governor was focused on trying to "bring people together to reach bipartisan solutions" in Concord.
Allies have said a decision won't come until after the legislative session in early summer at the earliest. And although they're optimistic she'll enter the race, it's "not that certain," according to Kathy Sullivan, a former Democratic state party chairwoman.
"I think she's really likes being governor," she added. "You get out there and talk to people in the state, and you're really in touch with constituents."