Republicans Accuse Strickland of Abandoning His Former Supporters
The former Ohio governor boasted a close connection with blue-collar voters. But now they're upset over his changed positions on energy and gun control.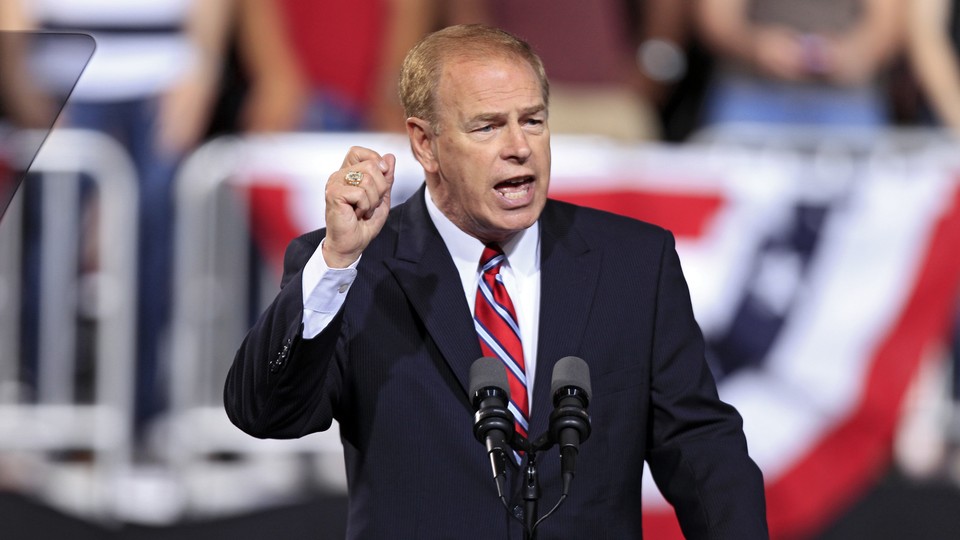 Ted Strickland spent decades crafting a middle-of-the-road, pro-gun, pro-coal Democratic record as a congressman and as Ohio's governor. Now that he looks set to run for the Senate, Republicans are betting that his short stint running a progressive think tank will overwhelm that carefully maintained political identity.
Since he discussed the possibility of a Senate bid in an interview with The Plain Dealer in Cleveland in December, national Republicans have been taking shots at his involvement with the Center for American Progress. Though Strickland stepped down from that position late last week, Republicans say they plan to undermine his governing record with the more recent work of the advocacy group he led.
Since leaving office, Strickland has defended the president's environmental agenda, saying the there's "no war on coal" and that the industry "has done pretty well" under President Obama's leadership.
As one of his final moves at CAP, Strickland advocated a proposal he said would help Appalachian coal communities by overhauling federal policy that favors coal mined from federal land. Though the move was aimed at helping struggling Ohio miners, it was met with harsh reactions from the state's coal associations.
"I have a real problem when someone that's the president of an organization tries to talk about coal while someone like [former EPA Administrator] Carol Browner sits right next to him," said Christian Palich, interim president of the Ohio Coal Association. "I'm sure at one point, and maybe even personally, he supports coal ... but you come out and say you want to run for Senate when you sit on a board with someone who has actually fought a war on coal for President Obama."
United Mine Workers Association spokesman Phil Smith said that Strickland had maintained a good standing with miners as governor, but it's unclear how his group will proceed in a potential Senate race. "It would be some time before we make a decision, if we get involved at all," said Smith. "We supported Governor Strickland in the past, but that's "... we're going to have to see how our members want to deal with that as we move forward."
"No matter how hard Ted Strickland tries to hide from his time at the liberal Center for American Progress, Ohioans won't forget the fact that he abandoned them as he sold out to a D.C. organization that opposes coal and wants to limit our Second Amendment rights," NRSC spokesman Jahan Wilcox said in a statement Tuesday. The blast was just one of many the committee has sent in past weeks linking Strickland to his 11-month tenure at CAP.
Asked how the former governor was reacting to criticisms of his time at CAP, Strickland spokesman Dennis Willard said Strickland was "more focused on talking to people around Ohio" to make his decision.
Strickland is widely regarded as Democrats' biggest threat to unseat Sen. Rob Portman in 2016. His lone competition for the party's nomination is P.G. Sittenfeld, a 30-year old Cincinnati councilman. Republicans believe that his changed positioning on environmental issues—along with his evolution on gun control—would be potent fodder in a general election campaign.
Given that Strickland is best known in the state for his time as governor, it's notable that Republicans have put so much emphasis on his brief stint at a Washington-based think tank that few Ohioans know about. But Republicans say Strickland's time at CAP puts him in a corner he can't escape: either he wasn't on board with the actions of his employer, or he's out of line with some of the state's biggest industries.
"His decision to jet off to D.C. and head up the CAP lobbying arm, is a disaster for him from political standpoint," said Ohio GOP spokesman Chris Schrimpf. "[Strickland] has always been able to run ahead of where Democrats normally run in conservative areas of the state "... What he's done in Washington, D.C. is destroy his coalition back home that allowed him to keep it close in 2010."
Schrimpf said voters largely remember Strickland's "long and terrible record" as governor, and now "everything that CAP has ever stood for and everything CAP has ever said, he has to answer for too."
Indeed, Strickland has already seen several of his former allies come out against a Senate bid, citing CAP as a primary reason.
"Many gun owners will no doubt hold respect for Strickland's four year term as governor in Ohio "... after his narrow defeat, however, Strickland turned his back on the gun rights community that had kept his re-election race competitive," wrote Chad D. Baus, vice chairman for the political action committee of local gun manufacturer Buckeye Firearms. The group, along with the National Rifle Association, supported Strickland in his most recent gubernatorial bid, but now argue his record at CAP has made him an unacceptable candidate.