Ready for Warren's Ideas
The groundswell of support for the Massachusetts senator is as much about advancing her agenda as it is about promoting her potential candidacy.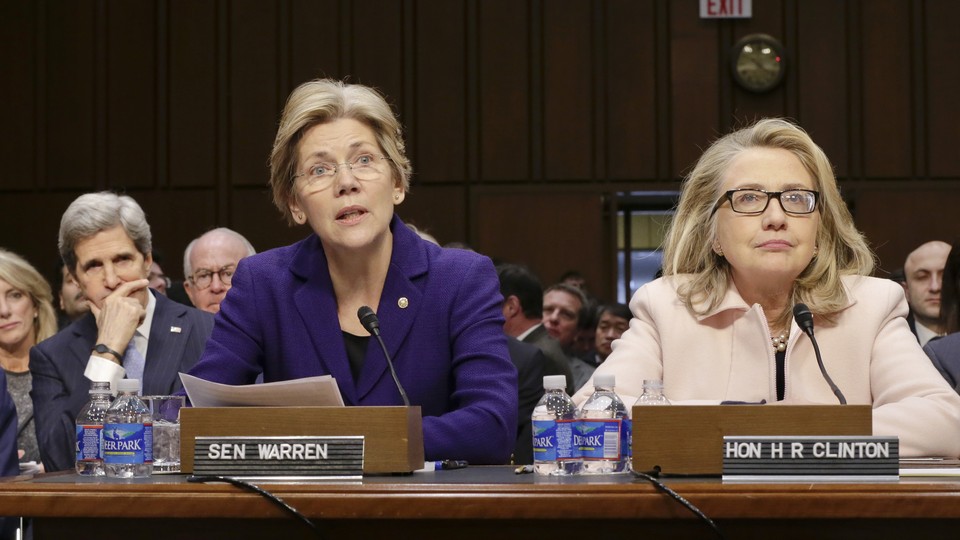 Elizabeth Warren has made it very clear that she's not planning to run for president in 2016. "I am not running for President," she repeatedly told NPR in an interview in December. "You want me to put an exclamation point at the end?"
These consistent denials contrast with the enthusiasm of her supporters who continue to trumpet the Massachusetts senator's message of reversing growing income inequality even as Warren remains on the sidelines. Although it's unclear whether or not their advocacy has done anything to move the needle on Warren's thinking, pro-Warren groups are still having a major impact on the 2016 debate. Leading the charge are "Ready for Warren" and "Run Warren Run," two groups that have rallied around the Senator's fiery brand of economic populism perhaps as much as they have the candidate herself.
"People feel like the system is rigged against them," then Senate candidate Elizabeth Warren told a cheering crowd at the Democratic National Convention in 2012. "And here's the painful part: They're right. The system is rigged."
For liberals looking to shed light on income inequality, Warren is in many ways the ideal spokeswoman. The former Harvard Law School professor first rose to national prominence as the chief architect of the Consumer Financial Protection Bureau (CFPB), a government agency created in the aftermath of the economic crash to increase transparency between consumers and the financial industry. During her time in the Senate, Warren has championed progressive causes. She sponsored a bill to allow students to refinance their college debt, advocated for increased regulation of the financial industry, and publicly admonished Citigroup for its close ties to government. During the 2014 midterms, the Oklahoma native spoke enthusiastically (and frequently) about the disappearance of the middle class and the need to change a system that values big business and Wall Street over American workers and their families.
"There's a hunger out there and I think that people are just waiting for someone with a spine to stand up and tell truths," said Kate Albright-Hanna, who worked for the Obama campaign from the spring of 2007 through the transition and now serves as the Deputy Campaign Manager of Ready For Warren.
After the midterm elections, many progressives blamed the Democrats' historic drubbing on this inability to "stand up and tell truths." Instead of embracing progressive causes, they said, Democratic candidates in tough re-election fights sanitized their message in an effort to win the center. Now, with Hillary Clinton emerging as the most intimidating presidential frontrunner in recent history, liberal activists are worried that the moderate Democrat will similarly shirk the base to appeal to the middle.
"There are a lot of people who didn't vote in 2014 because Democrats weren't talking about big, bold ideas," said Adam Green, co-founder of the Progressive Change Campaign Committee (PCCC), which led a Draft Warren for Senate effort in 2011. "Republicans, Democrats and Independent voters are crying out for someone to fight for the little guy against the big guy ... The midterms were one of the lowest turnout elections and that's because people don't even understand what the point is anymore," he added.
Adding fuel to the pro-Warren fire is the liberal base's long-time skepticism of both Bill and Hillary Clinton. Many progressives worry that the power couple are too cozy with Wall Street and too entrenched in the Washington political class to truly shake things up. Recent reports of the Clintons' six figure speaking fees have done little to bolster the their populist credentials or ingratiate them with economic populists.
"President Obama got into office and hired a bunch of people who were in the Clinton administration," said Albright-Hanna. "You had all the followers of Rubin and the architects of what ultimately became an economic crash."
The problem for activists like Green and Albright-Hanna is that, in the event that Warren doesn't run, Democrats will likely be left without a viable progressive standard-bearer. While Vermont Senator Bernie Sanders has expressed interest in the race, the Democratic Socialist will struggle to gain traction with the party's mainstream or be taken seriously as a candidate. Former Virginia Senator Jim Webb announced the creation of an exploratory committee in anticipation of a run for the White House, but should he run, Webb would likely be competing for the same inside-the-beltway fundraisers that Clinton has already locked up. And former Maryland Governor Martin O'Malley, who has signaled that he plans to run, has struggled to break out of the low single digits in polls.
So as Clinton waits in the wings for her coronation and Warren distances herself from a presidential bid, liberal activists are moving to their next best option: waging a campaign of ideas around the absent Warren. And while Warren seems as definitive as ever about not running, her supporters have been remarkably successful in getting the Democratic establishment to pay attention to her ideas. In November, Congressional Democrats announced that Warren would join their four-person leadership circle as a liaison to the progressive wing of the party. On Tuesday, CNN reported that Democratic frontrunner Hillary Clinton has reached out to Warren "several times" over the past six months, including a private meeting at Secretary Clinton's Washington D.C. home in December. With the former Secretary of State—or at least her advisors—listening, it's unlikely that pro-Warren activists will let up anytime soon.
"We will be organizing in states like New Hampshire to make sure that all candidates that are running for President including Hillary Clinton will be forced to say if they agree on key economic populist issues" Green said. "We're urging Hillary Clinton and other Democrats thinking of running to embrace Elizabeth Warren's economic populist agenda both as a primary strategy and as a general election strategy," he added.
Although she may not be sold on running for President, Elizabeth Warren is certainly not deterring the many groups organizing on her behalf. On Thursday, the Massachusetts Senator applauded the message of organizations like Ready for Warren but remained quiet as to her future plans. "Americans understand that the game is rigged, and they've had enough of it," she said at an event in Springfield Massachusetts. "They're ready to fight back. They want a Washington that works for them," she continued.
In many ways, Warren would be the perfect candidate to challenge Clinton in 2016. While it's unlikely that a credible candidate could run against Clinton from the right, there remains a block of progressive voters looking for an alternative, or at the very least someone who can ignite a robust and spirited primary debate. Warren's greatest strengths are also Hillary Clinton's biggest weaknesses. Warren's authenticity, outsider status, and clear message resonate with the Democratic base in a way that Clinton's technocratic approach simply does not. Perhaps Warren's strongest asset is her ability to neutralize Clinton's 2016 calling card, her position as a potential first woman president. And, while Clinton holds massive leads against all potential Democratic challengers, one need look no further than the 2007 Democratic primary for evidence that an underdog can come from behind to defeat Hillary Clinton (although admittedly Clinton's leads are significantly larger this time around).
As the groundswell of popular support for Warren continues, Clinton will likely be compelled to embrace more of Warren's economic populism. Getting Warren's ideas on the ballot, even if the populist firebrand remains on the sidelines, may be the best hope liberals have.