Rand Paul, This Isn't Your Father's CPAC
Rand Paul is still a fan favorite here. But attendees were roused by invocations of President Obama's weakness on national security.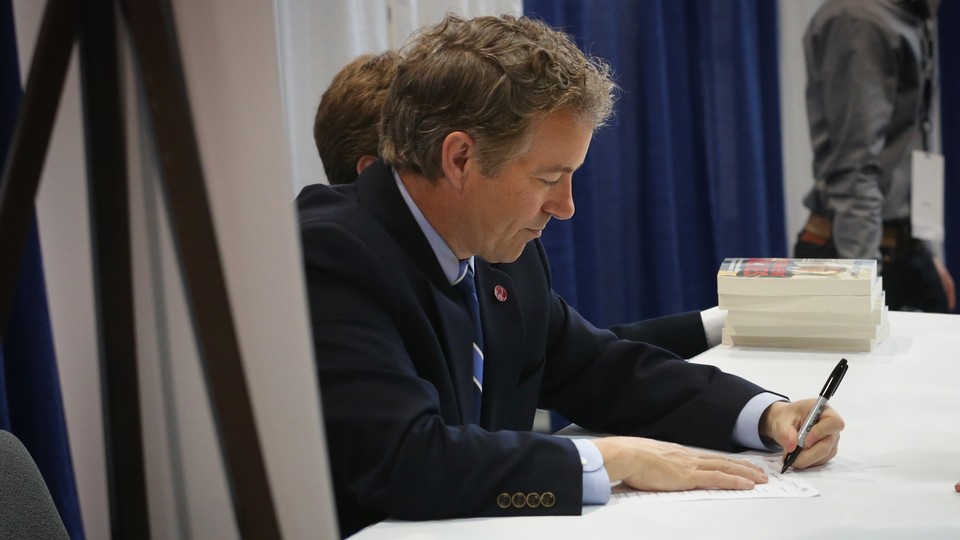 The Conservative Political Action Committee has always featured a younger, more-libertarian audience than typical GOP gatherings, and Rand Paul has been a crowd favorite for his occasionally unorthodox views. But in a departure from past conferences, nearly all of the loudest applause lines came when speakers articulated the threat of radical Islam and invoked their support for Israel's Prime Minister Benjamin Netanyahu in his spat with the White House.
Carly Fiorina received the conference's first standing applause when she thundered that Netanyahu "travels here next week not to offend our president, but to warn the American people that our president's insistence on a deal with Iran at all costs is a danger to the world." Louisiana Gov. Bobby Jindal spent an entire section of his speech lambasting President Obama for avoiding calling Islamic terrorism by its name. His biggest applause line came when he called on the United States to "hunt down and kill these radical Islamic terrorists." Even Wisconsin Gov. Scott Walker, who hasn't focused too much on foreign policy, adjusted his stump speech to note that his contentious battles with unions in his home state gives him ample preparation to take on ISIS.
The red-meat speeches came on a day when the Obama administration is delivering mixed signals over whether the country is facing a growing terrorist threat—an issue that's emerging as a serious Democratic vulnerability for 2016. James Clapper, the administration's director of national intelligence, testified before Congress today that last year was the "most lethal year for terrorism" since statistics were compiled 45 years ago. That contrasts with a more-optimistic assessment from Secretary of State John Kerry Wednesday that the scope of the terrorist threat was being overstated. This, as a new Pew Research Center poll shows Republicans holding sizable, growing leads over Democrats on terrorism (20 points) and national security (16 points). The survey marks the first time Republicans have held a solid edge on "making wise decisions on foreign policy" for the first time since 2002—before the war in Iraq.
But not all of the Republicans were as prepared as others. Walker received the most enthusiastic response of all the GOP speakers, but his lines on national security fell flat with many conservatives. "If I can take on 100,000 protesters, I can take on the rest of the world," he said, referring to his clashes with labor. That prompted National Review's Jim Geraghty to call the line a "genuine unforced error."
New Jersey Gov. Chris Christie spent more time swiping at The New York Times than the Islamic State in his interview with talk-show host Laura Ingraham. Talking tough is a major part of the Christie brand, and the governor missed an opportunity to deliver a red-meat speech focused on the terrorist threat to improve his flagging conservative credentials. (In fairness, Ingraham's questions focused on his personality and immigration, but Christie selected the format.)
For his part, Rand Paul will be speaking Friday morning, and according to previews, he's expected to focus less on foreign policy than his counterparts. In an interview with Politico, he slammed Jeb Bush for supporting National Security Agency surveillance methods designed to track terrorist activity. "If he's smart, he won't bring that [issue] up at CPAC," Paul said. He earlier told Yahoo's Katie Couric that he's not willing to send American troops into battle if the local forces aren't prepared, calling instead for better arming the Kurdish peshmerga troops.
Paul never was going to win over the muscular elements of the Republican Party, and he's still a strong contender to win the group's straw poll. But with the GOP hawks experiencing a resurgence as fears over terrorism grow, other Republican candidates have the chance to make inroads by articulating tough criticisms against the president's foreign policy. When the audience at CPAC starts sounding more like the crowd at AIPAC, it's clear the political winds are shifting.