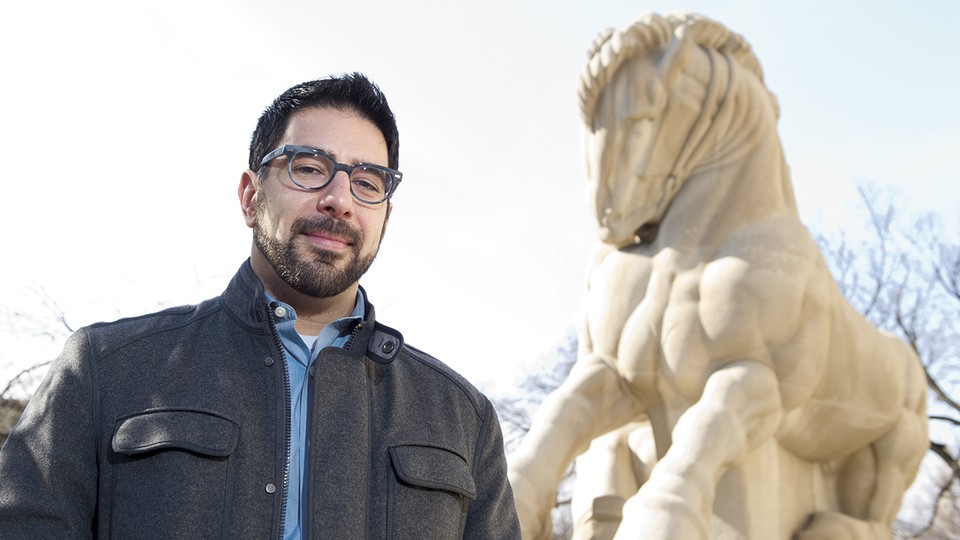 Ashkan Soltani
Creating more geeks at the Federal Trade Commission.
Ashkan Soltani is the new chief technology officer for the Federal Trade Commission. (Chet Susslin)Ashkan Soltani is used to being what he calls the "geek" in the room. After six years in Washington as a privacy and security researcher, he's accustomed to being the IT ambassador to the Land of Lawyers in the tech-policy world. Still, he says, he wouldn't mind a bit of company.
In November, Soltani became the new chief technologist at the Federal Trade Commission — the tech industry's biggest privacy watchdog — which uses its power to enforce the prohibition against "unfair or deceptive practices" to ensure that companies are protecting consumers' information in the way they've promised. Soltani now advises Chairwoman Edith Ramirez on issues such as the explosion of data resulting from new technologies — and the perils that come along with it — but for most of his career he has been as hands-on as a car mechanic, getting up close and personal with computer code and data flows to understand what's going on and to determine whether the IT matches up with what companies say their privacy practices are.
Soltani says there are not many people in Washington — maybe "a handful" — who can do what he does, and one of his main goals at the FTC is to change that. Instead of doing all the work himself, he says, he wants to build a "hacker" culture within the agency, so it can more effectively carry out its oversight mission. "What we need is more of a technical literacy in this space," he explains. "Right — this idea of a kind of an attitude of tinker or hacker. And not hacker in, like, the Blackhat movie, but hacker in a, like, 'Look, I don't know how this thing works, but I am going to take it apart and poke at it, and I am not really afraid of it.'"‰"
Technology is at the top of the consumer protection agency's agenda as it enters its 100th year, and Soltani hopes not only to teach the lawyers a thing or two about code, but also to make the agency's culture — and, ultimately, Washington's culture — more welcoming to others like him. On the day I meet him at his Pennsylvania Avenue office, Soltani has spurned the standard suit and tie in favor of jeans and blue sneakers that fall far outside the Lawyerland dress code. In order to draw the right people, he says, you need to compete with other places that offer very enticing lifestyles. "If you go to California and [tell] someone: 'You can come to work in a suit and tie in a stuffy office — or you can do the same work in shorts and flip-flops with a foosball table right next to you and free food,'"‰" Soltani says, "most people are like, 'I'm going to hang out in California.'"‰"
Most people, but not Soltani. A California native himself, he traded sunshine and beaches for the swampy city because he grew tired of feeling like all the news had been made by the time he woke up on the West Coast, he says. He has never been much for waiting around: By the time he was in high school, he was already setting up computer networks for major companies in Los Angeles.
Over lunch, Soltani, who just celebrated his 40th birthday, explains that the actual methods of his work have not changed much since he first started researching online tracking as a master's student at UC Berkeley's School of Information. What have changed are the technologies and the scope of their impact. The explosion of mobile devices and the "Internet of Things" mean private companies and advertisers have more information about their customers than ever before. In 2000, Pew Research estimated that only 25 percent of Americans accessed the Internet on their mobile devices. Today, nearly 60 percent of Americans have smartphones. That means a lot of cool innovation is going on in areas like commerce, health, and education, but it also means there is an even bigger chance consumers' data could land in the wrong hands. And privacy laws, Soltani says, are not keeping up, so there are few rules about how companies must treat and protect private data — ranging from email addresses to health records.
Few in Washington understand the phenomenon and its implications quite as directly as Soltani does. His first job in Washington was as a staff technologist at the FTC, where he helped with major investigations into Google's, Facebook's, and Twitter's privacy practices. Then, he helped produce The Wall Street Journal's "What They Know" series, investigating surveillance and new technologies, before joining The Washington Post, where he was a key player in the newspaper's Pulitzer Prize-winning reporting on the National Security Agency spying revelations.
Soltani says he's most proud of teaching journalists to do the research themselves. He says it's not magic, and most anyone can do what he does if they know where to look. Although he has the help of a few data forensic tools, anyone can access the code behind the Internet. "It's really not that scary. It's just common sense," he insists. "In some of their key stories, the reporters themselves figured out the technology." Now, he's hoping that those in Washington's tech-policy world will follow suit.
Correction: An earlier version of this story gave an incorrect title for Edith Ramirez. She is the chairwoman of the Federal Trade Commission.
— Laura Ryan
Julius Genachowski
The author of the Open Internet rules talks net neutrality.
Julius Genachowski is the managing director at The Carlyle Group. (Chet Susslin)Julius Genachowski's excitement over gizmos and gadgets is infectious. Within minutes of meeting me this fall at the offices of the Carlyle Group, the investment firm where he now works, he shows me his new iPhone 6. He's particularly effusive about Apple Pay — the phone's new electronic-payment feature. The service works two ways, he explains. First, it is integrated into the apps on his phone. Second, he can pay in a physical store with a terminal that is near-field communication, or NFC, enabled — a technology, he points out, that uses wireless spectrum.
Increasing access to the wireless spectrum for commercial use is one of the legacies of Genachowski's chairmanship of the Federal Communications Commission; another has lately been the subject of fiery public debate. So, what does the creator of the original Open Internet rules think of the net-neutrality plan served up by his successor?
"The focus is on the right question: How do we have rules of the road that incentivize massive private investment in both Internet start-ups and broadband-network operators?" he told me in an email exchange shortly before the FCC's vote on how it will regulate the Internet in the future. "We need both for the U.S. to continue to lead the world in innovation. The Internet has been an amazing engine for free enterprise and free speech — we have to preserve that, and I think we're on a track to do so."
During our earlier conversation, Genachowski, 52, had told me that the goal of the original rules was to maximize investment and innovation in those same sectors — and he believes they have succeeded. Over the past four years, the United States has seen "investment and innovation in all parts of the ecosystem," he says. "In a lot of the noise, I think that point sometimes gets lost. The rules have worked, and they have created an atmosphere for investment that the rest of the world is rightly envious of."
He says he has been witness to that success in his new role as managing director of Carlyle's U.S. Buyout Group, concentrating on acquisitions and investments in the tech, media, and telecom arenas. Not surprisingly, wireless spectrum and the Open Internet are essential to several of the investment themes he's identified.
Genachowski first came to the FCC in 1994, which gave him a front-row seat for the passage of the Telecommunications Act of 1996 and the rise of the Internet. He spent a decade in the private sector before returning to the FCC as chairman in 2009. Has it been hard to be on the sidelines this time? Not so much, he says. "It was a privilege to serve in government in the first term of the Obama administration, but an accidental one," he says. "I loved what I was doing in the private sector, had no plans to work in government — and certainly didn't expect that an old friend would become president."
— Laura Ryan
Meredith Attwell Baker
The wireless trade group's new head is pushing for more access to the airwaves.
Meredith Attwell Baker is the president and CEO of CTIA The Wireless Association. (Chet Susslin)
Meredith Attwell Baker arrives at lunch with props. The first thing she pulls out of her purse while we wait for our meal to arrive is a Nokia cell phone the size of a brick — from the days when she first went to work for CTIA-The Wireless Association, in 1998. Then she tells me about her new Ringly — a "smart" ring that shows her who's calling or texting, so she can be "less obvious" about checking her messages. No need to pull out any phone at all anymore — let alone one that would make a reliable doorstop.
Much has changed in 17 years, is the implicit point of Baker's bit of show-and-tell. (Indeed, CTIA, which originally stood for the Cellular Telephone Industries Association, changed its name in 2004 to keep up with the quickly evolving sector.) But something that has been a constant has made both breeds of technology possible, and it is Baker's No. 1 priority as the new head of CTIA. The spectrum — the airwaves that make it possible for mobile phones, Wi-Fi, and even your electric car door to communicate — is what it's all about for the CEO of the wireless industry's trade group. (Her motto, she jokes, is "Spectrum, spectrum, spectrum.") Most specifically, Baker, 46, intends to ensure that private industry has access to the airwaves it needs to grow. That's not as simple as it might sound: The portion of the electromagnetic spectrum useful for communications is finite, and much of it was licensed to the government and broadcasters before mobile phones even came into existence. But while CTIA's members, such as AT&T and T-Mobile, may be at war with one another over just about everything else, there is one thing they can agree on, she says: Spectrum "is the innovation platform that they need to remain competitive."
Spectrum from one recently completed auction and another planned for next year — which Baker helped make happen as a Republican commissioner on the Federal Communications Commission from 2009 to 2011 — will create the next 5G mobile networks, she says. But nowadays, the airwaves are crucial to so much more than phone calls and text messaging; they are vital to everything from the connected car to the new mobile health sector, she says. Indeed, the Houston native tells me that she is constantly surprised at how often she finds herself working alongside other industries in her new role. "When you look at the future of any of the industries, they involve wireless," she says. "I am surprised at how much of my day is working — cooperatively working — with other associations on how this industry should be regulated."
Baker's résumé includes top jobs at Comcast NBC Universal, the FCC, and the Commerce Department, but her new post has her back where she belongs, she says. "CTIA has always been my ideal job," she tells me. "It takes all of the different positions that I've had and utilizes the assets of what I've learned throughout my career."
— Laura Ryan
CONSULTING GAME
Donna Harris
1776
Donna Harris is the co-founder of 1776, a global business incubator. (Chet Susslin)Since Donna Harris cofounded start-up incubator 1776 in 2013, she has worked to tailor the group's services to the strengths and identity of the town in which it operates. Many of the businesses it has fostered are in highly regulated industries, such as health care and education — areas that demand a deep understanding of federal policy and the ability to navigate Washington in all its complexities.
Now Harris, 46, is extending her group's Washington-insider cred, as well as the services it offers the start-ups it assists; late last month, the Canada native announced a partnership with Precision Strategies, a digital-communications firm run by some of the operatives who helped the president win reelection: Stephanie Cutter, Teddy Goff, and Jen O'Malley Dillon.
The campaign veterans will use some of the same tactics they employed to help Obama to victory to "help start-ups get the word out," Harris says.
— Lucia Graves
TECHNO-FILE
Chris Calabrese
Center for Democracy & Technology
Chris Calabrese is a senior policy director at the Center for Technology and Democracy. (Chet Susslin)Chris Calabrese moved to Washington five years ago, and he hasn't looked back. "For a public-policy attorney, coming to D.C. is kind of like going to L.A. if you're an actor," he says. "It's where the action is." Originally from Boston, Calabrese served as an ACLU legal counsel dealing with commercial privacy and Fourth Amendment rights in New York until this fall, when he became the senior policy director for the Center for Democracy & Technology. Calabrese, 42, says he hopes to continue the work he did with the ACLU in a "bigger and broader way" at the Washington-based civil-liberties group. "The problem is that we don't yet have the legal tools that we need to protect people's privacy," he says. "If my only choice is agree to this terms-of-use agreement or don't use the service, there's not a whole lot of privacy control there."
— Lucia Graves
LOBBY SHOPS
Courtney Reinhard
Verizon
Courtney Reinhard is the senior vice president of Verizon. (Chet Susslin)
This fall, Courtney Reinhard left her job as chief of staff to FCC Commissioner Mike O'Rielly to join Verizon's lobbying team — bringing with her a broad understanding of the power the agency has to define and implement laws that affect the telecommunications industry. "When you're chief of staff, you get to see just about everything that goes through the 8th floor," she says of her time at Federal Communications Commission headquarters.
As a vice president for Verizon's Federal Government Relations department, she lobbies on the Hill — where she worked for more than 17 years before joining the FCC. The California native's point of focus is the House Energy and Commerce Committee, specifically its attempts to modernize the Communications Act, which was last updated in 1996. Reinhard worked on the committee herself for several years, so she really gets the staffers she now lobbies, she tells me. "I understand the pressures they're under," she says. "I understand what they can and cannot do."
— Lucia Graves
LOBBY SHOPS
Brian Wynne
Association for Unmanned Vehicle Systems International
Brian Wynne is the president and CEO of the Association for Unmanned Vehicle Systems International. (Chet Susslin)
"I've always been interested in things that fly," Brian Wynne says. Wynne, 56, has been the president and CEO of the Association for Unmanned Vehicle Systems International for little more than a month, but he's already in the thick of lobbying the Federal Aviation Administration to integrate drones into the national airspace system.
Wynne comes to AUVSI from the Electric Drive Transportation Association and says he believes that if drones currently have a bad name, it will prove fleeting as they develop uses across a variety of sectors, from oil to agriculture. "The connotations around that word are changing very rapidly," he says.
In his spare time, the New York native likes to fly his Socata Trinidad along the Eastern Seaboard. But he says there's no contradiction between his love of piloting a plane and his work on behalf of unmanned aircraft; he simply loves exploring of all kinds, he says.
— Lucia Graves