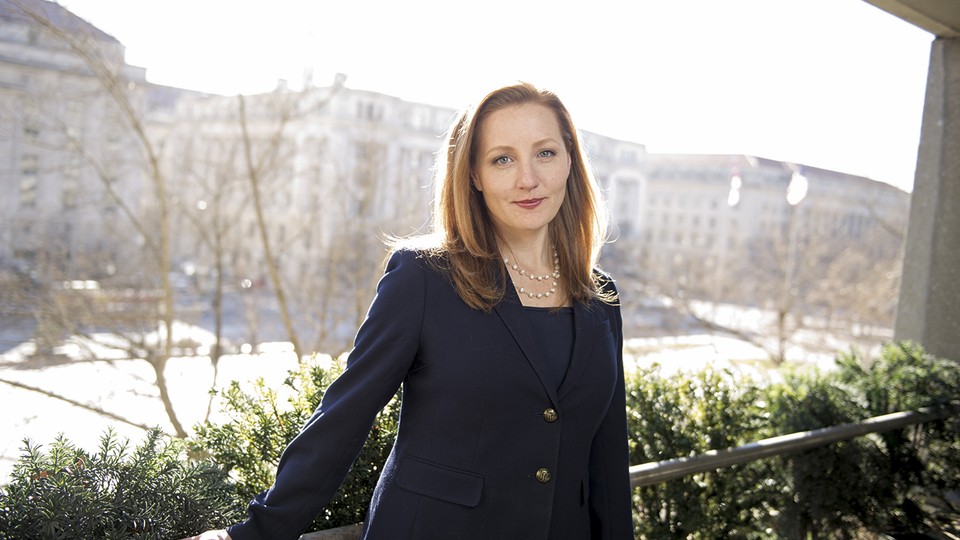 Margaret Everson
Margaret Everson, new Chief Policy Officer with Ducks Unlimited. (Chet Susslin)In Washington, there's a lobbyist for everything. Even ducks.
Killing a duck isn't the top item on most professional To Do lists. But when Margaret Everson began her new job as chief policy officer for Ducks Unlimited, the task ranked high among her pressing priorities. And so it was that early January found her on a Northern California ranch that belongs to one of her new colleagues, squatting low in a duck blind at daybreak, steadying a 20-gauge shotgun and watching the sky.
The expedition wasn't an instant success. "I can tell you this, she missed more than she hit," says her tutor for the day, the organization's West Coast regional director, Mark Biddlecomb. As the morning grew brighter, and gunshots followed by Biddlecomb's cries of "no bird" became a mantra, Everson began to pity the bored Labrador retriever who accompanied them, she says.
But you can't very well help run a major duck-hunting organization without ever having hunted a duck. "I was going to get a bird, that much was clear," Everson tells me back in Washington, when I meet her by her downtown office. When I ask if she finally accomplished her mission, she pulls up the digital evidence on her smartphone. There she is, her camo hunting gear blending into the cluster of reeds behind her, proudly holding up a brown, limp-necked Northern Shoveler.
Ducks Unlimited, which Everson joined this past December, is an international nonprofit dedicated to preserving waterfowl and the wetlands that support them — chiefly to ensure that those who like to hunt ducks have an "unlimited" supply of birds at their disposal. Founded in 1937, the group espouses a philosophy that bears a certain resemblance to that of Teddy Roosevelt, the Republican hunter and outspoken conservation advocate who greatly expanded federally protected lands during his presidency. The organization's small Washington office, which Everson now heads, is made up of four registered lobbyists and an assistant, and its décor is very much "Duck Dynasty" meets K Street. When I visit, there are ducks on the walls, the couches, and the shelves — and C-SPAN on the TV.
Though some might see a contradiction in a group dedicated to saving ducks so people can blow them out of the sky, others say the Memphis-based organization, which has conserved more than 13 million acres of wetlands in North America since its creation, and boasts a membership of about 600,000 in the United States, is a valuable ally on certain environmental issues. Ken Salazar, who worked with the group during his time as Interior secretary, told me that Ducks Unlimited is "a unifying force among conservation organizations," because it can cross partisan lines and "transcend political gridlock in Washington." (Those alliances are increasingly valuable to Ducks Unlimited's core constituency as well, Everson notes, as the number of hunters in the country has waned.)
"In my lifetime, I've seen Ducks Unlimited work all over the country," Salazar says, recalling his efforts with the group to preserve the Dakota grasslands and prairie potholes. "They are a hunting organization," he adds, "and that's fine with me."
Everson herself is the embodiment of the span-two-worlds approach. Born in Morgantown, West Virginia, she plays up a childhood spent fishing and exploring the outdoors, but she's definitely more at home in Washington than in a duck blind. An environmental lawyer by trade, she spent four years working at the Interior Department's solicitors office, providing legal analysis and policy advice on matters pertaining to the Everglades and South Florida ecosystem. She found herself in an office full of ducks after a brief stint as a consultant, before which she served as assistant attorney general in Kentucky and then general counsel for the Kentucky Fish and Wildlife Resources Department.
But it was her two-year appointment by the Interior secretary in 2006 — to serve as a counselor for Dale Hall, then head of the Fish and Wildlife Service, and now the CEO of Ducks Unlimited — that would set her path to the present. The better part of a decade later, Hall would decide he wanted to work with her again. Announcing her hire in December, Hall praised her "deep connections in the conservation community" and her experience designing and implementing conservation advocacy efforts with governmental bodies and nongovernmental stakeholders.
Does Everson worry that she'll get bored with her new group's narrow focus? On the contrary, she says, she's thrilled to work for an organization with a specific purpose. "When you have such a defined scope to your mission," Everson explains, "it's very easy to advocate and represent your members' interests."
— Lucia Graves
David Turetsky
David Turetsky, new partner at the Akin Group. (Chet Susslin)The former FCC public-safety chief brings his zombie-fighting skills to the private sector.
David Turetsky remembers well the day in January 2013 when someone hacked the government's emergency broadcast system. TV stations blasted out the message that zombies were rising from the grave and warned the public to stay inside. Turetsky was the head of public safety and homeland security for the Federal Communications Commission at the time, and he was not a happy man.
"While the message was amusing and people were able to discern that it was false, it was a particular concern that those systems were accessible to hackers," he says. "It was a special concern that it was a day before the State of the Union, because I was concerned about that happening with the president's face on the television."
Turetsky says he alerted other agencies across the government, and officials were ultimately able to identify the equipment that had been compromised. It turned out that the default passwords provided by the suppliers hadn't been changed — which is not the kind of error anyone serious about cybersecurity should make. Turetsky's mini-"War of the Worlds" moment reaffirmed his strong belief in the need to teach others about the threat posed by a lax attitude toward cybersecurity, including the risks to both national security and the economy. In April, that conviction, coupled with the expertise he developed at the FCC, took the Paramus, New Jersey, native to law firm Akin Gump.
In order to understand what he does for clients at his new job, Turetsky says, it helps to understand what he did in his old one. At the FCC, he was the point man on everything from restoring 911 services in Northern Virginia after they were knocked out by the 2012 derecho, to convincing networks to open up their Wi-Fi services after the Boston Marathon bombing so people could send "I'm OK" messages to their loved ones. When Hurricane Sandy bore down on the East Coast, Turetsky needed to help ensure that cell-phone companies had fuel to keep their generators operating and broadcasters had access to their stations in evacuated areas, so he slept on an air mattress in his FCC office. "We didn't know, even in this area, what the roads would be like the next day," Turetsky says. "The FCC chairman did the same thing," he adds, smiling, "but he had a couch in his office."
As a partner in Akin Gump's public law and policy practice, Turetsky, 57, is now bringing his experience with telecommunications emergencies to the private sector — specifically, by trying to help his clients prevent them. The recent Sony hack is a good example of why companies should be looking to reevaluate their cybersecurity systems and assess the risks, he says. A security breach can not only compromise consumer privacy or corporate strategy; it can also compromise a business's reputation — which is something not all companies understand. "It's important for companies to get the whole picture," Turetsky says. But it is also important, he adds, "for policymakers to understand that, just like government, companies don't have infinite resources and have to assess risks and make choices. And there are no perfect answers."
Turetsky's work isn't just about helping individual clients. While he certainly knows that government has a major role to play in protecting the economy and critical infrastructure from cyberattacks, he says getting corporations to take the issue seriously is no secondary concern — not least of all because most of that critical infrastructure is privately, not publicly, owned. At the FCC, he helped shape and implement a 2013 executive order through which the president increased information-sharing and coordination on critical infrastructure between the public and private sectors, but he believes that much more must be done, and not all of it can be done by government. "What they're talking about in the public policy arena will give some more shape, will provide some more tools, but it's not a silver bullet for this problem," he says. "This is going to take focus in the private sector."
His new job will include spreading that gospel and helping to ensure that businesses have comprehensive cybersecurity plans that include educating their workers, assessing their supply chains, and creating cybersecurity teams before a crisis — not during one.
"This will enable me to work on the other side of the table with companies, to try to help them enhance cybersecurity, to be ready to deal with those moments when problems arise," he says, "and hopefully contribute to raising readiness and contributing to some of the great economic success that is possible if we can manage this issue."
REPUBLICAN SHOPS
Barney Keller
Barney Keller is the new executive vice president of Jamestown Associates. (Chet Susslin)Jamestown Associates
Linda Stender is a spender" is the tagline of one of Barney Keller's favorite political ads. Jamestown Associates produced it in 2008 for Republican Leonard Lance's New Jersey congressional campaign, when Keller was a young political operative. The ad played off a similar campaign Jamestown had put together for Republican Mike Ferguson, who ran against Stender in 2006. Stender lost both races. "It just shows you the power of the message that isn't just words, that delivers words in a way that connects with people," Keller says. "Any-one could have done an ad that said Linda Stender voted for spending increases and tax increases. But I think everyone remembers that Linda Stender is a spender." As a new executive vice president for Jamestown Associates, Keller will now be helping the Princeton-based consulting group create advertisements for Republican candidates in the 2016 election. The Massachusetts native comes to his new gig from the Club for Growth, where he was communications director.
CONSULTING GAME
Marcela Salazar
Marcella Salazar, the new principal at the Raben Group. (Chet Susslin)The Raben Group
Only three weeks into her new job at the Raben Group, a Democratic consulting firm, Marcela Salazar — a former producer for CNN, CNN en Español, and Univisión — put her reporter's cap back on to interview middle schoolers about their reactions to the movie Selma. The Raben Group had been working with the March on Washington Film Festival (started in 2013 by Raben Group founder and president Robert Raben) to help send Washington public-school students to see the movie, as part of the "Selma For Students" fundraising effort that began in New York City. With a film crew in tow, Salazar, 36, was on hand to ask the kids what they thought. Their answers, she says, gave her goose bumps. She says one boy told her: "I didn't know that voting was a law, and I didn't know that people died for that. I thought it was something you did if you wanted to. And now I know it's my right when I turn 18, and no one can take it away from me." The Chicago native says the experience reminded her why she left the news business for a post as a principal at the public-affairs shop: so she could take a stand on issues she cares about, and help her clients do the same.
INTEREST GROUPS
James Balda
James Balda, president and CEO of the Assisted Living Federating of America. (Chet Susslin)Assisted Living Federation of America
At his office in Old Town Alexandria, James Balda tells me he has recently started to have a conversation with his brothers that most families must eventually have: "How are we going to make sure that our parents have care in the coming years?" It isn't surprising that the question is on his mind these days. Last month, Balda, 43, became president of the Assisted Living Federation of America, an industry group that advocates for the operators of senior-living communities. Balda comes to ALFA from the National Restaurant Association, where he was senior vice president of innovation and business development. The Fairfax, Virginia, native has been an association professional for his entire career: "One of my best friends, his mom gave me a part-time job while I was working my way through college," he recalls. "She was an office manager at the Newspaper Association of America. So I owe it all to her."
AT THE BAR
Jack Sidorov
Jack Sidorov is the new senior counsel for Lowenstein Sandler LLP. (Chet Susslin)Lowenstein Sandler
Shortly after Jack Sidorov joined the Justice Department in 1978, he began to work on the antitrust lawsuit that would break up telecom giant AT&T. Fast-forward 30 years, and Sidorov, 63, had become the department's top expert on premerger notification law — an area that deals with what information companies must provide to DOJ and the Federal Trade Commission when seeking to merge. It may be an area of law that few people find interesting, Sidorov says, but those who do find it very interesting. And although he recently left the Justice Department to join law firm Lowenstein Sandler, that's apparently still the case for him: In his new job as a senior counsel in the firm's Washington office, Sidorov will continue to practice antitrust law — just from the other side of the fence.
Despite his long career, Sidorov says one of his proudest accomplishments dates back to the days before he passed the bar. The Long Island native says when he was a student at Harvard Law School, he founded the World Stickball Association — an intramural league for baseball's urban sibling.
POLITICAL STRIPES
Missy Kurek
Missy Kurek is the finance director of the Democratic Congressional Campaign Committee. (Chet Susslin)Democratic Congressional Campaign Committee
Missy Kurek, 33, will stay on as deputy executive for finance at the Democratic Congressional Campaign Committee for another campaign cycle, the committee announced recently. She will also maintain her role as a close adviser to Nancy Pelosi — which means she will continue to be able to do one of the things she likes best about her job: travel around the country with the House minority leader to convince women to throw their hats into the ring. "I remember thinking my mom should run for Congress after I got involved in politics, because she was such a good negotiator," the Texas native says. Her mom kept the peace in a "chaotic" household of five children — four boys and one girl — oversaw the family's finances, and fed everyone all at once, she recalls. Accomplishing these tasks requires diplomacy and empathy, Kurek says — precisely the kind of qualities she believes members of the House need to succeed.