One Month In: How Freshmen Lawmakers Are Adjusting to Congress
Freshmen learn to use their voting cards and work to hold on to their hats.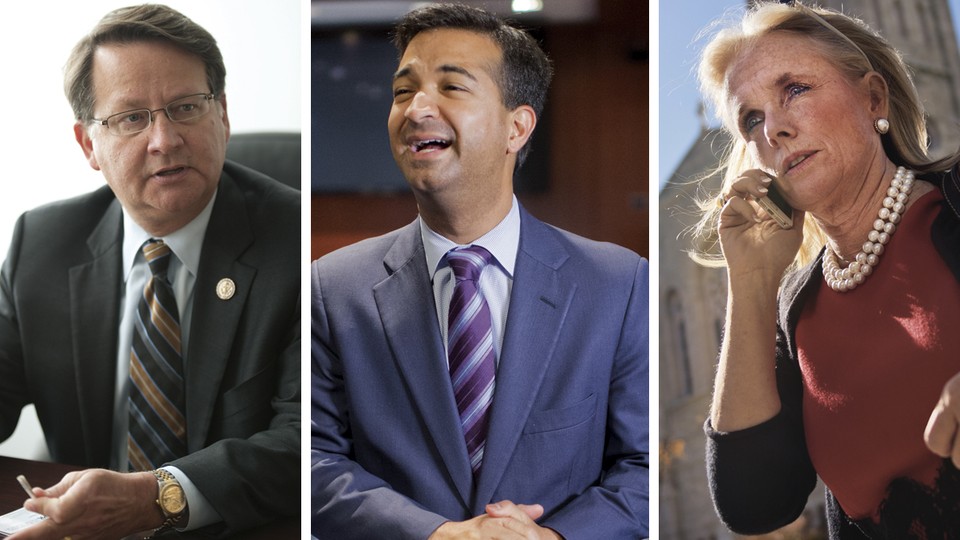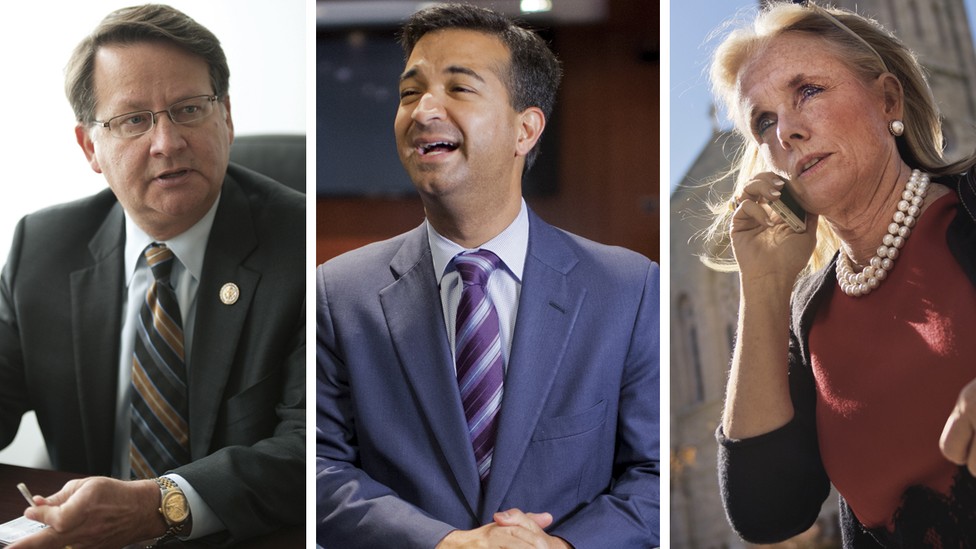 As members stream into the House chamber for votes these days, the freshmen are still easy to spot. For one thing, they're on time: While veteran lawmakers tend to stroll in at their leisure, often five or 10 minutes after the yeas and nays have begun, new members are frequently spotted poking their heads in before a vote has even been called. And while the majority of members enter solo, freshmen often arrive with entourages of aides to help them get things right—or simply get to the right place. On one recent evening in the House, Rep. Norma Torres of California sat outside the chamber getting briefed on the legislation she was about to vote on, while Rep. Bonnie Watson Coleman of New Jersey consulted with two staffers and several House security guards about where exactly she was supposed to be.
As the new Congress wrapped up its first month in session, we wondered how the freshmen were adjusting to their jobs. So National Journal canvassed some new members to find out how things were going so far. We asked them to share some of the highlights, challenges, and otherwise memorable moments from their first weeks in office. Below are their edited and condensed responses.
THE HIGHLIGHTS
Rep. Carlos Curbelo (R-Fla.) Gary Peters is adjusting to the Senate. (Douglas Graham/ CQ Roll Call )
 I already feel like I've got traction on some issues I'm working on. I have had colleagues on some issues come to me and ask me for guidance. I kind of thought there would be a bench-warming period, but you're thrust into the game. There are some challenges associated with that, but there's also a wonderful opportunity.
Sen. Bill Cassidy (R-La.)
 I've been thinking about the issues related to King v. Burwell, so there's a window whereby the things I've been doing for three years in the House might percolate up into significance. Keystone XL I've been working on for three years. And LNG Export Terminals we had a hearing on today. So there's a lot of the stuff I've been working on; it's been nice that I can kind of bring that work to a point.
Sen. Cory Gardner (R-Colo.)
 There's a great opportunity for bipartisanship in the Senate. It should also exist in the House, but it is just easier to get there in the Senate, because of the way the rules and the process is constructed. So, one highlight is getting to know people on both sides of the aisle. There are only 100 of us, so it's a good opportunity.
Rep. David Young (R-Iowa)
 I guess the highlight was being sworn in and looking up at the gallery and seeing my family there.
Rep. Debbie Dingell (D-Mich.)
 On the second day, being asked to go on Air Force One on the way back to the district, and sitting next to my husband, John, on the plane.
Rep. Ruben Gallego (D-Ariz.)
 It never gets old walking into Congress to vote. For me, it's just kind of awe-inspiring.
Rep. Bonnie Watson Coleman (D-N.J.)
 I have good guides who are helping me to find where I'm supposed to be. I'm getting the hang of the process and the parliamentary procedure.
Sen. Gary Peters (D-Mich.)
 It's been a pretty smooth transition, having spent six years over in the House. I enjoy being over here, though. It's a smaller group of folks and you're able to build relationships quicker with a smaller group, so I'm enjoying that part of it.
THE CHALLENGES
Rep. Carlos Curbelo (R-Fla.) Carlos Curbelo says the pace is intense. (Tom Williams/CQ Roll Call)
 The pace is quite intense, and I'm still working on finding a good routine. I've always been a routine-oriented person, and I'm not quite there yet. The struggle has been finding time to sit at a desk and get back to people, or work on legislation, or just sit with staff to brainstorm. There's been no time. So one of the things I'm going to be doing to save time and money is let go of the apartment I rented and move into my office.
Sen. Dan Sullivan (R-Alaska)
 I don't think Lisa Murkowski and I wanted Alaska in the news this much, in terms of what the president has done recently. You know, the estimates are, over four or five days, they've taken close to 22 million acres of some of the most prime prospective oil and gas lands off the table, all from Alaska. That's about four times the size of Massachusetts.
Rep. Debbie Dingell (D-Mich.)
 During the snowstorm, I wanted to have John there for my swearing-in. It's difficult when—you know that you're an adult, but you want the most important man in your life to be there. But it didn't make sense for him to come in, so that made me sad. I had other friends and family who were able to be there. It was a hard day, but bittersweet.
Rep. Ruben Gallego (D-Ariz.)
 I could do better with the weather, I'll tell you that. And, you know, when you're from Arizona, you're just not used to carrying a jacket and a hat and gloves and a scarf. I haven't lost my jacket, but I've lost my scarf, my hat, my gloves. I'm just not used to looking around for them when I get up to leave. So that's bad.
Rep. Bonnie Watson Coleman (D-N.J.)
 I think the sort of real-time briefing and immediate action on legislation is something I didn't really appreciate until coming here. It requires my doing some really fast reading.
Sen. Gary Peters (D-Mich.)
 Well, it'd be better if I had a few more Dems in the freshmen class. I certainly would like that.
OTHER MEMORABLE MOMENTS
Sen. Dan Sullivan (R-Alaska)
 My first day in the chair presiding—you probably know my colleague from Alaska, Lisa Murkowski, has been on the floor a lot. So I was presiding and was politely reprimanded by the parliamentarian when I recognized my senior senator as "the senator from the great state of Alaska." They turned around and they said, very quietly and politely, "Senator Sullivan. You're not supposed to say that." And I'm like, "Say what?" "Say 'great state.'"‰" And I said, "Well, but it's true."
Sen. Cory Gardner (R-Colo.)
 You know, I'm just amused by sitting on committee and looking around and seeing who's running for president. That's what I've gotten a kick out of.
Rep. David Young (R-Iowa)
 Going home on the weekends. I've been home every weekend since being sworn in. There's nothing more refreshing than getting out of Washington, D.C. Because nothing good happens after 9 o'clock or on the weekends in D.C.—you know that, don't you?
Rep. Debbie Dingell (D-Mich.) Debbie Dingell says her swearing-in was bittersweet. (Tom Williams/CQ Roll Call)
 I have funny stories. Like Diana DeGette having to teach me how to use my voting card. I was using it like a credit card, you know: in-and-out. But you have to leave your voting card in.
Rep. Ruben Gallego (D-Ariz.)
 I went out with Congressman Grijalva during the House Democratic retreat in Philadelphia, and we're walking back into the hotel lobby, and you have to go through security. They told the congressman, "Go right on through, Congressman." But they made me go through security. It didn't help that Congressman Grijalva was like, "Oh you've gotta check that guy, he's dangerous."