On No Child Bill, Alexander Teaches Democrats a Lesson
Patty Murray had hoped to get in on the ground floor of the education law rewrite. Welcome to the minority.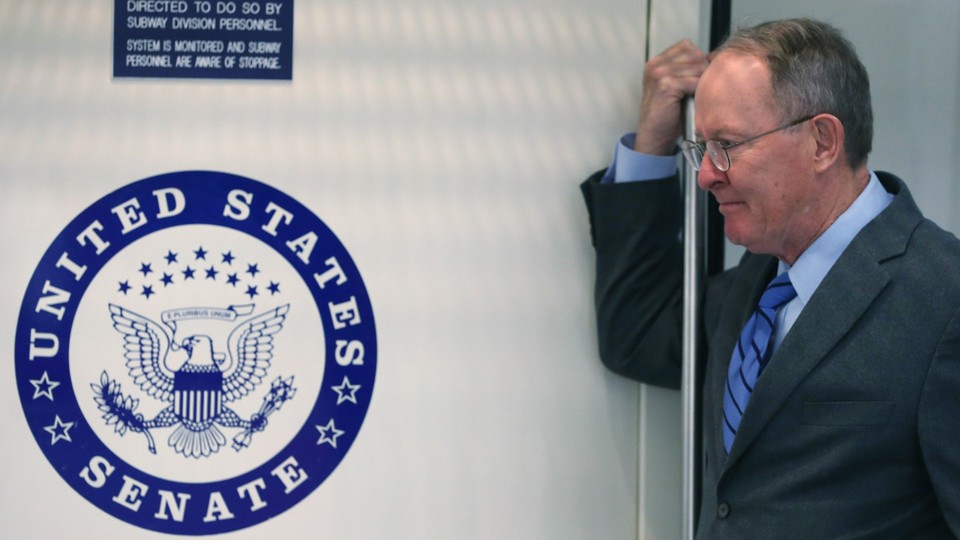 The Senate isn't exactly a bastion of bipartisan agreement these days, but there is one thing that members of both parties agree on: Everyone—everyone—hates No Child Left Behind.
And so, with great hope, Democrats and Republicans joined together this year to reform the law, led by two of the most well respected members of their conferences, potentially offering the only significant policy change that could clear the president's desk this year.
What Democrats got instead was a reminder of what it's like to be in the minority.
Almost immediately, Senate Health, Education, Labor, and Pensions Committee Chairman Lamar Alexander released a conservative draft of the legislation without any Democratic input. And he issued a schedule that will give committee members just until the end of February—around the same time the House plans to pass its own version of the bill—to enact some of the most significant policy changes the Senate has dealt with in years.
At the time he released it, his Democratic counterpart, Patty Murray, wasn't even aware of the draft. "That's not typically how we do things in the HELP Committee," Murray said in an interview Tuesday.
But Democrats shouldn't be surprised, Alexander said in an interview later in the day. "One of the responsibilities of the majority, I believe, is to make a proposal and then let everyone react to it," he said.
This appears to be Alexander's only chance.
Despite the hope for a resolution, if Alexander's plan doesn't work and the HELP bill fails when he brings it to the floor next month, the minority will not help him take a second shot at the issue this year, a Democratic aide with knowledge of the discussions said.
Democrats had high hopes that things would be different. After Murray negotiated a budget deal with Rep. Paul Ryan in one of the few successful conferences with House Republicans in years, Democrats sent the same top emissary to lead the committee negotiations with Alexander.
The idea was simple: Murray, a former preschool teacher, is held in high regard by the other members of her party, and their trust in her is unqualified. Alexander has a similar position in his conference; conservatives such as Ted Cruz and Mike Lee and establishment Republicans hold the Tennessean in high esteem. Both have the implicit trust of their respective leaderships and each has the respect of lawmakers on the other side of the aisle. Perhaps more than any other members, if Murray and Alexander sign off on a deal, their colleagues are likely to fall in line.
So Democrats were troubled when they sat down to begin discussing No Child Left Behind this year only to see that Alexander already had a plan. Not one he negotiated tirelessly with Murray, as Ryan did two years earlier, but a conservative draft with few Democratic fingerprints.
Democrats, Republican aides counter, are still acting like they're in the majority. The party needs to adapt and understand that they're no longer calling the shots on legislation, aides say.
Alexander wouldn't say whether the committee will proceed with his draft bill, allowing Democratic amendments, or whether he would try to write a separate bipartisan bill with the minority.
"We've tried for six years to develop a bipartisan draft, and that hasn't worked," Alexander said. "And I think the logical and normal thing to do would be for the majority to suggest a draft, as I have, and then to have an open amendment process in the committee, on the floor, in the conference and then to work the president to get his signature."
Still, Democrats—including Murray—have praised Alexander for his outreach. The Republican has met privately with every member of the committee, including Democrats, to talk about No Child Left Behind. "I think he clearly wants to work together. The proof will be in the pudding," Sen. Chris Murphy said.
Similarly, Alexander heaped praise on Murray, calling her a "terrific partner. She's very effective, she's a good leader, she cares about children, and I see no reason we can't get to a result," he said.
But Democrats say they're still concerned about the time line. With just over three weeks to go, Alexander and Murray have yet to sit down and begin negotiations over a final bill (although, Alexander emphasized, the two have talked often).
"I wish we were in a different place," Murphy, the Connecticut Democrat, said. "I think it would have been more helpful to negotiate before coming out with a bill. "¦ I don't see any rush. I'd like to get it done early in this session, but I think we should get a good bipartisan bill, rather than a fast, rush bill."
Asked about Democratic concerns that he's moving too quickly, Alexander noted that the original No Child Left Behind law expired in September 2007 and has continued without reauthorization for the last eight years. "That's an unusual definition of quickly," he said wryly. "We're guilty of malpractice to have waited eight [years]. "¦ We're having one of the longest periods of consideration for any major piece of legislation that I'm aware of."
All but two of the committee's 22 members served on HELP last year, and a majority have been there for at least six years, during which the HELP Committee has held 27 separate hearings on No Child Left Behind. "Surely, all the senators know all the issues by now," Alexander said.
The Senate calendar is an added pressure as well. Senate Majority Leader Mitch McConnell hopes to pass a budget and all 12 appropriations bills this year, which Alexander said would take "three or four months," not to mention other legislation. "I would like for us to have a couple of weeks to debate and amend No Child Left Behind on the Senate floor before that happens; otherwise we'll be at the end of the year," he said.
Alexander plans to bring the bill, with Democratic amendments, to the floor as early as March, where Democrats and Republicans alike will have a few weeks to amend the bill further. With the House scheduled to pass its own version by the end of February, Alexander hopes and expects that the two chambers will go to conference and resolve any final differences there.
Both Alexander and Murray maintain high hopes that they will be able to come to an agreement. And members and aides across the Capitol still believe that No Child Left Behind represents probably their best chance of passing major, substantive legislation into law this year.
"I think all of us want a result," Alexander said. "I think Senator Murray wants one, I want one, the president wants one, the House wants one. But most importantly, the teachers and the children and the parents and the school boards of the country expect us to fix this broken law."