Obama's Favorite Internet Provider Hates His Net-Neutrality Plan
An Iowa utility fears it will face burdensome federal regulations.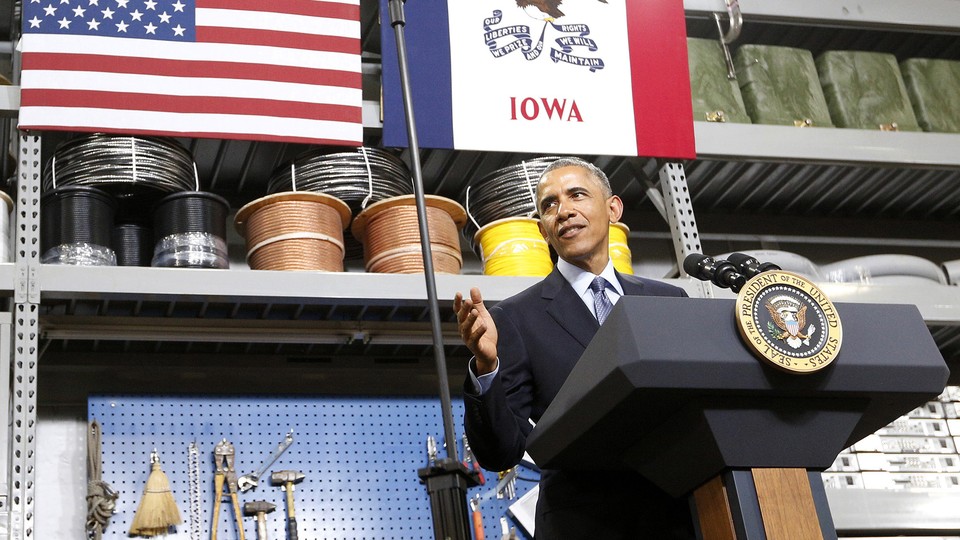 A city-owned Internet provider touted by President Obama for its blazing-fast speeds is now lobbying against his plan for net-neutrality regulations.
Last month, Obama traveled to Cedar Falls, Iowa, to promote the city's public utility, which delivers Internet speeds up to 100 times faster than the national average.
"What you're showing is that here in America, you don't have to be the biggest community to do really big things," Obama said. "You just have to have some vision, and you have to work together.
He urged the Federal Communications Commission to strike down state laws that limit local governments from building their own networks. If cities want to compete with private providers to offer the best Internet service, they should be able to, Obama argued.
"In some states, it is virtually impossible to create a community network like the one that you've got here in Cedar Falls," he said. "Enough is enough. We're going to change that so every community can do the smart things you guys are doing."
Cedar Falls Utilities was thrilled that Obama chose to single it out as one of the best Internet providers in the country. But the provider is much less excited about his plan for net-neutrality regulations.
In a filing made public Tuesday, Cedar Falls Utilities argued that Obama's net-neutrality plan would burden the company with unnecessary federal regulations.
Betty Zeman, an executive for Cedar Falls Utilities, along with representatives from other small Internet providers, met with FCC staff last week, according to the filing, which was prepared by the American Cable Association, a lobbying group for small providers.
They argued that small Internet providers wouldn't be able to get big Web companies to pay for special Internet "fast lanes" even if they wanted to. Only the big providers have that kind of clout, they claimed.
"Netflix would laugh us out of the room if we asked for money," Zeman said, according to the filing.
The president's net-neutrality plan would hurt the finances of small providers and hamper their ability to expand their services, the industry representatives said in the meeting.
Obama has urged the FCC to reclassify broadband as a "telecommunications service" under Title II of the Communications Act, which would grant the agency broad new authorities. Net-neutrality advocates say the step is the only way the FCC can enact rules that will hold up in court.
The small Internet service providers warned that the move could also empower the FCC to enact other regulations, such as price controls.
"We're big supporters of net neutrality," Zeman said in an interview. "Small ISPs don't have any incentive or ability to pose a threat to net neutrality."
The FCC should consider exempting small providers from its rules, she argued.
The commission is expected to vote on Obama's plan for net-neutrality rules on Feb. 26. At the same meeting, the FCC is set to consider petitions to strike down laws in Tennessee and North Carolina that limit the ability of cities to offer Internet service.