Obama's Ebola Victory Lap
"People were understandably afraid. And, if we're honest, some stoked those fears," the president said.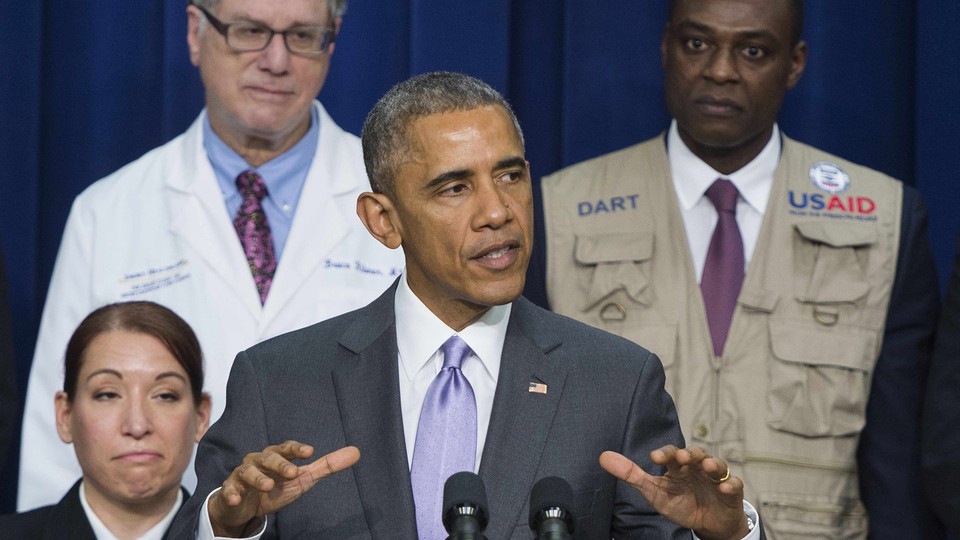 At no point Wednesday did President Obama utter the words "I told you so." But that was the underlying message from a White House event that brought him together with the doctors, nurses, and other health care professionals whose advice he relied on in the battle against Ebola.
Four months after he took a beating from political opponents who mocked his competence and derided the expertise of those giving him advice, a triumphant Obama surrounded himself with those experts and declared a milestone has been reached in the battle against Ebola. It was not, he stressed, final victory, but an important "transition" in which he could bring home almost all the U.S. troops he dispatched to Africa to help the doctors.
Even with the memories of that withering criticism still fresh, the applause of his White House audience was so embracing and the statistics at hand so encouraging, the president clearly was pleased with the way things have worked out. So while he was very careful not to repeat the words uttered by his predecessor about the Iraq war—that this was "mission accomplished"—this was, without doubt, a victory lap.
He reminded his audience that he ignored the criticism of his actions and the political advice to impose quarantines and travel bans. Even though polls showed that the country was afraid and distrustful of the reassurances coming from Washington, Obama stuck with the experts.
"Remember, there was no small amount of skepticism about our chances," he said with some understatement. "People were understandably afraid. And, if we're honest, some stoked those fears. But we believed that if we made policy based not on fear, but on sound science and good judgment, America could lead an effective global response while keeping the American people safe, and we could turn the tide of the epidemic."
On Wednesday, he could not resist recalling the bad, often-partisan advice he was getting in October over his response to the Ebola epidemic in West Africa, and the fears of it spreading to the United States. The coverage on cable news channels was nonstop, and the partisan assault was fierce and unrelenting with elections only weeks away. There was enormous pressure to cancel flights from the affected regions and ignore the doctors who said that would be counterproductive.
"In the 21st century, we cannot build moats around our countries. There are no drawbridges to be pulled up. We shouldn't try," he said. With Dr. Kent Brantly, one of the survivors, in the audience, the president recalled how controversial it was to bring him to the United States for treatment. "Some worried about bringing the disease to our shores." But he said he sided with the experts who knew "that we had to make the decisions based not on fear, but on science."
With Republicans often branding him as a non-believer in "American Exceptionalism," Obama offered his own definition. "What makes us exceptional is when there's a big challenge and we hear somebody saying it's too hard to tackle, and we come together as a nation and prove you wrong."
He did not name those he thought had been proven wrong this time. But he dismissed them as "those who like to fan fears." He recalled late October as "three weeks in which all too often we heard science being ignored, and sensationalism."
Looking back on what was said in those three weeks, the criticism does, indeed, look sensational and often less than fully informed by what the doctors knew. Former Alaska Gov. Sarah Palin blasted the president's "incompetency," adding, "You can't trust the Obama administration." Donald Trump objected to aid workers being allowed into the country and tweeted, "Ebola has been confirmed in NYC with officials frantically trying to find all of the people and things he had contact with. Obama's fault." He added in another tweet, "A TOTAL incompetent."
The deputy chief of staff to Republican Sen. Ted Cruz of Texas tweeted, "Before Obamacare, there had never been a confirmed case of Ebola in the U.S." His boss lamented that Obama lacked "sufficient seriousness" about protecting the American people.
Republican Sen. Rand Paul of Kentucky drew "Three Pinocchios" in the Washington Post's Fact Checker column for insisting that he knew better than the Centers for Disease Control on how to catch Ebola. He suggested people were more at risk of being infected with Ebola than AIDS, saying Ebola is "incredibly contagious." Accusing the administration of downplaying contagion, he said, "You start to wonder about a basic level of competence."
Would-be Republican presidential candidates Rick Santorum and Mike Huckabee joined in raising doubts about anything said by the medical experts or the government. On his Fox News show, Huckabee said, "The Ebola scare goes to the heart of a simple question: do you trust the government?" Citing what he said were lies about the Benghazi attack, he said, "If they repeatedly lie to me, I just don't believe them anymore."
Santorum warned of "so-called experts" on a radio show, according to People for the American Way, whose Right Wing Watch monitored the show. Dismissing the conclusions of the White House and the CDC, he said, "We cannot trust these experts who portray themselves as the people that we should be bowing to in this situation and letting them decide what we do." Louisiana Gov. Bobby Jindal also issued a statement mocking the Obama administration for refusing to ban flights. "They instead say we should listen to 'the experts.'... That statement defies logic."
Some Republicans linked Ebola to the immigration debate. Rep. Phil Gingrey of Georgia wrote to the CDC in July about "reports of illegal migrants carrying deadly diseases such as swine flu, dengue fever, Ebola virus and tuberculosis." Senate candidates Thom Tillis in North Carolina and Scott Brown in New Hampshire raised the same alarm. "We have an Ebola outbreak," declared Tillis. "We have bad actors who can come across the border. We need to seal the border and secure it."
In Iowa, Senate candidate Joni Ernst called Obama "apathetic" and said he "is just standing back and letting things happen. He is reactive rather than proactive." Sen. Marco Rubio of Florida called for a ban on visas from African countries. Several governors and potential presidential candidates—including Scott Walker of Wisconsin, and Chris Christie of New Jersey—called for travel bans or instituted quarantine policies well in excess of what the CDC recommended. When the CDC dissented, Christie airily replied, according to MSNBC, "They don't want to admit that we're right and they're wrong."