Obama Wants Price Negotiations for High-Cost Drugs
The White House wants to let Medicare negotiate with drugmakers for specialty drugs.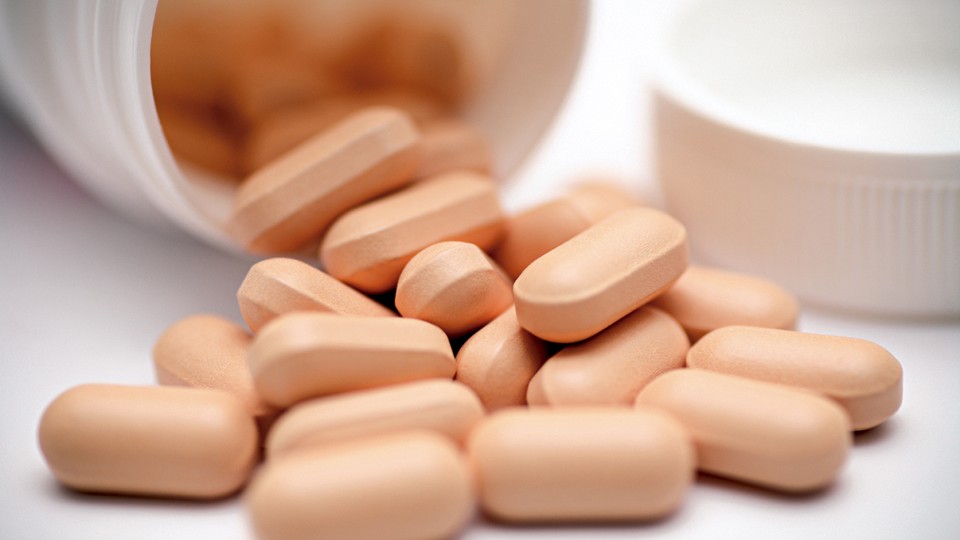 President Obama wants to let the federal government negotiate discounts for the most expensive prescription drugs, whose record-breaking price tags have set off a new debate over the cost of medical care.
Obama's budget request, released Monday, includes a proposal that would allow Medicare to negotiate with drugmakers over how much it will pay for certain drugs. Federal law currently bans such negotiations.
The proposal wouldn't apply price negotiations to all drugs. It's limited to "biologics and high-cost drugs"—an apparent reference to products like Sovaldi, the $84,000 Hepatitis drug that touched off the latest battle between drugmakers and insurance companies.
"The administration is deeply concerned with the rapidly growing prices of specialty and brand name drugs," Obama's budget proposal says.
Many liberals have long wanted the government to negotiate prices for all prescription drugs, arguing that Medicare—the country's biggest health care payer—ought to have the same bargaining power that private insurance plans can leverage. But Obama hasn't fully embraced the policy, and specifically agreed not pursue it as part of the Affordable Care Act.
The proposal will surely meet strong resistance from the pharmaceutical industry and isn't likely to go anywhere on Capitol Hill. Critics, including Republicans, say price "negotiations" would actually turn into price controls, given Medicare's purchasing power, and that lower payments would cut into the industry's research budgets.
Other than the call for some price controls, the White House's health care proposals are mostly repeats from the past several years. They include:
Extending Medicaid's rebates for prescription drugs into Medicare. Low-income seniors would pay Medicaid's prices, which are lower than Medicare's. The administration says its cuts to pharmaceutical companies, together, would save Medicare nearly $150 billion over 10 years.
Higher cost-sharing for wealthier seniors in Medicare. The budget would ask high-income seniors to pay for more of their coverage, institute a co-pay for some home health care services, raise the deductible for certain doctor's visits, and push Medicare supplement plans to require most cost-sharing. (Estimated savings: $84 billion.)
Cuts in Medicare payments to doctors, hospitals, and private Medicare Advantage plans, which the administration says will improve Medicare's efficiency and save the program $222 billion