Obama Unveils Arctic Offshore Drilling Safety Rules
New Interior Department standards are supposed to make oil exploration off Alaska's coast safer, but environmentalists say development is too risky.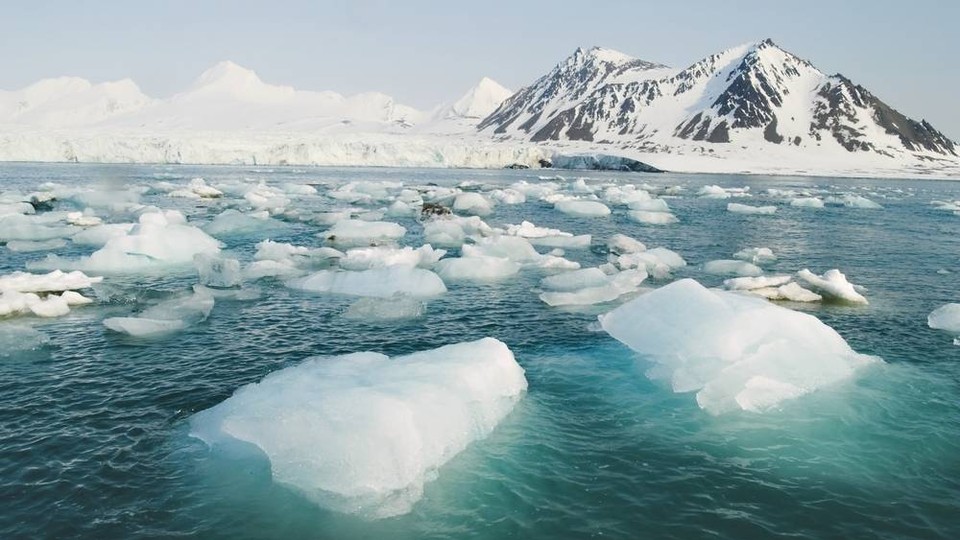 The Interior Department unveiled draft rules Friday aimed at preventing and containing oil spills in harsh Arctic waters off Alaska's shores, where big energy companies including Royal Dutch Shell hope to tap potentially huge petroleum deposits.
The long-awaited offshore-drilling rules are the latest of several federal policies governing the Arctic region's environment unveiled in recent weeks, including a proposal to make the onshore Arctic National Wildlife Refuge permanently off-limits to drilling.
Interior officials say the tough Arctic climate, the limited port infrastructure in the region, and the subsistence hunting needs of native communities warrant special rules to govern offshore drilling in the Beaufort and Chukchi seas off Alaska's northern coast.
"Energy exploration in the Arctic is unique. It is conducted in a very sensitive and challenging environment, where extreme weather, frigid waters, and sea ice are common, and where supporting infrastructure and logistical support capabilities are lacking," said Brian Salerno, director of Interior's Bureau of Safety and Environmental Enforcement, on a call with reporters Friday.
Interior has estimated that the Beaufort and Chukchi seas contain more than 20 billion barrels of recoverable oil.
The rules are aimed at ensuring that oil companies and their contractors are prepared for conditions in the Arctic, requiring an "integrated operations plan that details all phases of the exploration program for purposes of advance planning and risk assessment," a summary notes.
The rules require development of "region-specific" oil spill response plans. They require companies to have quick access to equipment to contain a potential blowout and have a rig available to drill a "relief well"—a second well that could halt the flow of oil from a blowout.
"The proposed rule continues to allow for technological innovation, as long as the operator can demonstrate that the level of its safety and environmental performance satisfies the standards set forth in the proposed rule," Interior said.
Many environmentalists oppose Arctic oil development, arguing that oil companies are not ready to drill safely in a region that's home to polar bears, bowhead whales, and other endangered or fragile species.
Michael LeVine of the group Oceana called the rules "an important and necessary first step to protecting important ocean resources."
But tighter regulations likely won't be enough to mollify green groups that say the area should not have drilling rigs at all.
"We don't know whether companies might be able to operate safely in the Arctic one day. We do know that they can't do so now and that, therefore, the government has no business approving plans like the one Shell hopes to pursue," said LeVine, the group's Pacific senior counsel, in an email.
Shell, which has spent billions of dollars on Arctic leases and development efforts, has been the most aggressive in seeking to drill in the Beaufort and Chukchi seas off Alaska's northern coast, and began preliminary operations in 2012.
But the company suffered a series of mishaps that year, and never won Interior's permission to drill into oil-bearing subsea layers. Problems included damage to spill-containment equipment during testing off Washington state's coast, and a drilling rig that ran aground in December 2012 on its way back from the Arctic region.
The company hopes to resume a scaled-back drilling program in the Chukchi this summer. That's before the new rules will be completed, but Interior says it will hold Shell to a high safety bar even if those standards have not been formally codified.
"We will be holding them to the standards that we have held them to before, with upgrades and proof that they can do what they say they do before they're allowed to go up there," Interior Secretary Sally Jewell told reporters in early February.
Other major companies that hold drilling leases in the Arctic include ConocoPhillips and Statoil.
Shell and ConocoPhillips, in closed-door meetings with White House aides last year, argued that the rules should avoid what the companies call overly prescriptive requirements.
The American Petroleum Institute, a powerful lobbying group, on Friday attacked the provision in the draft rule that requires companies to have a rig available on standby to drill a relief well if needed.
"Other equipment and methods, such as a capping stack, can be used to achieve the same season relief with equal or higher levels of safety and environmental protection. For this reason, it is unnecessarily burdensome to effectively require two rigs to drill a single well," said Erik Milito, a senior official with the group.