Obama to Republicans: 'Don't Jeopardize Our National Security' Over Budget
It's appropriate the president announced his budget on Groundhog Day.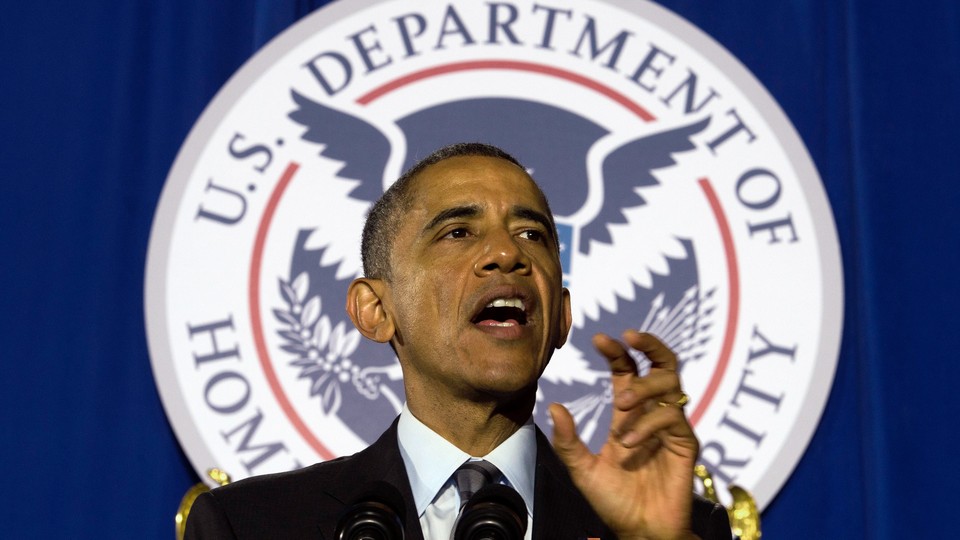 The day the White House releases its budget for the year may seem more wonky than political, but it plays into the same optics as any other public debate.
The White House certainly had optics in mind when it decided on the setting for President Obama's speech unveiling his $4 trillion budget. Obama spoke Monday morning at the Homeland Security Department's National Operations Center, where some employees would be forced to work without pay if Republicans in Congress do not reach a deal with the White House by the end of the month.
Speaking to a crowd of Homeland Security employees, Obama eschewed his usual sell of economic populism and instead argued that the economic security provided in his budget is inextricably linked with national security. In his speech, Obama said his budget increases defense funding to confront challenges "from ISIL to Russian aggression," and he derided sequestration as "mindless, across-the-board cuts."
If the White House does not reach a deal with Congress on sequestration by Feb. 27, most of Homeland Security's 280,000 employees will continue to work, but without pay, until an agreement is reached. On Monday, Obama called on Republicans to "put politics aside" and pass his budget, or face the consequences.
"Just last week, top military officials told Congress that if Congress does nothing to stop sequestration, there could be serious consequences for our national security, at a time when our military is stretched on a whole range of issues. And that's why I want to work with Congress to replace mindless austerity with smart investments that strengthen America," he said. "Don't jeopardize our national security over this disagreement."
Obama also pushed back against a comment by Rep. Mario Diaz-Balart, R-Fla., who recently told Politico "it's not the end of the world" if the House does not act before Homeland Security's funding expires.
"I guess literally that's true; it may not be the end of the world," Obama said, borrowing a catchphrase from his veep. "But until they pass a funding bill, it is the end of a paycheck for tens of thousands of front-line workers who will continue to have to work without getting paid."
The president even engaged in a bit of fear-mongering. "If Republicans let Homeland Security funding expire, it's the end to any new initiatives in the event that a new threat emerges," Obama said. In other words: "If you don't pass the budget and avert sequestration, people will blame you for the next national security dilemma."
Among many other things, Obama's budget proposal would overhaul unemployment insurance, which stalled in the Senate last year, and calls for Senate candidates to file their fundraising reports electronically. In his speech, Obama emphasized (twice) that since he took office, the U.S. government has cut its deficit by two-thirds—the "fastest period of sustained deficit reduction" since the end of World War II.
But, as much as the White House would like Republicans to suddenly agree with its agenda, the path to such compromise becomes less visible every year. As CNN's Jim Acosta astutely commented, it's appropriate that Obama unveiled his budget on Groundhog Day; much like the 1993 rom-com starring Bill Murray and Andie MacDowell, the budget process appears doomed to repeat itself.