Obama on Arming Ukraine: "˜I Have Not Made a Decision About That Yet'
The president's remarks come after rumors that the administration was considering sending lethal aid to the Ukrainian military.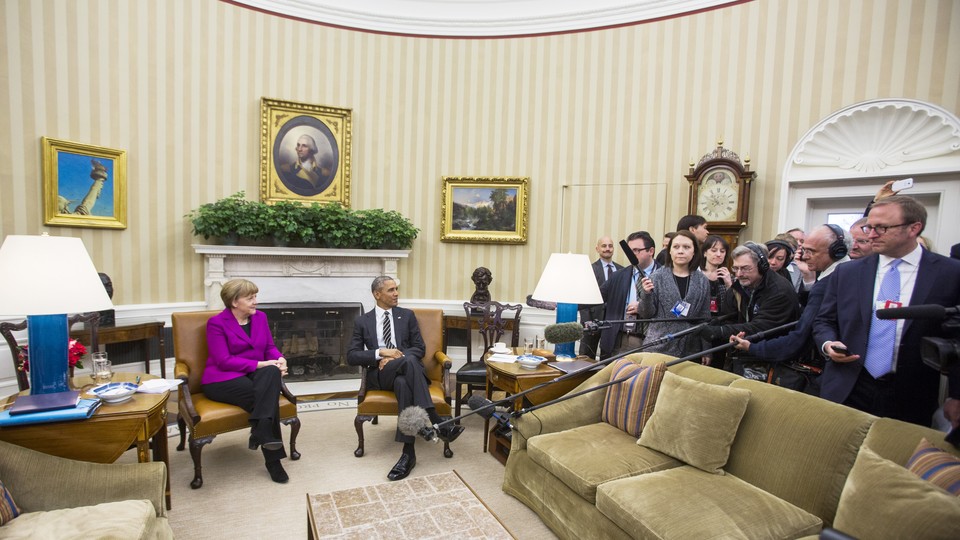 Eleven months after the Russian annexation of Ukraine, one far-reaching question still lingers over the future of the conflict there: Will sanctions against Russia be enough to deescalate the conflict? Or will greater international force be needed?
"The possibility of lethal defense is one of those options that's being examined," President Obama said at a joint press conference with German Chancellor Angela Merkel on Monday. "But I have not made a decision about that yet."
Obama also acknowledged the the current course of sanctions—while they have contributed to a collapsing Russian economy—have not yet changed Russian President Vladimir Putin's stance on backing pro-Russia separatists in eastern Ukraine. "It has not yet dissuaded Mr. Putin from following the course that he is on," Obama said.
"What's important for me," Merkel said on arming Ukraine against Russia, "is that we stand very closely together on the question of a new renewed diplomatic effort."
A German reporter asked Obama to consider the "red line" in Ukraine from the president's perspective as a Nobel Peace Prize winner. Obama said there was no "specific point" at which "lethal defensive weapons would be appropriate here. It is the ongoing analysis of what can we do to dissuade Russia from encroaching further and further on Ukrainian territory."
Although Obama has yet to make a decision whether to arm pro-Ukrainian forces, voices in his administration suggest it could go either way. Ash Carter, Obama's unconfirmed choice for Defense Secretary, said at his Senate confirmation hearing last week that he'd be "very much inclined" in the direction of arming the Ukrainian military. Secretary of State John Kerry is so far being cautious. "We are not seeking a confrontation with Russia. No one is," he said in Kiev last week. But Kerry has also said, according to The New York Times, he's open to the discussion of providing lethal aid.
Merkel is in Washington to persuade Obama that arming pro-Ukrainian forces is not the right course of action. "The problem is that I cannot envisage any situation in which an improved equipment of the Ukrainian army leads to a situation where President Putin is so impressed that he will lose militarily," Merkel said Saturday.
Republican lawmakers are pushing Obama to send lethal weapons. "The Ukrainians are being slaughtered, and we're sending them blankets and meals," Sen. John McCain said in Munich over the weekend, referring to the humanitarian, nonlethal aid the U.S. has already sent, including body armor, night-vision goggles, ready-to-eat meals, and sleeping mats.
This post is breaking and may be updated.
---
Priscilla Alvarez contributed to this article