New Club for Growth President Singles Out John McCain for Potential Primary Challenge
The group's support would be critical for an effective primary challenge against the Arizona incumbent.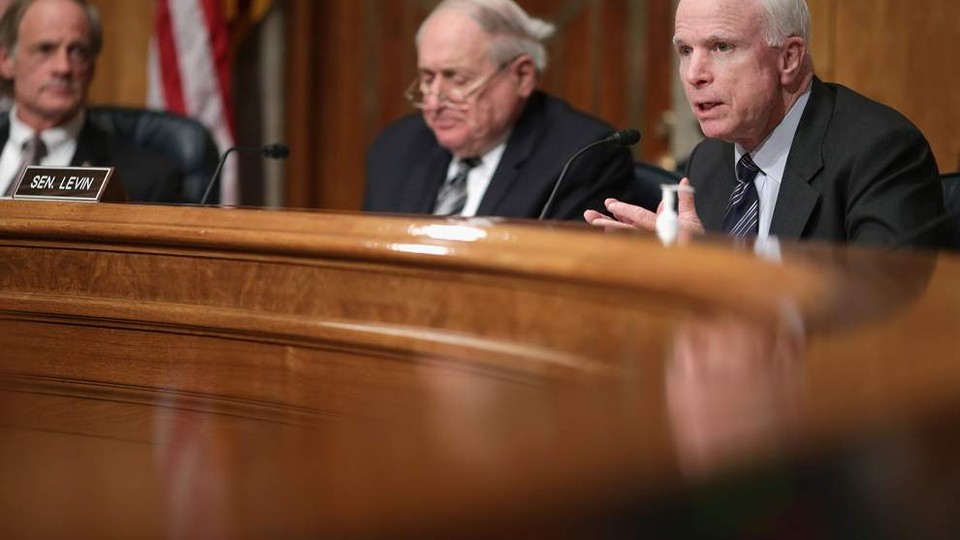 New Club for Growth President David McIntosh said Tuesday that the free-market group would "watch closely" Sen. John McCain's reelection race—especially if Rep. David Schweikert or Rep. Matt Salmon decides to mount a primary challenge against the longtime Republican incumbent.
The group has been supportive of both Arizona Republican congressmen in the past, McIntosh noted, and each has publicly ruminated about running. Schweikert, elected in 2010, and Salmon, elected in 2012, were endorsed by the club for their congressional campaigns and are favorites of fiscal conservatives.
"Does one of them decide to enter the race?" McIntosh said at a breakfast hosted by The Christian Science Monitor. "And then we're disciplined about it. We'll do research and polling and determine if there's a path to victory and is the money well spent."
McIntosh, who succeeded Chris Chocola as club president late last year, emphasized that his group is still in the early stages of assessing potential primary opponents and that many potential conservative candidates haven't seriously considered the 2016 cycle yet.
But there's little doubt McCain, the onetime GOP presidential nominee with a moderate streak, sits atop the primary wish list of many conservatives. He's one of the few Republican Senate incumbents who present an inviting target for conservatives next year, as many of the other GOP incumbents up for reelection are already tea-party favorites, including Sens. Pat Toomey, Mike Lee, and Marco Rubio.