Moderate Senate Democrats Defy Obama on Keystone
Democrats from swing states and fossil-fuel rich areas square off against the White House.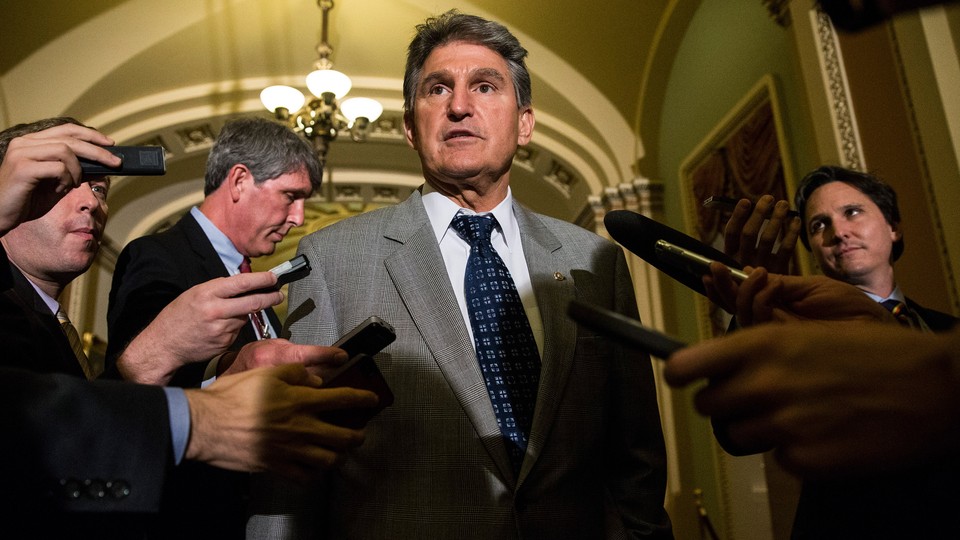 At least seven Senate Democrats say they will thumb their nose at the White House and vote to override President Obama's veto of the Keystone XL pipeline bill.
Although it will still leave GOP leaders short of the 67 votes they would need to overcome the veto in the Senate, the continued defection of moderate Democrats shows it will be difficult for Obama to keep his party together for energy and climate fights later in the year.
Sens. Joe Manchin, Heidi Heitkamp, Claire McCaskill, Bob Casey, Michael Bennet, Mark Warner, Joe Donnelly, and their aides all told National Journal that they will vote "yes" on a veto override attempt expected to arrive next week.
That stance, taken by senators from states such as Colorado, North Dakota, Pennsylvania, and West Virginia, highlights the divide between Democrats from fossil fuel-rich areas of the country and the White House as Obama faces a Republican Congress fighting tooth-and-nail to sink his climate agenda.
Nine Democrats voted in support of Keystone when the Senate approved a bill to build the pipeline at the end of last month. But even if all of the nine vote to override Obama's veto handed down on Tuesday, Keystone backers would still come up four votes short.
McCaskill said not to expect much to change between now and next week.
"The only thing you would take more heat for than taking a position on Keystone would be changing your position on Keystone," McCaskill said. "So I think it's unrealistic that people are going to flip on it at this point."
The $8 billion pipeline, which would haul heavy crude from Canada to the Gulf Coast, puts Democrats in a tight spot. Environmentalists say Keystone would worsen global warming and the vast majority of Senate Democrats oppose the pipeline. But labor unions, along with the oil and gas industry, say the project would create jobs, putting pressure on Democrats from energy-rich states such as West Virginia's Manchin and North Dakota's Heitkamp to back the project.
Manchin said he was not optimistic that the override would succeed. "I don't think so. I think we are where we are."
When asked about the override in the Capitol, Delaware Sen. Tom Carper said he was not sure that the vote would take place and declined to state a position. "Ask me later when we're sure," he said. "I just haven't thought about it and it's not clear to me that it's going to come up."
An aide to Senate Majority Leader Mitch McConnell confirmed that the procedural process to initiate a veto override is slated to take place sometime before Tuesday.
Republican Sen. John Hoeven of North Dakota said he continues to search for more votes to override Obama. "We're at 63 so we need 4 more," he said. But asked to name the targets, Hoeven demurred. "I hate to say who because that might put more pressure on them and we're trying to encourage them to get on board," he said.
Heitkamp also is working to win additional votes. "Last year, I got 10 Senate Democrats to support the project, and I'll continue to work to get more on board to override the veto," she said.
At the same time, Keystone fatigue is setting in for Democrats. Several moderates said they just want to get the vote over and done with so that they can move on to other issues, such as funding the Homeland Security Department as a potential shutdown looms.
"I have voted in favor of the pipeline so I'm going to support this, but I hope we can get past this and begin to tackle much more important priorities," Casey said.
"I don't think that the veto will be overridden, but I'll stick with my position," Warner said Wednesday. "That said, I think both sides have way overstated their cases on Keystone,"
"I'm looking forward to doing some work around here," McCaskill said. "I think the American people don't just want them [Republicans] lobbing rocks at the White House. I think they want us to do their work."
The Keystone saga, however, is not likely to end anytime soon.
The pipeline still is under review at the State Department, where Secretary of State John Kerry must make a recommendation before Obama can make a final decision on the project.
And Republicans have vowed to tie the pipeline to future energy bills or must-pass spending legislation that the president would be hard-pressed to reject.
"This is an important issue so we're going to keep working on it till we get it right," Hoeven said.