Mike Pence Isn't Preparing to Run for President
Despite the buzz, the Indiana governor isn't laying the groundwork—or raising the funds—for a national campaign.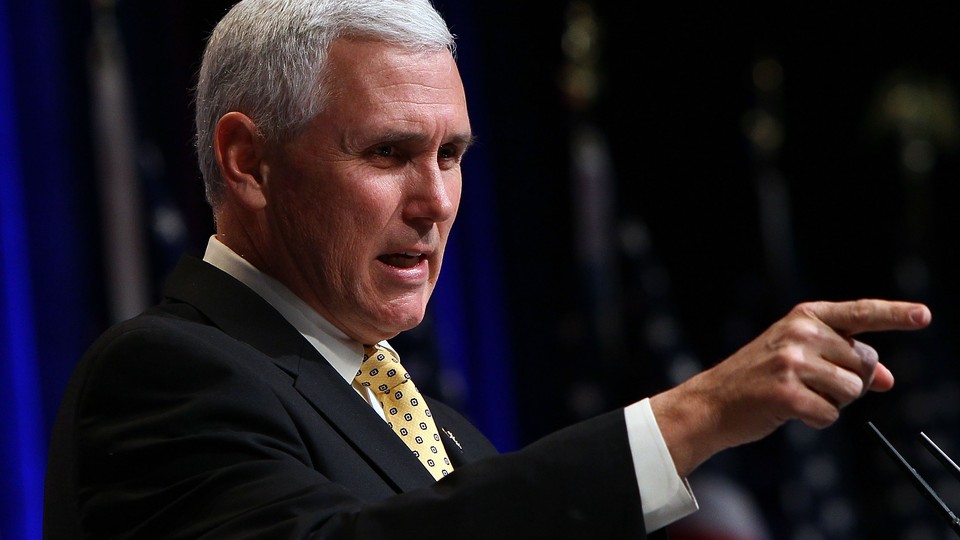 Indiana Gov. Mike Pence has scored himself a prime speaking slot Friday night, when he'll deliver the keynote address at the Conservative Political Action Committee's Reagan Dinner. It's the type of engagement that fuels chatter about a possible presidential run—and, indeed, there is widespread speculation that the Republican governor is eyeing in the White House in 2016. Pence himself has fueled that speculation, saying he'll take until late spring to figure out his next steps.
But despite the hype, there are few outward signs that Pence is doing anything but keeping his name in the presidential conversation. At a time when other "potential" candidates are going all out to raise funds and assemble campaign teams, Pence is doing neither. Instead, his fundraising efforts suggest he's focused on winning another term as governor.
Pence established a leadership PAC called Win Back America in 2002, and although the PAC is still active, it reported that it raised just $7,805 in the 2014 cycle and spent $10, 918, all of which went toward staff and upkeep operations.
Contrast that with the $3.5 million Pence reported to have on hand as of 2014 for a gubernatorial reelection bid. But because that money is in his state account registered as the "Mike Pence for Indiana" committee, none it could be transferred to a federal account and used for a presidential run. Under Indiana law, Pence cannot run for both state and federal office on the same ballot.
To be sure, Pence could still run for president, and he has a list of speaking engagements lined up in the next few weeks, including at the Club for Growth's annual meeting in Florida, the American Enterprise Institute's World Forum, and the Republican Jewish Coalition's spring meeting. But if he is running, he's certainly getting a late start, and other Indiana observers say they see Pence as primarily reelection focused.
"No one here believes he's running for president," said Dan Parker, a longtime political adviser to former Sen. Evan Bayh of Indiana.
Pence's staff hiring habits also don't point to a presidential bid: In January he brought on Robert Vane, an Indiana-based operative, to serve as communications director for his political operation.
"That was a sign to me that he's gearing up for a reelection campaign not [a presidential campaign], because it was an Indiana-specific political operative; it wasn't somebody that's geared toward Iowa or South Carolina or New Hampshire," Parker said.
"I would say the expectation is that he will run for reelection," said Pete Seat, a former communications director for the Indiana Republican Party. "That tends to be the standard line from his operation. They've long said, just look at all the money."