Meet the Women Pushing Pot in D.C.
In making efforts to shape pot policy and put a fresh face on the industry, these women are changing the marijuana game.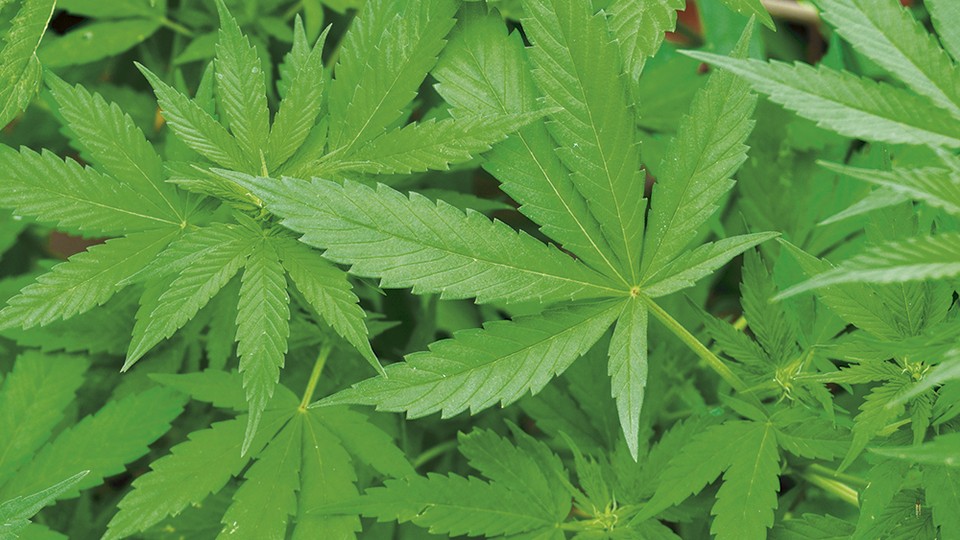 They weren't quite what someone would imagine a group of stoners to be. And that's exactly what they wanted.
In pantsuits and blowouts, blazers and high-fashion buns, 60 or so members of Women Grow, a newly launched national network of female marijuana entrepreneurs, gathered at the National Press Club on Thursday morning for a press conference ahead of a two-day lobbying tour of Capitol Hill. There wasn't a Bob Marley T-shirt in sight.
Hailing from across the country, the women came to Washington to lobby for specific policy issues: tax reform and access to banking—tackling what they consider two crucial obstacles to the legal cannabis industry in the states that allow for it. But they also made the trip to make the case to lawmakers, face to face, that pot advocates are more than a stereotype.
"We're small-business owners committed to replacing the criminal market with a wellness-focused industry that provides safe and consistent products," said Women Grow cofounder and Executive Director Jazmin Hupp. "We're not asking for special treatment."
One specific portion of the tax code, Section 280E, prevents traffickers dealing in controlled substances from writing off many business expenses. Because pot is illegal on the federal level, small businesses dealing with it even in states where it's been legalized have to pay taxes on their entire revenue—not just their profit—and they end up paying up to 90 percent of their income in taxes.
"It's absolutely crippling to business that are trying to invest in their local economies, trying to create jobs, pay their workers more, invest in benefits for their workers. All of this economic benefit that could be going to a local community is instead being sucked away to Washington," said Taylor West, the deputy director of the National Cannabis Industry Association (and a former National Journal communications director). "And it particularly affects the businesses that are most trying to do it the right way. These are businesses that are filing federal tax returns, they are trying to be responsible members of their community, and the federal government is penalizing them for it."
When it comes to banking, many financial institutions are often hesitant to work with businesses dealing in a federally illegal substance, even in Colorado or Washington state, where pot is legal. While this is generally a good practice, Hupp told National Journal—"I'm happy if our local heroin dealer doesn't have access to banking"—it hampers pot businesses that have bank accounts routinely closed and have to operate with actual bags of cash.
It's not only inconvenient, West said, it's a safety concern. A business that's forced to deal with cash is "a sitting duck for robberies, for other violent crime. We have employers who literally send multiple employees out at the same time carrying matching shopping bags, one of which has the cash in it, and the others are decoys," she said.
Bills dealing with those two policy obstacles were introduced in the last Congress without success. But Hupp said Women Grow isn't deterred: They're hoping to push lawmakers to support them once they're introduced in the new session.
Earl Blumenauer, D-Ore., a marijuana advocate in Congress, said at the press conference he plans to reintroduce his Small Business Tax Equity Act, which grants marijuana-focused businesses in states where pot is legal an exception to Section 280E, allowing them to write off business-related expenses.
"We have hundreds of legal marijuana businesses in this country who are operating in shackles," he said. "These are two bottom line, commonsense items that everybody on Capitol Hill should sympathize with, regardless of how they feel about the use of marijuana."
As for women, specifically, it's crucial for them to get in on the pot industry as it gets off the ground, Hupp said: "A new multibillion-dollar industry does not come along every day." She and other Women Grow members cite the early-2000's tech boom as a missed opportunity for female entrepreneurs.
"Women are underrepresented in entrepreneurial-type ventures," Allison Ireton, an Ann Arbor, Mich.-based lawyer and a Women Grow member, told National Journal. "The last really big boom that we had was the technology boom, which still, notoriously, is completely dominated by men. Here we have another huge shift, and an opportunity. The numbers don't lie: It's a billion-dollar industry. And for women to come in and be stakeholders is important, because usually these kinds of opportunities are dominated by men."
By meeting lawmakers and their staff, Hupp said, the Women Grow representatives hope to rebuff stereotypes about people in the pot industry.
"There's a perception about cannabis consumers, the lazy stoner-slackers in the basement, and cannabis business owners, that these are former drug-dealers," Hupp told National Journal. "But when you actually meet these women, most of them come from—they had a landscaping business before this, or an accounting business, or a bakery before this."
Megan Stone, a Phoenix-based interior designer for marijuana businesses, told National Journal the prevailing image of potheads just isn't true on the professional level. She wants to talk to her representative, she said, to show that "we're probably a lot more like them than they thought we were."