Marco Rubio Questions Obama's Faith in American Exceptionalism
The Florida senator is raising similar concerns about the president that Rudy Giuliani has. But he's winning over supporters in the process.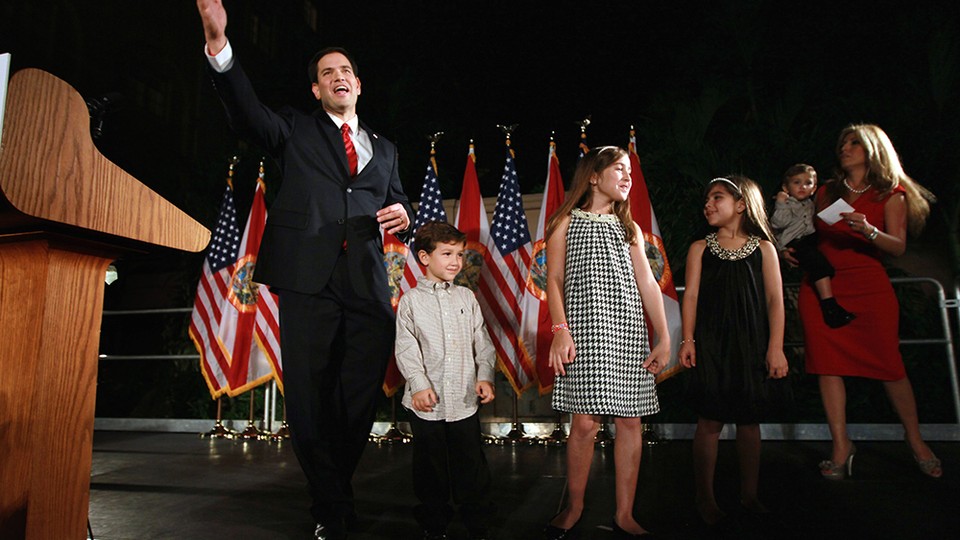 MANCHESTER—Move over, Rudy Giuliani. Marco Rubio is vying to be the political face of American exceptionalism in the 2016 presidential campaign.
In his first trip to New Hampshire this year, Rubio tested out his emerging presidential campaign theme: That the twin pillars that defined American society for generations—economic mobility and strong foreign policy leadership—were being undermined by a president who believes his own country is no better than any other democracy. But unlike the former New York City mayor, Rubio received a warm reception from the hundreds of community leaders, conservative activists, and business officials that showed up to hear him speak in frigid New Hampshire.
While the first-term senator from Florida pointedly declined to criticize President Obama's love of country, he shared Giuliani's overarching view that the president "views America as the cause of these [foreign policy] problems, not the cure" to the myriad threats on the global stage. And he framed the upcoming presidential election as a stark choice between accepting American decline or getting the country back on track to a posture of assertive global leadership—at home and abroad. It's the crux of Rubio's message, which relies heavily on his own biography as the son of working-class immigrant parents who worked hard and were rewarded by American meritocracy.
"My parents fully lived the American dream ... They were able to leave all four of their children off with a better life. What my parents did was done by millions of people throughout 230-some years, and our country is one of few places in the world where that story is possible. It's easy to take that for granted, it's easy to believe this is the way it is everywhere, but it isn't," Rubio said to a packed community center Monday in Hollis, New Hampshire. "What we have in America is special. It is unique. Not in the world today, it's unique in human history. What we're being asked to decide now is whether we want to continue being that kind of country, or are we prepared to become just like everyone else. And we have reason to worry."
Without raising the specter of socialism, Rubio delivered an equally hard-hitting message that President Obama has broken from the bipartisan mainstream consensus in the country—whether it's middling support for Israel, a zeal for executive orders that test his constitutional authority or embracing "radical environmental policies" harming the country's economy. And that he made his case with a smile—while drawing frequent applause—shows how compelling his message could be in a presidential primary.
The New Hampshire jaunt concluded the end of a weeklong campaign-style swing, where Rubio visited the four early primary voting states, ostensibly to test the presidential campaign waters. But while Rubio focused on signing his new book "American Dreams" in Iowa, South Carolina and Nevada, he got his first real taste of relating to skeptical voters in New Hampshire.
About 100 people packed the Lawrence Barn Community Center in Hollis during the middle of a Monday afternoon to hear the senator speak. He received a warm reception—sprinkled with applause throughout—and fielded more than a dozen probing questions. The next morning, he was the keynote speaker at the New Hampshire Institute of Politics' Politics and Eggs speaker series—the first top 2016 contender to attend—where he was a fresh face to many of the corporate attendees in the crowd. Rubio, who is still an unfamiliar name to many New Hampshire voters, made a stark impression by weaving in stories of his family's personal challenges with policies designed to encourage economic mobility.
If he was using this trip to gauge the reception for a national campaign, it would indicate that he's got a captive audience.
"That's the first time I've seen a political speech where I was moved to tears, " said former New Hampshire House Speaker Donna Sytek, a past party chair who attended the Institute of Politics breakfast. "When you have the policy chops and the finesse to connect emotionally with an audience, it's an impressive combination."
In his speeches, he touted policies that included a more family-friendly tax code, improving access to vocational education, and supporting a broader war authorization against terrorists than the president requested. He managed to avoid the technical legislative talk that hamstrings many Congressional veterans. At the same time, he also dodged specific questions, such as whether he still supports comprehensive immigration reform ("I'm not going to waste my time on things that can't pass," he told a critic at the book signing) and whether he backed a clean bill funding the Department of Homeland Security (he blamed Democrats for the impasse).
Despite Rubio's potential, he lags behind better-known competition in a deep, crowded Republican primary field. In the latest NBC/Marist poll, he's tied for sixth place, winning just seven percent of the Republican vote. But he's only 12 points behind leader Jeb Bush.
Rubio's advisers are more focused on the long game. Assuming he runs, Rubio plans on aggressively contesting New Hampshire; his staff thinks that Rubio's conversational speaking style will resonate in a state where voters prize authenticity and cherish their role scrutinizing politicians in town halls. And they think his ability to relate to voters' economic struggles allows him to draw contrasts with his longtime ally Bush, who lacks the personal story to relate to voters even as they share many of the same policy preferences. To one well-wisher, he mentioned that he was staying at the inexpensive Comfort Inn when in town. In his speeches, he joked that he just finished paying off his massive student loan debt—thanks to proceeds from his new book.
"The idea of another Bush-Clinton election is kind of disappointing to our students," said Chris Galdieri, a political science professor at Saint Anselm College who coordinated a meeting between Rubio and the school's College Republicans chapter before the senator's speech. "They're looking for someone new."