Marco Rubio Calls on Conservatives to 'Imagine' a New America
The senator from Florida and likely presidential contender looks to have regained the love of the CPAC crowd.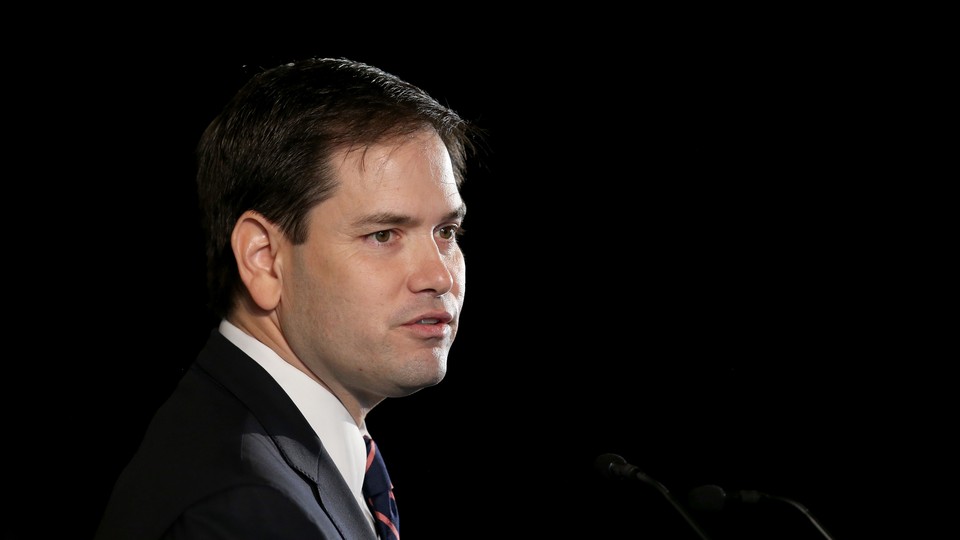 In a speech to the Conservative Political Action Conference Friday that largely looked beyond current problems, Marco Rubio called on conservatives to "imagine" a new America.
After a failed 2013 bid to reform the immigration system, the senator from Florida and likely presidential contender, once a tea-party darling, seems to have gotten back in the good graces of the crowd at CPAC, eliciting multiple standing ovations.
"We are one election away from triggering another American century," he told the crowd.
Checking all the major conservative boxes, Rubio told the crowd that even though the country is on the road to decline because of the Obama administration's policies, "Americans know we're exceptional." "Imagine," he said, if America repealed and replaced Obamacare, if the country's laws "protected human life," and if we had a commander in chief who thinks that "the way to defeat ISIS is not to find them a job."
"The question before us in November of 2016 is what kind of country we're going to be," he said.
Rubio continued to hit President Obama, calling him "failed" and lamenting the administration's foreign policy that he said "treats the ayatollah in Iran with more respect than the prime minister of Israel."
"This new century presents us with significant new challenges," he said, "but solving them is well within our reach."
Getting quiet toward the end of his speech, Rubio recounted his family's history—his parents emigrated from Cuba in 1956—and said that America's journey was "deeply personal" for him. "I have a debt to America that I will never be able to repay," he said.
With the exception of a rhetorical question—"When was the last time you heard about a boatload of American refugees arriving on the shores of another country?"—Rubio didn't mention immigration until a question-and-answer session with Fox News host Sean Hannity. Saying that he'd learned a lot since his failed push to reform immigration, he said he had changed his beliefs, falling more in line with what the CPAC crowd was looking for.
"It's a serious problem that has to be confronted, it does," Rubio said of immigration. "We don't have the mechanisms in place" to enforce our current immigration laws, and our legal system is "among the most generous in the world."
He also threw red meat to the conservative crowd, emphasizing the prime importance of border security, asserting that the border "needs more fencing" and "more patrols." The need to control future illegal immigration, he said, "is the single biggest lesson of the past few years."
Though Rubio declined to give a timeframe for when he'd announce his decision on a presidential run, in a "lighting round" of quick questions, Hannity asked the senator what his top five priorities would be as president. Rattling them off at near-breakneck speed, Rubio delivered three themes: creating a "healthy" economy through "tax reform, regulatory reform," repealing and replacing Obamacare, and balancing the budget; giving people "the skills they need for the 21st century,"; and making the military "the strongest" in the world.
On gay marriage, abortion, and marijuana legalization, Rubio took a more classically conservative line: "Marriage should be between one man and one woman," he said, he's pro-life, and he does not agree with Colorado's recent marijuana legalization measure.
As for Hillary Clinton, he only had one word, wrapping up his optimistic, forward-looking tone: "Yesterday."