Look Who's Terrified of Marco Rubio
The senator's unknown political path has Florida's next tier of Republicans treading carefully.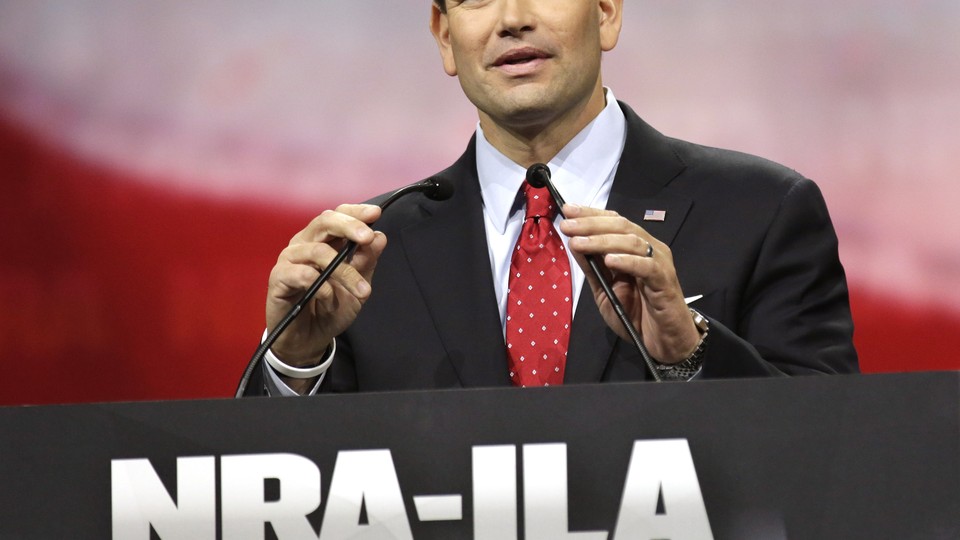 A host of ambitious, up-and-coming Florida Republicans are excited about Marco Rubio running for president. They're also getting really anxious.
The party's next tier of candidates is eyeing elections for two prime positions: Rubio's Senate seat in 2016 and the open race for the Governor's Mansion in 2018, when Gov. Rick Scott will be required to step down after a second consecutive term. None of the up-and-comers, however, is eager to face off against Rubio in either race, so they're waiting to see where he goes before planning moves of their own.
"Everybody in this understands that until Marco is formally in this, the rug could be pulled out from under you at any time," said Florida GOP strategist Rick Wilson.
But even after Rubio announces his final decision, the candidates will still lack a path to higher office that is guaranteed to keep them out of Rubio's way.
Rubio recently told aides to "prepare for a presidential campaign," and he has said that he wouldn't run for both the Senate and the White House at the same time. Florida's Senate filing deadline isn't until May 2016, giving Rubio plenty of time to explore his chances in a presidential race, drop out, and then file for reelection to his Senate job. (Asked about the possibility of a late filing by Rubio, a spokeswoman from the National Republican Senatorial Committee said the group's long-standing policy is to "support incumbents running for reelection.")
Rubio is also a factor in the 2018 governor's race. Rumors have begun circulating that he is less than enamored with the Senate, and might prefer to take two years off and run for governor.
And there are other possibilities as well: He is on lists for consideration as a vice presidential candidate. Sources familiar with Rubio World say it's not unreasonable to think that he's considering all his options.
In the meantime, would-be-candidates for either race are staying mum about their next moves. "There are a lot of people that are looking at it, and there are a lot of people that are interested in it. None of them, I think, have made any final decisions on what they're going to do," said Wilson.
Among the top talked-about contenders for Rubio's Senate seat are state Chief Financial Officer Jeff Atwater, state Agriculture Commissioner Adam Putnam, state Attorney General Pam Bondi, former Florida House Speaker Will Weatherford, and U.S. Rep. Vern Buchanan.
That Republicans' top choice to run for Rubio's seat isn't a known quantity is a bit surprising, given the incumbent's prolonged preparations for a presidential bid. But advisers for the key players say the pieces are simply moving too quickly for them to make public their plans.
"There was a lot of skepticism about whether Marco Rubio would run for reelection until the press and media and Marco kicked in into full gear.... No one was really advancing this greatly until the press started to pick up about five days ago," said Adam Goodman, a Florida Republican consultant whose clients include state Attorney General Pam Bondi and several other potential contenders.
Goodman noted that, much like California, where just one of Democrats' many top-tier candidates has announced a Senate bid, most of the dominant party's top candidates in Florida would prefer to be the state's chief executive in four years. And unlike Democrats, Republicans sizing up Florida's races are more likely to be helped by the off-year turnout of 2018 than the presidential year in 2016.
Goodman says that given those factors, and the players involved, it's unlikely that the top statewide candidates would engage in a "contentious intra-party bloodletting" over the Senate race. "All the chess being played today for the Senate race in 2016 is with an eye toward the chess board in 2018," said Goodman.
Of the next crop of GOP candidates, Putnam is regarded as having firmly set his sights on the Governor's Mansion. He's already served in the U.S. House, and seems unlikely to return to D.C. Bondi is another unlikely Senate contender, as she was just reelected in 2014, and viewed more likely for an appointed position should Republicans take the White House (she was mentioned in 2012 as a potential Romney nominee for attorney general). Atwater may prefer the Governor's Mansion, but among the statewide officeholders, he has the power to unite his colleagues behind him. He was recently predicted to be the nominee in an open race by the Tampa Bay Times's Political Insider Poll. Weatherford is viewed as an up-and-coming star in the party, and the most likely to engage in a primary with the statewide officeholders.
Still, all of those tentative plans could be shaken by Rubio's next moves. His explicit interest in either race would instantly make the other much more attractive to the state's lesser-known Republicans.
"The smart guys are planning quietly," said Wilson. That Rubio's intentions are unclear is "why you don't have a rush to the exits yet," he said. "Serious people will be able to adjust and move forward, and we'll see that shake loose in the very immediate future."
Leaders in both parties say that as soon as Rubio makes a presidential bid official, Republican and Democratic Senate candidates will begin announcing their intentions, making it harder for Rubio to go back to that race.
Advisers for the top Republican candidates downplayed the notion that their clients would work together or discuss their plans.
"That wouldn't be something that any one of us around them would recommend," said Goodman, given the many moving parts.
Florida Republican consultant John Dowless called Rubio the "800-pound gorilla in the room" for his party's young talent. "It makes political life very challenging because it's a lot of wait-and-see, and at the same time, trying to get that train moving takes a lot of work," said Dowless. "It's very aggravating for a campaign."
This piece has been updated to correct the name of the Florida Agriculture Commissioner. His name is Adam Putnam.