Laura Ingraham: Jeb Bush and Hillary Clinton Should Run on the Same Ticket
The conservative radio host threw considerable shade at Bush ahead of his CPAC speech.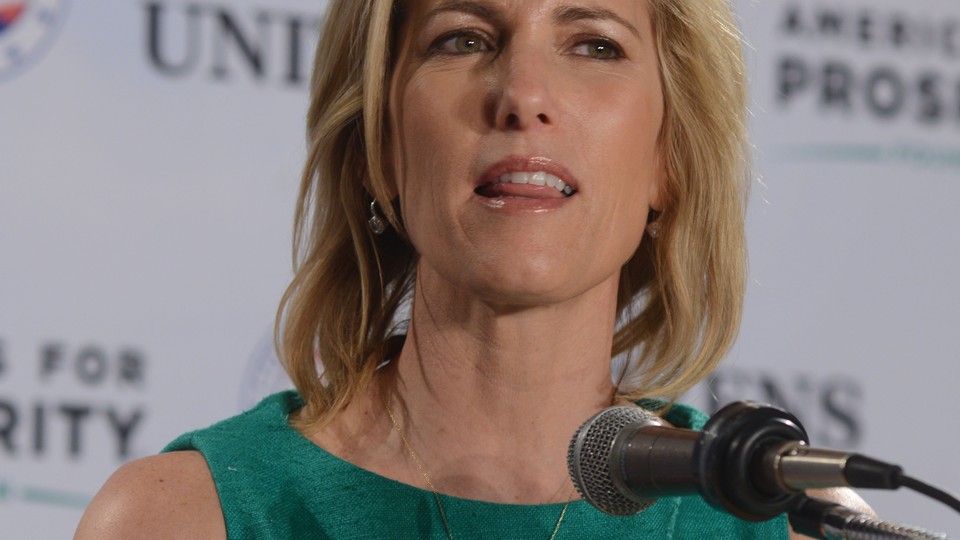 Jeb Bush will speak at the Conservative Political Action Conference this afternoon. But Laura Ingraham wasn't going to let him have an easy welcome.
In her speech Friday morning, the conservative talk-show host opened with a warning shot at Bush, asking attendees to raise their hands if they were skeptical of another Bush presidency. The crowd applauded.
"Jeb and Hillary could run on the same ticket," Ingraham continued. "The idea that we should conduct any kind of coronation ... because 50 rich families decide who will best decide their interests? No way, Jose."
She went on to jab at Bush for a recent Washington Post story documenting the plush spending habits of his wife, Columba Bush. Ingraham joked that Bush's marriage could help him appeal to women voters. "What woman doesn't love a man who gives her a blank check at Tiffany's?" Ingraham said.
She also criticized Bush for thinking "the American worker is lazy" and that "we should repopulate Detroit with foreign workers."
In this way, Ingraham expertly set the tone for the day at this large gathering of conservatives. That bore out later Friday morning, when the crowd—largely made up of Rand Paul supporters ahead of his appearance—loudly booed when Fox News' Sean Hannity asked who in the crowd supported Bush. During her speech, Ingraham appealed to the crowd while starkly reminding Bush that he won't be able to simply show up and gain support from the Republican base.
"We don't need a conservative who comes to CPAC to check a box," she said, saying that people come because "they are conservatives."
Ingraham also used her speech to bash media outlets that criticized Gov. Scott Walker's remarks at CPAC on Thursday, in which he suggested that taking on thousands of pro-union protesters in Wisconsin would prepare him for taking on ISIS. Ingraham said his critics don't have a sense of humor.
Overall, Ingraham gave perhaps the most full-throated defense of the conservative movement at CPAC so far.
"For a moment, don't forget where this movement came from. It came from men and women who were told that conservatism was yesterday's news," Ingraham said. "Conservatism is not dour or gloomy. We are an optimistic people. Don't let anyone tell you otherwise."
This story was updated with details from Sean Hannity's speech, and the response, later Friday morning.