Just How Much Trouble Could Aaron Schock Be In?
Fundraising trips are one thing. Overselling a house could be much more serious.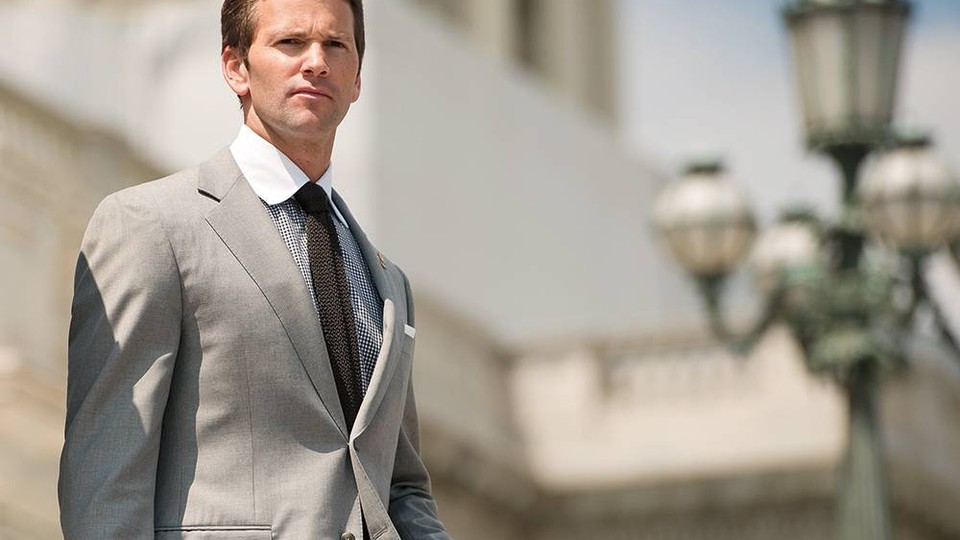 What began as an inquiry into Rep. Aaron Schock's opulent scarlet-painted office has quickly spun into a weeklong media probe of the congressman's lavish travel accommodations and real-estate dealings. Now, the looming question is: How serious are the allegations against Schock and what could they mean for the man who had been a rising star for the Republican Party?
Any penalty could have dire political ramifications for Schock, a hot-shot fundraiser for Republicans who is often-viewed as the embodiment of the party's youth outreach. Schock's Instagram feed is littered with photographs to be envied by any 30-something: hikes in Patagonia, dancing on the streets of Buenos Aires, resting poolside in Phoenix. Any public ethics probe could shatter the new-generation GOP image Schock has carefully crafted for himself.
Over the last week, the Illinois Republican endured a media firestorm, partly adding to a narrative of a young congressman who enjoys the perks of the job. Reports of his "Downton Abbey"-style office were just the beginning. His communications director resigned after old, racially charged statements on social media were dug up, and news stories have detailed Schock's preference for five-star resort stays in Aspen and privately chartered flights. Politico reports Schock tends to wow donors with sport outings while making his fundraising pitch. And now his office is reviewing reimbursments the congressman received for driving his personal vehicle. While some might question the congressman's judgement on those trips, traveling in style is not in itself a crime.
There are accusations, however, that give congressional-ethics experts pause, ones that allege Schock crossed a clearer line. To start: Schock may have accepted free decorating services from the company Euro Trash to redo his office, which could be considered a violation of House Ethics Committee rules, which do not allow members to accept gifts or anything of value over $50. Schock told ABC News that the renovations were ongoing and he planned to pay the bill once he received an invoice. More seriously, a recent report alleges that the congressman sold his private residence to a donor for more money than it was worth at the time of the sale.
Blue Nation Review, a left-leaning blog, reported Friday that Schock sold his Peoria-area residence in October 2012 for $925,000, an amount—according to the blog—that exceeded market price at the time. Schock sold the house to Ali Bahaj, a former vice president of Caterpillar and a donor who had given Schock thousands of dollars for his campaigns since 2008.
Selling a house for more than it was allegedly worth raises flags for congressional-ethics watchdogs like Larry Noble, senior counsel at Campaign Legal Center. The accusations conjure up memories of Randy "Duke" Cunningham, the disgraced California congressman whose oversold house was the smoking gun in a scandal that led him to plead guilty to bribery charges in 2005.
"It doesn't look good," Noble says of Schock's real-estate deal. "Schock is in a safe seat. And if a donor wanted to do him a favor, the one way he could do that is by paying more for his house than it is worth."
Using records from the real-estate website Zillow, Blue Nation Review asserted that comparable houses in Schock's neighborhood were valued at less than $925,000. The publication pointed out in its analysis that the real-estate market was at a low point at the time of the sale. Schock has said he has done nothing wrong. He told The New York Times last week that his real-estate agent had handled the transaction and that he had sold his house for a fair price. Schock's office did not respond to multiple media requests from National Journal.
The recent reports have spurred Citizens for Responsibility and Ethics in Washington to file two formal complaints to the Office of Congressional Ethics against Schock, requesting that OCE open a formal investigation. OCE does not comment on investigations, nor do they they acknowledge whether they are looking into an incident. If the OCE does take up a formal investigation, the office has roughly 90 days from start to finish to refer the incident to the House Ethics Committee for further review.
In CREW's complaint, the group alleges Schock may have violated House rules by accepting more than market value for his home.
"Revelations of just the past week have brought to light multiple instances when Rep. Schock appears to have violated House rules, suggesting a pattern of conduct that warrants close scrutiny," the complaint stated.
According to House rules, "There can be an improper gift to a member, officer or employee, when, for example, he or she is sold property at less than market value or receives more than market value in selling property."
But Schock's real-estate transaction could go far beyond violating House rules, experts say. If Schock, for example, used his power in Congress in exchange for the money, he could potentially face criminal bribery charges.
"I am not saying the evidence is there yet, I am saying the circumstances raise suspicions and warrant a very serious look," says Anne Weismann, the interim executive director at CREW. "Then the penalties could be quite serious. That is a criminal violation."
If the House Ethics Committee does take up the case and charges him with wrongdoing, it can also rule that Schock be reprimanded, censured, or expelled from office. The Ethics Committee can also issue members fines for violating House rules. Expulsion, however, is rare and requires a two-thirds vote of the full body. In the history of Congress, just five members have been expelled. Censuring is a less severe punishment that allows members to vote to condemn a peer's conduct.
The larger impact of being censured can be muted. In December 2010, 333 members of Congress voted to censure their colleague Rep. Charlie Rangel, a New York Democrat, who was found guilty on 11 counts of ethics violations. Rangel was forced to stand in the "well" of Congress and accept public admonishment, but he was just the 23rd member of Congress to be censured, a mark of how rare the punishment is administered. Rangel went on to win his next two elections.
That is just what the House can do. A formal criminal charge could carry a myriad of possible penalties, from fines to jail time.
Allegations of wrongdoing, however, can take several years to work through the ethics committee. A 2013 campaign finance case against Schock is still pending resolution.
So even though the last week seems to have moved very quickly for Schock, it could be years before we have definitive answers as to whether or not he broke any rules.