Jon Stewart's Greatest Legacy Is in the Middle East
The comedian's brand of satire has become a model for comedians in countries where speech isn't free.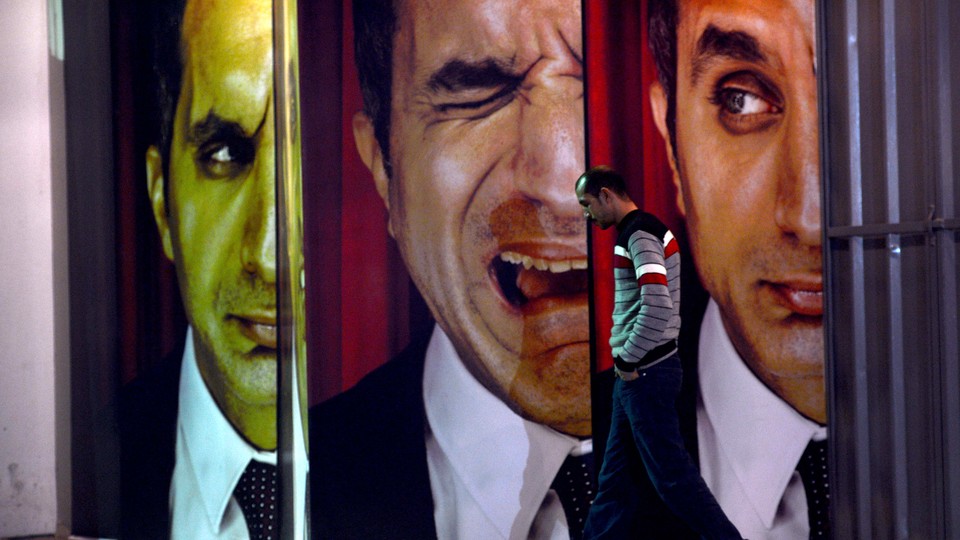 Four years ago, Kambiz Hosseini and Saman Arbabi, the co-creators of the Iranian satirical news show Parazit, joined Jon Stewart on The Daily Show. They were the night's featured guests, and for good reason: in spite of tough government censorship in Iran, the U.S.-based Hosseini (the host of Parazit) and Arbabi (his producer) reached 19 million Iranians* with their biting satire of the country's leaders.
"It's all you, Jon. We're getting everything from you," Hosseini said.
It's an extreme accomplishment for Hosseini and Arbabi. But when Stewart asked about the comedic pacing of Parazit, they gave him the credit. "It's all you, Jon. We're getting everything from you," Hosseini said during the Daily Show appearance. "You are the prophet. You are the prophet. You are the prophet. Give it up for Jon Stewart, everybody!" The crowd roared.
Stewart replied, in his self-effacing manner, "You calling me a prophet will in no way get me in trouble, will it?"
Satire is older than Jon Stewart. But Stewart's presentation of it—a "fake" newscast format that holds powerful figures accountable for facts and ridiculous behavior—has become a model for comedians in countries where the free speech stakes are higher. This might be his most significant and lasting broadcast legacy, and the most important idea The Daily Show has diffused across the world.
Stewart has said it often: Comedy is a light that shines on the insecurities of the powerful. And comedians are most at risk in countries whose leaders most fear criticism. "If our president, if the supreme leader [of Iran], if the head of Egypt—who control these massive armies, with massive weapons—can't be made fun of, what does that say about their security?" Stewart told Hosseini when he was a guest on Hosseini's new satire show Poletik. "And that's where it's important to do what you do."
There are others in the Middle East who have drawn influence from Stewart. Just as Hosseini has been dubbed "the Jon Stewart of Iran," Bassem Youssef is the "Jon Stewart of Egypt," having hosted a satirical news show in the wake of the 2011 Arab Spring revolution in Egypt.
"I love the guy," Youssef told Bloomberg Businessweek in 2012. "And I always dreamed of actually having his kind of model in Egypt." Perhaps the model was too successful: Over the summer, Youssef's show Al-Bernameg was suspended by his network, "in what was perceived as an attempt to stop him mocking Egypt's incoming head of state," The Guardian wrote. Youssef then decided to cancel the show entirely. "The present climate in Egypt is not suitable for a political satire program," Youssef told reporters of his decision.
After Comedy Central announced Stewart's eventual departure on Tuesday night, Youssef tweeted praise for the satire icon:
The legendary Jon Stewart is not leaving a show, he is leaving a legacy behind him. An inspiration and an icon for millions

— Dr Bassem Youssef (@DrBassemYoussef) February 11, 2015
Stewart himself appeared on Youssef's show in 2013, and summed up the significance of Youssef's accomplishment this way: "What Bassem is doing—and this is what is so inspiring to me—he's showing that satire can still be relevant, that it can carve out space in a country for people to express themselves. Because that's all democracy is, the ability to express yourself and be heard.
*In 2011, David Ensor, Director of the Voice of America, which broadcast Parazit, told CSPAN Parazit, "reaches, to our knowledge, more than 19 million Iranians. It's the most popular show in Iran on television, even though the Iranian government tries to jam the satellite broadcast."