Jindal's Education Plan: Less Washington, Less Jeb Bush
The Louisiana governor is unveiling his education reforms Monday, and he plans to focus on his rival's biggest vulnerability: Common Core.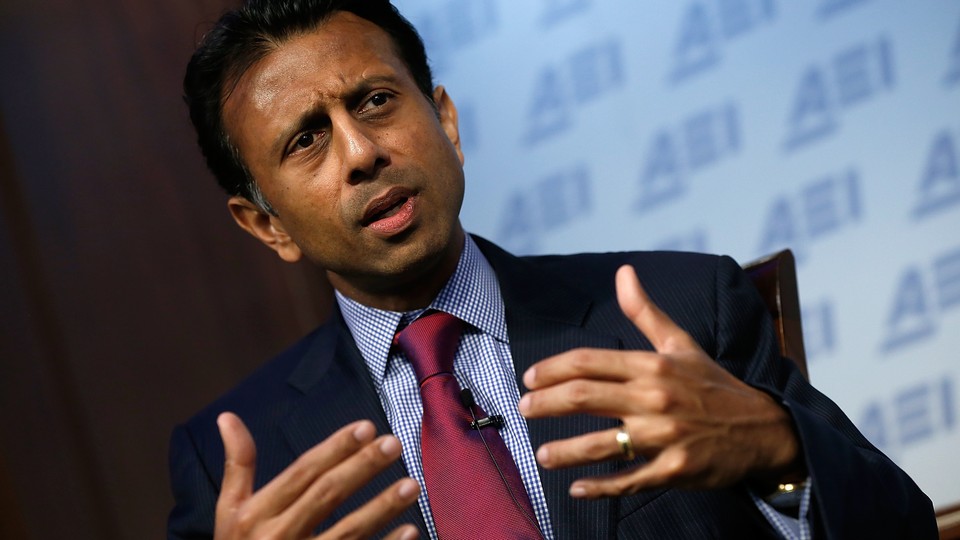 Louisiana Gov. Bobby Jindal is in Washington Monday to unveil a series of education reforms as part of his 2016 presidential preparations. But his proposals call for scaling back Washington's role in education while promoting increased parental choice for children's schools, better measures to assess teacher performance, and more autonomy for individual schools over their own operations.
Most notably, Jindal will reiterate his opposition to Common Core—a not-too-subtle rebuke of GOP presidential front-runner Jeb Bush's support for the educational standards that were once widely supported by most governors of both parties (including Jindal). Without mentioning Bush by name, Jindal told National Journal that "there's a belief among some that don't trust the states, they don't trust parents, [it's] this belief that a centralized elite knows better" by supporting Common Core.
Through his policy-focused nonprofit AmericaNext, Jindal will be delivering his education proposals at a Christian Science Monitor Breakfast Monday morning, speaking at an educational forum hosted by South Carolina GOP Sen. Tim Scott and meeting with conservative writers to discuss the plan at the Heritage Foundation. He has previously released detailed policy papers on health care, foreign policy, and energy.
Jindal's education report is a balancing act between calling for higher standards and improved accountability, while limiting the role of the federal government to offer policies to solve the problem. Jindal argues that if parents have more choice in where to send their kids to school—be it local public schools, charter schools, or using vouchers for private or parochial education—the renewed competition will itself force public schools to do a better job. His report calls for less-regimented testing requirements, even as he supports stronger state accountability measures so parents can determine the best schools for their children.
"The federal government should absolutely not be offering incentives, mandates, or coercecing states to adopt a national curriculum—whether it's Common Core or the next iteration of it," Jindal said. "We don't think curriculum decisions should be made at the national level. I'm all for rigor, I'm all for standards, but ultimately, I trust parents. I trust choice and competition. I don't want a top-down, one-size-fits-all approach." To that end, Jindal said he favors rolling back the mandates in George W. Bush's No Child Left Behind law.
If he runs for president, Jindal is expected to make education a central part of his message. In the report, he touts the success of the New Orleans school system as a model of his school-choice pitch. After Hurricane Katrina, the city's educational system was entirely revamped and turned over to the state-run Recovery School District. They allowed schools to be run independently; now more than 90 percent of students in the city attend charter schools. The results have been one of the country's biggest educational success stories—the graduation rates have skyrocketed and the city's passing rate on state tests now rival the statewide averages.
Many of Jindal's school-choice proposals are an extension of the New Orleans experience. He calls for expanding the number charter schools, urges states to remove the caps on the number of charter schools allowed, and argues that principals should play a more active role in their schools' direction than local school boards.
"Those on the left who believe in government power don't trust the American people. In terms of education, the best way to drive excellence is to trust the parents. Parents know their kids best, they want what's best for their children, and if you allow them to vote with their feet, they will then have the chance to give the best education for their kids. And we've seen that in New Orleans," Jindal said.
All told, Jindal's preferred policies are in line with what many leading educational reformers are arguing. He believes strongly that teacher quality is the strongest school-based factor in a student's education, and he believes talented teachers should be rewarded for their work. He rails against the seniority system that keeps the most veteran teachers protected from scrutiny. He is dismissive of requiring teachers to hold educational degrees, preferring recruits that have expertise in the areas they teach. And he is bullish about the role technology can play in improving educational outcomes. Indeed, most of these ideas are echoed by Jeb Bush, and other like-minded thinkers across the political spectrum.
But the political red meat of his proposals is directed squarely at Bush. The biggest differences between the two come from the federal role in education and over testing—two areas where the educational establishment is growing disconnected from public opinion. By calling for less testing, Jindal is taking the sides of parents who believe the sheer number of tests is crowding out time for creative endeavors—like art and music—and forcing teachers to drily teach to the test. On that front, Jindal's critiques echo many liberals on the issue and contrast with the Bush view that progress is best measured through standardized tests.
So it's ironic that, despite the report's depth, Jindal's advisers are hoping to reap the biggest political gain from conservatives by attacking Common Core and calling "the federal government [not to] touch curricula with a 10,000-foot pole." It's designed to clearly contrast his version of educational reform with Jeb Bush's. "Our fundamental disagreement is on who is or should be in control of testing and curriculum. Locals v. federal. And make no mistake, the federal role in education is a huge fault line [between Jindal and Bush]," said a senior Jindal adviser.