Jeb Bush Just Made a Big Move Against Hillary Clinton
America Rising's Tim Miller is an opposition-research bulldog.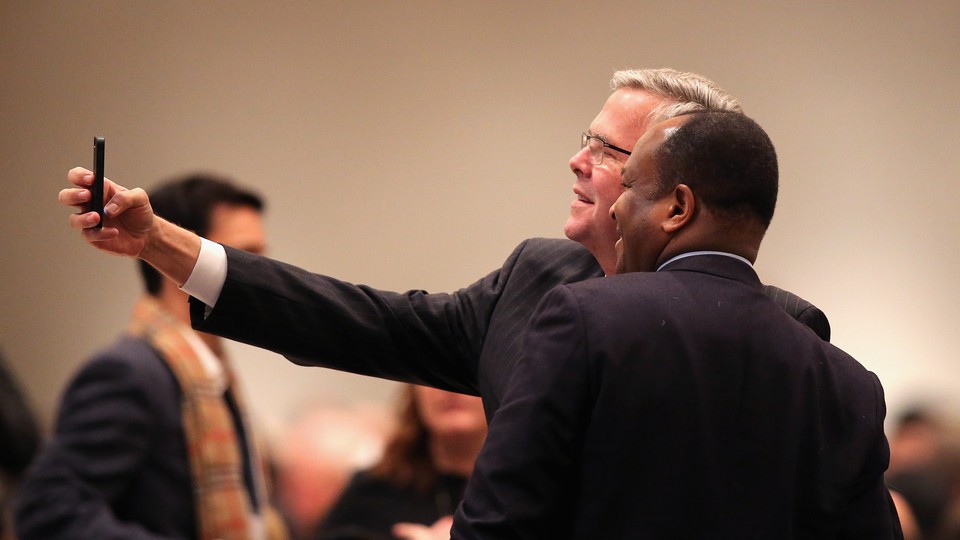 Jeb Bush's burgeoning 2016 campaign team just adopted a new guard dog.
On Friday, Politico broke the news that Bush's camp was hiring Tim Miller, the executive director of America Rising, as his top communications aide. America Rising is a conservative opposition-research firm that has been lasering in on Hillary Clinton over the past two years.
Miller has quickly become a formidable peddler of oppo research, both through his group and on his Twitter feed. Last June, America Rising published a 112-page e-book essentially outlining the conservative playbook against Hillary Clinton in 2016. America Rising's website is rife with clicky headlines and slick in-house graphics detailing Clinton's peccadilloes, most recently her Clinton Foundation flap. They even sell anti-Clinton merch, like this T-shirt that reads, "I wish I was as broke as the Clintons".
Compare that with other potential Republican candidates' attempted attacks on Clinton. Sen. Rand Paul's political operation created a fake Pinterest account for Clinton. Pinterest quickly removed the account, saying it violated the company's terms of use. In 2016, Republicans are going to have to do better to troll Clinton, the presumed Democratic frontrunner, and Miller has shown he knows just how to do that.
Miller worked for Sen. John McCain's 2008 presidential bid and Jon Huntsman's 2012 campaign. He has also served as spokesman of the Republican National Committee. Miller is openly gay.
"Some told me to be prepared for it to be an issue in past political campaigns, but it never has," Miller told National Journal last year. "A big takeaway for me as I've encountered political operatives who are worried that being open might have a negative impact on their career is that you don't need to hide to be successful, and it wouldn't be worth it, regardless."
America Rising, which launched in 2013, was founded by two veteran Republican operatives: Matt Rhoades, who managed Mitt Romney's 2012 campaign, and Joe Pounder, a former research director for the RNC. It has grown into an $8 million operation, with 27 full-time trackers on the ground following high-profile Democrats' every move.
"In the vast majority of cases, we tell our trackers we want them to be a fly on the wall," Miller told National Journal in September. "We want them to go stand in the back of the room, not be a problem, and get as much video as possible. This is not like the old days where you'd jump somebody out from behind a bush and try to create a news story. That's not our objective."
Another asset to Miller, and by extension Bush's nascent campaign, is Miller's friendly, often jokey rapport with political reporters inside the Beltway.
"Congrats to @TimODC on the new gig. I still hate Jeb though," conservative reporter Conn Carroll tweeted on Friday. Miller replied with a sad emoticon, to which Carroll said, "I look forward to you trying to change my mind ;)"
"Drafting a memo now!" Miller joked.