'I am jeb': Governing by Email
A trove of correspondence from Bush's tenure in Florida offers a unique glimpse at the management style of a major presidential candidate in the Internet age.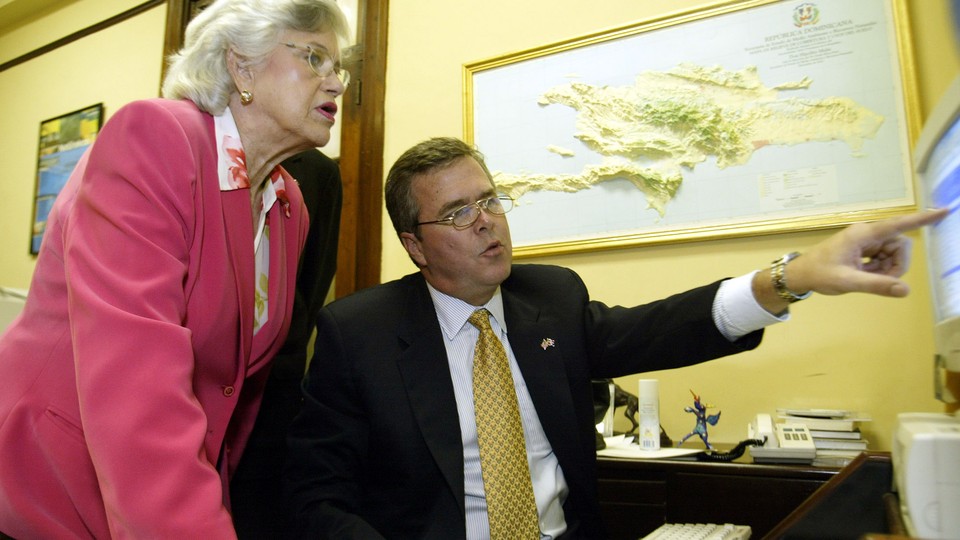 When politicians release a trove of sought-after documents to the public, they usually do so late on a Friday afternoon in the hope that any unflattering revelations will draw less attention near a weekend.
Not Jeb Bush.
The former Florida governor created an entire web database to coincide with the late Monday publication of his email correspondence during his two terms in office. It was a savvy move—and would have been savvier still had Bush's team taken the time to redact the email addresses and, in some cases, Social Security numbers of ordinary Floridians. From a purely political standpoint, Bush wins points for transparency, setting up a contrast not only with his potential rivals for the 2016 Republican presidential nomination but with the famously secretive Hillary Clinton. (Many of the emails had been published in bulk late last year by the Democratic group American Bridge, which acquired them through a public records request. Bush's database, however, allows viewers to search them by date.)
The emails provide a unique glimpse of the governing style of a major presidential candidate in the age of the Internet. Emailing may be commonplace for most mayors and governors today, but when Bush began pinging staffers and citizens alike even before taking office in 1999, he was ahead of his time. As he notes in the opening chapter of an ebook published alongside the emails, Bush earned the nickname "the eGovernor" after making his jeb@jeb.org address public and encouraging constituents to contact him directly with their ideas and concerns. That kind of engagement remains unheard of in the Oval Office. Presidents Bill Clinton and George W. Bush rarely emailed during their tenures, and Barack Obama, who has a specially-customized Blackberry, communicates by email only with a close circle of advisers and friends.
Among the more amusing emails Bush sent early in 1999 was a reply to Carol Markett, a constituent who had written to complain about tractor trailers not being allowed on the left lane of I-75. "By the way, are you really Jeb or a staff member? Just curious." Bush responded briefly the next day: "I am jeb. You can write Secretary Barry at the DOT in Tallahassee." In other early emails, he reminds senior staffers that their correspondence might become public, and he even scolds one deputy when it becomes apparent she is avoiding email as a result.
The vast majority of the emails reflect the mundane work of state government. Bush's style appears typical for an executive—asking his aides and agency heads for status updates, praising good work, and prodding underlings to move faster. One initial preoccupation for the tech-savvy governor was updating the state website. At one point, he forwarded his aides a link to Texas's homepage sent by his brother (g94b@aol.com), then the governor.
Date: Tue, Jan 26, 1999 8:45:18pm

To: Tilley Cory; Bradshaw, Sally

From: "Jeb Bush" <jeb@jeb.org>

FW: FW: help request

We need a major upgrade. When will I see the plan to upgrade our web page and how long will it take. How will it be interactive with the rest of Florida. I believe it should be the leader in the nation. If you disagree come and tell me why. If you agree, help me make it so.

Jeb

-----Original Message-----
From: G94B@aol.com [mailto:G94B@aol.com]
Sent: Monday, January 25, 1999 10:36 PM
To: jeb@jeb.org
Subject: Re: FW: help request

www.governor.state.tx.us look in the inaugural section
Other emails were more revelatory. When an anxious job-seeker, Philip Wilcox, wrote to Bush following up on his interview for an administration post, he wondered whether his being gay would be an issue for the new Republican governor. Bush replied to assure him that his private life wouldn't matter unless it "cross[ed] over into the public policy realm."
Date: Wed, Jan 13, 1999 8:46:51pm
To: Philip Wilcox
From: "Jeb Bush" <jeb@jeb.org>
RE: Anxious
Please be patient. We are overwhelmed but I know that Sally (and me) appreciate your interest in working for us. On the other stuff, don't ask, don't tell is fine with me. What you do in your private life is your business. If it crosses over into the public policy realm, then that is another matter. If you are comfortable with that, then we can proceed. If you have concerns, call me and we can discuss. How about that?
While Bush's database at jebbushemails.com is not fully searchable, readers can see all the emails he received and sent on a particular date. In the month prior to the 2000 presidential election, for example, the governor barely mentioned his brother's race against Vice President Al Gore—if Bush discussed politics over email, he did so with a different address. The only references to George W. Bush came when Floridians offered well-wishes to Jeb or asked him to pass along policy ideas to "your brother." But in the month after the election, the Florida recount dominated Bush's inbox, with the emails divided between Democrats demanding the governor order a re-vote in Palm Beach County and Republicans offering encouragement and complaining about Democratic legal tactics. Bush replied more to the supporters than critics, and he hewed closely to his public line that the state would "follow the law." He was also consistent in his defense of Katherine Harris, the widely-criticized Florida secretary of state.
----- Original Message -----
From: "Jeb Bush"
To: "'Stephen Windhaus'"
Sent: Friday, November 10, 2000 12:56 PM
Subject: RE: The Palm Beach County Fiasco


Mr. Windhaus, thank you for such a thoughtful email. All that you say about the current situation is true.

I believe in the rule of law. We have elections laws and they need to be
enforced. I believe my brother will win if the law is adhered to. I am
sickened by the "second campaign" now being waged. It degrades our great
state and more importantly, does threaten our democracy.

I am going to save your email as a reminder that there are good decent
people who are very concerned about what is happening to our great and
wondrous country.

*****

Jeb Bush

Date: Sat, Nov 11, 2000 6:33:40am
To: 'Drivinmom@aol.com'
From: "Jeb Bush" <jeb@jeb.org>
RE: voting
I believe we should follow Florida election law rather than making it up as we go along.

Jeb Bush
On the December morning after the Supreme Court ruled in favor of Bush and Gore conceded, Jeb Bush sent thank-you emails to a few lawyers who had advised him on election law during the process. One went to jgroberts@hhlaw.com, the email address of John G. Roberts Jr., whom his brother would appoint to be chief justice five years later.
Florida also became a part of history on the morning of Sept. 11, 2001, when the state played host to President Bush at an elementary school in Sarasota. While the president's appearance wasn't mentioned by the governor in his email, constituents began sending messages to his address within hours of the attack. Bush sent the same four words to almost all of them: "Pray for our country."
As candid as the emails sometimes appear, it's important to remember that Bush knew from the outset that they would likely become public, and it is therefore inevitable that the correspondence is far from the full story of his time in Tallahassee. Still, they comprise a useful archive for historians as well as for voters, who can use them to evaluate Bush's management style. Yet the most fascinating question remains unanswered: Will he—could he?—commit to operating the same way as president?