Jeb Bush Debuts 'Reform Conservative' Image in Detroit
In his first policy speech of the 2016 cycle, the likely presidential contender pitched his "right to rise" message.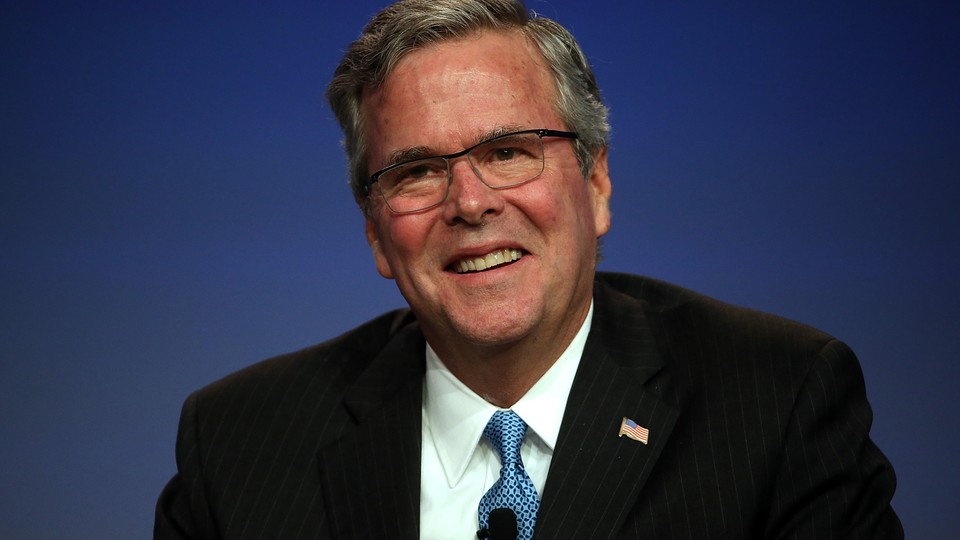 Jeb Bush is going to change the meaning of "conservative."
At least, that's the message the former Florida governor tried to convey in a speech Wednesday at the Detroit Economic Club. Building on the theme of his Right to Rise PAC, which launched in December, Bush emphasized the importance of restoring America's middle class, and creating the conditions for people to achieve the American dream.
"I know some in the media think conservatives don't care about the cities," he said. "But they are wrong. We believe that every American and in every community has a right to pursue happiness. They have the right to rise."
Previewing his budding—albeit unannounced—campaign, Bush heralded his positive, "reform conservative" vision for the country's future publicly for the first time. He promised that "in the coming months" he would detail his plan for success: "a mix of smart policies and reforms to tap our resources and capacity to innovate, whether it's in energy, manufacturing, health care, or technology."
And, he told the audience, "I'm getting involved in politics again because that's where the work has to begin."
"Let's embrace reform everywhere, especially in our government," he said. "Let's start with the simple principle of who holds the power. I say give Washington less and give states and local governments more."
Bush's speech also offered a glimpse into a likely campaign push to broaden the GOP's reach and to introduce his policy goals—not just his famous surname—to a new generation of voters.
"Let's go where our ideas can matter most," he said. "Where the failures of liberal government are most obvious. Let's deliver real conservative success. And you know what will happen? We'll create a whole lot of new conservatives."
The location of his speech, in a city struggling for a revival after declaring bankruptcy in 2013, was deliberate, Bush aides told CNN. The city's struggle to regain its economic footing plays smoothly into Bush's message of prosperity, they said.
"The recovery has been everywhere but in the family paychecks," Bush said. "The American Dream has become a mirage for far too many. So the central question we face here in Detroit and across America is this: Can we restore that dream—that moral promise—that each generation can do better?"
In the spirit of a "reformed" conservatism, Bush said a crucial step in being able to succeed in America is the kind of household someone grew up in—but didn't say that parents needed to be from a traditional marriage.
"Social scientists across the ideological spectrum agree on this: If you want to predict whether someone will graduate from school, go to college, and move forward in life, just find out one thing: "Were they raised in a loving household by two parents? If you didn't, you can overcome it, but it's very hard. If you did, you have a built-in advantage in life," he said.
Unlike his 2016 rivals, most notably New Jersey Gov. Chris Christie, who stirred up controversy Monday when he said the government should take a balanced view on vaccinations, Bush had an unequivocal view on whether parents should vaccinate their kids.
"Parents ought to make sure their children are vaccinated," he said, lamenting how quotes can be "misinterpreted" by the media. "Parents have a responsibility to make sure their children are protected—over and out."
For such a strong message, Bush's speech delivery came across as lackluster and rushed. But his off-the-cuff answers during the Q&A after the remarks revealed a casual, even funny, personality and a comfortable grasp of policy. Defending his dad—George H.W. Bush, the 41st president—he jokingly threatened that if anyone didn't think he was the greatest man alive, "we will go outside, unless you are 6'5 and 250 and much younger than me. Then we will negotiate."
Revitalizing the middle class has become an ever-popular pledge in the early stages of the 2016 race. Bush's Florida colleague and likely 2016 contender, Sen. Marco Rubio, released a book last month, American Dreams, centered on "restoring economic opportunity for everyone," and Christie has also called for a focus on "middle-income earners."
Though Bush has been careful to separate himself from his brother and father, his rebranding of the conservative label mirrors his brother's first campaign. In announcing his presidential exploratory committee in 1999, George W. Bush pitched his philosophy of "compassionate" conservatism.
"It's conservative to cut taxes," the eventual 43rd president said then. "It's compassionate to give people more money to spend. It's conservative to insist upon local control of schools and set high standards and insist upon results. It is compassionate to make sure that not one single child gets left behind."
George W. Bush also sought to separate himself from his father. But Jeb got the awkwardness of his famous family out of the way right at the beginning of his remarks.
"I'm pretty proud of 41 and 43," he said, also mentioning his son, recently elected Texas Land Commissioner George P. Bush. "I know that's hard for the political world to accept, but it's pretty easy for me to love them, and I love them unconditionally. Now the therapists can opine about that."
"I love my brother, and I think he's been a great president," he continued later during the Q&A, telling the audience he isn't embarrassed to be proud of him. "But I know for a fact if I'm going to be successful going beyond the consideration, that I'm going to have to do it on my own."