Jeb Bush, Acknowledging Family Mistakes, Lays Out His Foreign Policy Vision
The all-but-certain 2016er again reminds us that he's not his father or brother. His staffing tells a different story.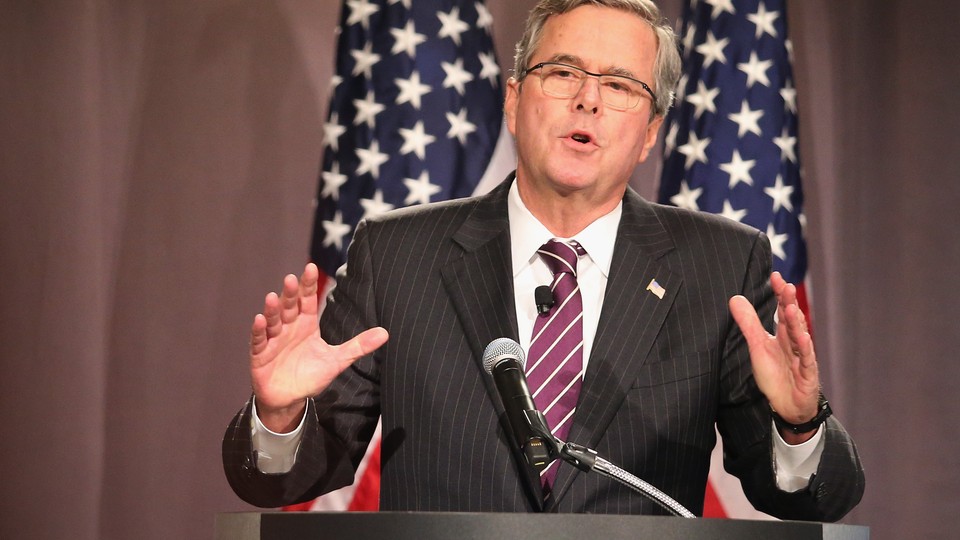 It took until the question-and-answer session of Jeb Bush's major foreign policy address Wednesday for him to obliquely criticise decisions made by his brother.
"There were mistakes made in Iraq, for sure," he said, though he lauded his brother, former President George W. Bush, for his "heroic" decision to move more troops into that country.
In the speech at the Chicago Council on Global Affairs, the former Florida governor and unofficial presidential contender said he wanted to distinguish himself from his brother and father, former President George H.W. Bush.
"I love my brother, I love my dad, I actually love my mother as well. I hope that's OK. I admire their service to the nation and the difficult decisions they had to make," he said. "But I am my own man—and my views are shaped by my own thinking and own experiences."
Though Bush emphasized his differences from his family, the staffing of his budding campaign tells a different story. According to Reuters, his foreign policy team will include veterans of both his father's and brother's administrations: James Baker, a top aide and Cabinet secretary for George H.W. Bush and Ronald Reagan, and Paul Wolfowitz, who designed George W. Bush's strategy in Iraq. Much of his team, in fact, is culled from his elder brother's roster.
Rather than distinguishing himself from his family, however, Bush expressed confusion with the focus on it, telling the crowd "this is a fascinating thing in the political world for some reason." He also laid out his own foreign policy vision—one of "liberty diplomacy"—in contrast to President Obama's "inconsistent and indecisive" foreign policy, which he said has left America "less influential in the world."
"We have lost the trust and the confidence of our friends," Bush said. "We definitely no longer inspire fear in our enemies."
In a slip, he said that problem is "best demonstrated by this administration's approach to Iraq." A few seconds later he stopped himself, correcting to Iran and criticizing Obama for being "unequal to the task" of keeping the Tehran from acquiring nuclear-weapons capabilities.
He also touted his support for Israel, bragging that he'd visited the country five times, and addressed the "controversy" surrounding Israeli Prime Minister Benjamin Netanyahu's planned address to a joint session of Congress next month.
"I, for one, am very eager to hear what he has to say," Bush said of the prime minister, whom he colloquially referred to as Bibi. "I'm surprised that the U.S. administration is upset about hearing from such a close and valuable ally."
On Asia, Bush used an unusual word choice, saying that he had "forced" himself to visit the continent four times a year while calling America's dealings with China "the most complex, important relationship that the U.S. has."
"It is a dynamic region, because it's modeled on our system and was turned into a uniquely Asian experience," he said. "Our allies watch with anticipation because of a lack of American engagement in the region and the rise of Chinese ambition."
Bush also called out Obama's "red line" against Syria, his much-attacked response to Russia's annexation of Crimea, and his social-media campaign against Boko Haram in Nigeria.
"They draw red lines ... then erase them," he said. "With grandiosity, they announce resets and disengage. Hashtag campaigns replace actual diplomacy and engagement."
Broadly embracing the GOP establishment's views on foreign policy, Bush reprised a long-favored line: "Strength encourages peace."
"Having a military that is equal to any threat is not only essential for the commander in chief. It also makes it less likely that we will need to put our men and women in uniform in harm's way," he said, emphasizing the importance of adapting to new challenges. "America does not have the luxury of withdrawing from the world—our security, our prosperity, and our values demand that we remain engaged and involved in often distant places."
In dealing with the Islamic State and other terrorist groups not linked to a state, Bush was unequivocal.
"We have to develop a strategy that's global, that takes them out," he said, dismissing diplomacy as a solution. "Restrain them, tightening the noose, and then taking them out is the strategy. No talking about this. That just doesn't work, for terrorism."
Rushing through the speech, Bush left little time for flair or applause. As in previous speeches as a prospective 2016er, though, he appeared much more comfortable answering questions off the cuff. And in response to one question, he opined a little casually.
"The more I get into this stuff," he said of foreign policy, "there's some things you just go, 'Holy shnikies.' "