It's So Cold You Could Walk Across Lake Erie
95 percent of the lake's surface is frozen. But don't get any big ideas.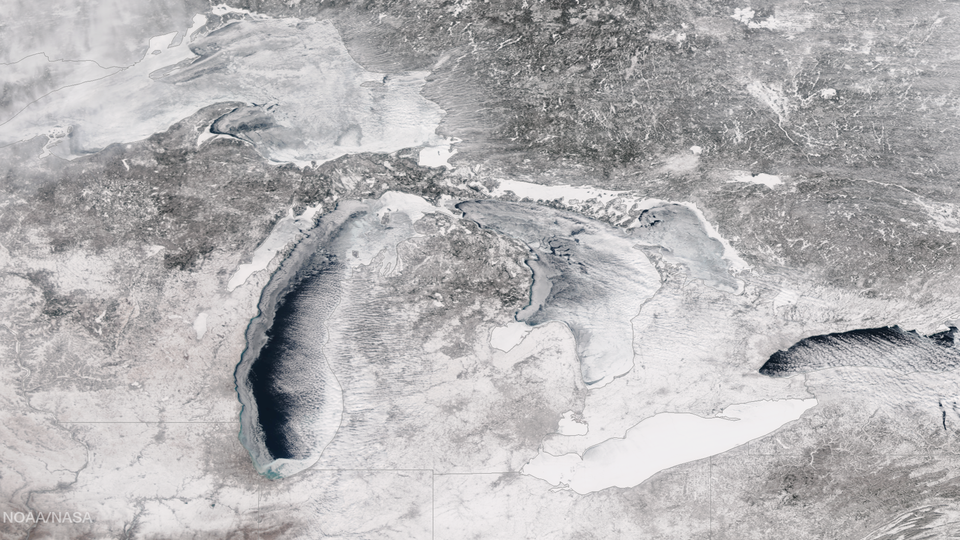 Let's make this clear right away: In no way is it a good idea to trek from United States to Canada via Lake Erie, which is currently a frozen wasteland of ice, wind, and snow.
But perils aside, is it possible? Especially considering that, according to the National Oceanic and Atmospheric Administration, 95 percent of Lake Erie is now covered by ice. That's an enormous amount of ice: The lake's surface area is around 9,940 square miles.
The hike has been done before. Or, at least, people have claimed to have accomplished the trek, which at its narrowest approach is around 25 miles across. One such account can be found in a 2007 issue of Cleveland Magazine. The author, Dave Voelker, recounts how in 1978 (a year Lake Erie had 100 percent ice cover), he traversed the expanse alone over two days. At night, after his first day of walking over what looked like a frozen desert, he recorded this scene.
The wind had died down to a dead calm, and my thermometer read 20 degrees. The stars were out in full force, and I could see shimmering lights on three shores. Except for the drone of an occasional invisible plane, the silence was complete and overwhelming. It was a peaceful, striking image, and as I beheld the rare beauty of a frozen lake in the dead of night, I felt possessed by a satisfying and impregnable serenity.
It's sounds incredible. But it's also profoundly dumb.
George Leshkevich is a research scientist at the Great Lakes Environmental Research Laboratory, which publishes daily ice reports. "It may be able to be done," Leshkevich says of crossing the lake. "I wouldn't suggest it."
Those brave enough to cross will find a sheet of ice that varies in thickness, sometimes dramatically. "Leads can form by the wind and open cracks in the ice," he says. "Where the sheets come together they can form an ice ridge. This year, I've heard [ridge] measurements of 8 to 10 feet tall and probably extending the same below the surface of the ice as well. There are a lot of ridges this year in Lake Erie."
Plus there's this to contend with: "There's still shipping that goes," he says.
Other would-be lake-crossers have had their journeys end in tragedy. In 1994, a group of Buffalo, N.Y., area law students fell through the ice and died. "Three promising lives were ended that afternoon," The Buffalo News wrote in retrospect in 2005. "I suspect that they had roped themselves together like mountain climbers, and one falling through the ice pulled the others down." And just recently, two Canadian snowmobilers fell through the ice on Lake Erie and had to be rescued.
The Great Lakes region as a whole is approaching record-level ice coverage: 85.6 percent of the total lake area is iced over (the long-term average winter ice cover is around 50 percent). Last year, the region saw 92.4 percent ice cover. It's possible that figure will be topped this season.
Being the shallowest lake, Erie freezes the fastest. Since 1970, Erie has completely frozen over three times: in 1978, 1979, and 1996. This year could be the fourth.
It's easy to see the appeal of seeing that natural drama up close. Photos of the frozen lakes are stunning. As Leshkevich says of the scenery "it is kind of awe-inspiring."