Is This Lawmaker Too Conservative for the Tea Party?
Tim Huelskamp is ultra-conservative. So is his district. But he may lose his seat anyway.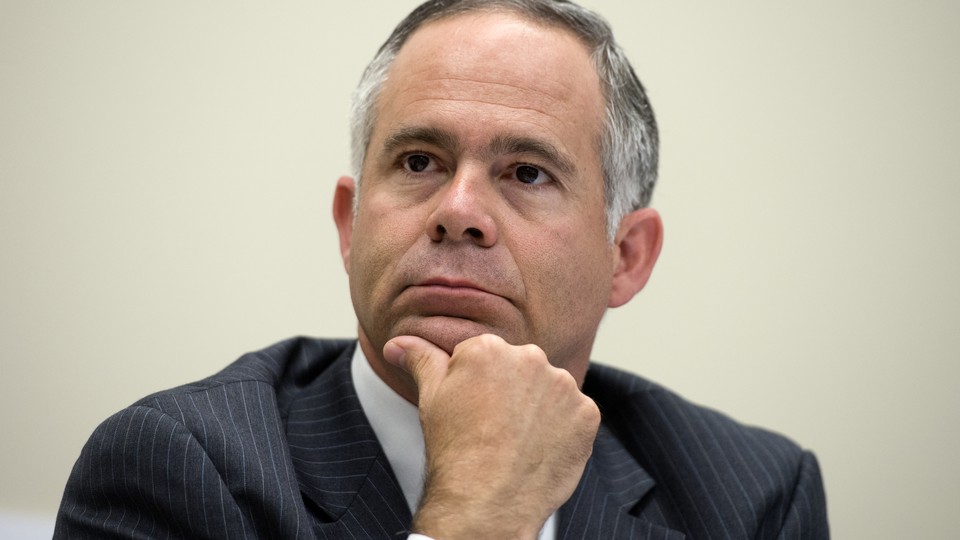 On paper, it's a perfect marriage. Kansas' 1st Congressional District is about as conservative as they come—and so is its current representative: Tim Huelskamp.
Huelskamp voted against increasing the debt ceiling in 2013 and against the 2014 budget compromise, and he received a 92 percent score from the conservative Heritage Foundation—one of the highest scores for any House or Senate member in the last Congress. He also spent his first two terms in open defiance of House Speaker John Boehner, with his most famous stunt coming in 2013, when he sat on the House floor taunting the speaker with a list of names of fellow House Republicans he said planned to vote against him.
Meanwhile, the district Huelskamp represents, a sprawling, agricultural area covering most of Kansas, has held a similarly conservative line: Mitt Romney won 70 percent of the district in 2012, and the Cook Political Report's partisan voting index ranks it as the 18th most conservative district in the country.
But just over four years in, Huelskamp's relationship with the district is strained, and it seems possible, if not likely, that they're on track for a 2016 divorce.
Huelskamp struggled to win his primary last cycle, despite facing an unknown challenger with no political experience. And his opponents, emboldened by that close call, have already started talking about a better organized effort to beat him in 2016. Judging by the kind of opposition he has attracted—as well as his close call in such a conservative district—it is apparent that he hasn't just rankled moderates. One of the most tea party-friendly districts in the country has pushed back against Huelskamp.
So what went wrong?
To Huelskamp, it's an issue of outside interference from a terrified GOP establishment, the wrath of Boehner and other "business-as-usual politicians" (as Huelskamp calls them) who are desperate to silence the rebel voice.
That doesn't explain, however, why Huelskamp's critics within the tea party have soured on him. They say it's not Huelskamp's true-believer politics—it's his scorched-earth style, a pesky-kid-on-campus persona that they say has made him an ineffectual sideshow rather than a force for conservative values. It was Huelskamp's clashes with Boehner that cost him his seat on the Agriculture Committee. Huelskamp claimed party leadership kept a scorecard of members' votes; Rep. Lynn Westmoreland said Huelskamp and others lost their committee assignments because of "the a-hole factor."
But the focus on Huelskamp's failure to keep his committee seat opens a third possibility: Perhaps the tea partiers aren't angry that Huelskamp broke his promises; maybe they're furious because he kept them. Huelskamp ran on a pledge to make zero compromises in holding a hard conservative line. That comes at a cost, both for his standing within the party and for his ability to deliver benefits to his home district. And back home, that may cost him support from establishment and tea-party Republicans alike. Tea partiers buy groceries just like everyone else, and when political ideology competes with a paycheck, politicians who side with the former are almost always destined for trouble.
The "Boehner Conspiracy" Theory
According to Huelskamp, he's still close with the authentic conservatives; it's establishment forces masquerading as tea-party faithful that are making trouble.
Alan LaPolice, who challenged Huelskamp in 2014 and might do so again, describes himself as a conservative, but he was backed by agricultural interests last cycle. And the opposition's favorite prospective candidate, physician Roger Marshall, similarly has described himself as "very conservative" and a "God-fearing Christian," but has also avoided angering the Republican establishment or potential donors, said Huelskamp campaign spokesman Mark Kelly.
Huelskamp noted that Marshall announced he might enter the race shortly after Huelskamp voted against John Boehner for speaker of the House. "It's no surprise that Mr. Marshall announced his interest within a week of my vote for new leadership in the U.S. House," Huelskamp said in a statement. Boehner and other members of the establishment want "another business-as-usual politician" who will go along with the status quo, he said.
(Huelskamp also cited Marshall's "history of writing big checks to liberal Republicans," although those donations generally went to other members of Kansas's congressional delegation, and even included $750 to Huelskamp himself between 2010 and 2012, according to the Center for Responsive Politics.)
Despite his trouble in 2014, Huelskamp still has support from some tea-party groups. Adam Brandon, executive vice president of FreedomWorks, said Huelskamp has an "amazing" record, although the group is not making endorsements yet. And Craig Gabel, president of Kansans for Liberty, called Huelskamp "the real deal" and said voters should respect that he's butted heads with Boehner.
The "Some People Are Just Jerks" Theory
But there are groups that have stood with other tea party candidates that have had enough of Huelskamp.
Shortly before his 2014 primary, the Now or Never PAC, which has supported candidates such as former Rep. Joe Walsh of Illinois, a tea-party favorite, spent about $230,000 running an attack ad against him. The spot, featuring Conestoga Energy CEO Tom Willis, said Huelskamp "has put personal politics ahead of Kansas producers," citing Huelskamp losing his spot on the Agriculture Committee and voting against multiple versions of the farm bill. Willis also said in the ad that when he confronted Huelskamp about his actions, "he responded by threatening me and my company." Willis later told the Topeka Capital-Journal that Huelskamp said, "I will make you pay when I get back to D.C.," which Huelskamp has denied.
Travis Smith, a consultant with Axiom Strategies who said he "ran the effort" for Now or Never PAC, said the push was made by "key ag donors." Smith said that the backlash against Huelskamp isn't based on his conservative record, but rather on his inability to be an effective legislator. "There really is a way somebody could have taken the same votes and not struggled in the primary, with a different attitude," Smith said.
Smith hinted that Now or Never PAC could get involved again in 2016 if a strong challenger enters the race. "Obviously now that we came within 10 points there's blood in the water," he said. "Everybody wants to run against him, and if it's a good candidate the money will be there."
The "Keeping It Real Gone Wrong" Theory
For all the complaints about Huelskamp's "style," however, the first sin that his Kansas critics point to is, again, that his Boehner-baiting got him kicked off the House Agriculture Committee.
That left Kansas—a state that grows its own inland ocean of wheat—without a representative on the panel for the first time in more than a century, according to the Capital-Journal. As a result, the Kansas Farm Bureau and other agricultural interest groups pulled their support for Huelskamp in 2014. (Huelskamp was raised on a farm and earned a Ph.D. in political science concentrating on agriculture policy.)
The panel's most prominent job is crafting the Farm Bill, a legislative behemoth that, in its 2014 incarnation, would dole out nearly $1 trillion (over five years) in spending on farm subsidies, food stamps, and other programs. And by keeping reliable representation on the panel, Kansans have protected key supports for wheat and other farmers.
Reconciling federal farm supports with a political philosophy that calls for the government to largely keep out of the economy is difficult, if not impossible. But that doesn't mean Huelskamp can afford to deal his district out when it comes time to pick the recipients of those supports. "It's mainly an agricultural district," Clayton Barker, executive director of the Kansas Republican Party, said of Kansas' 1st. "And that becomes the big concern for voters. It's their pocketbook issue."
It's a modern version of a near-axiomatic feature of fiscal policy: Voters are generally bullish on cutting "government spending," but that enthusiasm dissipates when it is time to cut the portions of government spending that voters count on to support their households. The same is likely true for tea partiers: They profess to hate the Washington game, but as long as it keeps going on, they want their representative to play.