Is School Choice the Civil-Rights Issue of the 21st Century? Ted Cruz Thinks So.
But civil-rights activists aren't all on board.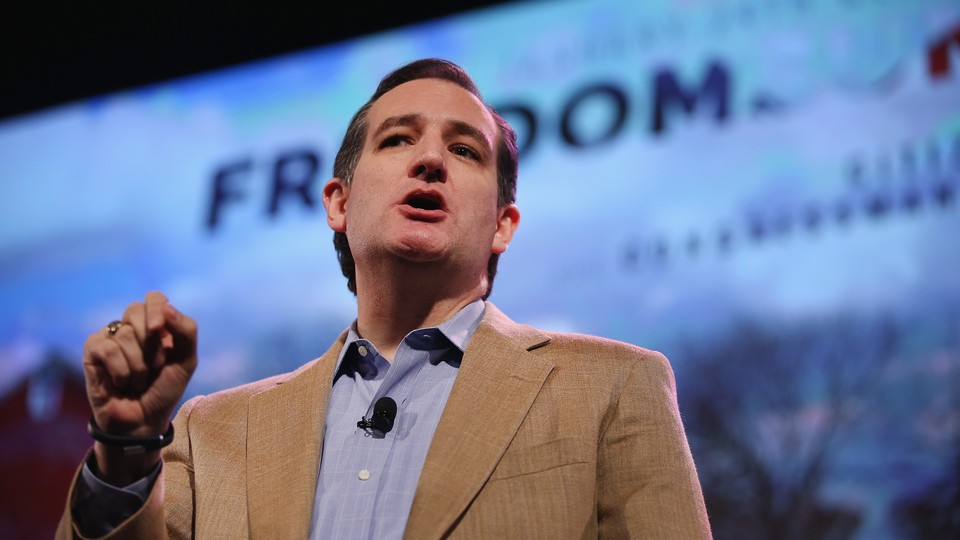 In a packed room on Capitol Hill last week, the distinct energy of kids hummed. Wearing the yellow scarves emblazoned with "National School Choice Week" that had been carefully placed on every chair, they laughed, dropped papers, tied their shoes, and not-so-discreetly whispered to each other while lawmakers such as Rep. John Kline of Minnesota and Rep. Tim Walberg of Michigan spoke to the audience about the importance of school choice.
But when Sen. Ted Cruz took the stage, the buzz quieted. Parents, who had assembled to celebrate the 5th annual National School Choice Week, were rapt. And the kids—for the most part, at least—stopped whispering.
"In 1963, Dr. King stood at the Lincoln Memorial and promised justice for all of our children," the Texan told the rows of kids and adults crammed in the grand chamber. "School choice is the civil-rights issue of the 21st century."
The audience clapped approvingly. They supported school choice, the idea that parents should have a menu of different schooling options for their kids, from traditional public school to private school to charter school. On the stage behind Cruz, kids held up signs proclaiming "Parents Know Best!" and "Choice Means Hope!" For them, school choice was a catchall for a better education.
In conservative circles, "school choice" is often a substitute term for the expansion of charter schools and vouchers, where parents can use public-school tax dollars to send their child to a private institution. The next day, Cruz would announce his cosponsorship of fellow GOP Sen. Mike Lee's Enhancing Educational Opportunities for All Act, which would implement a voucher-type program for low-income students, among other education reforms. After Cruz's brief remarks, kids jumped out of their seats to shake his hand as he walked by. One even snapped a photo on her phone.
Framing school choice as not just a civil-rights issue, but as the civil rights issue is a way for Cruz to start to break into the minority and African-American voting blocs that he'll likely need to bring into the GOP fold if he wants to prove he has a big enough coalition to win the White House in 2016. And while the rhetoric played well in a roomful of curated supporters in Washington, the strategy will work only if those voting groups actually agree.
Cruz isn't the first to draw comparisons between the modern civil-rights movement and the push for school choice. It's becoming a favored phrase in the conservative lexicon: Speaker John Boehner and Republican National Committee Chairman Reince Priebus have used similar language. Despite its popularity, though, the validity of the claim that school choice is the ultimate civil-rights issue of our time—compared with the broader picture of civil rights in this country—is ambiguous.
Dennis Parker, director of the Racial Justice program at the American Civil Liberties Union, told National Journal that while access to education is crucial for the future of the country, school choice alone is too narrow a lens with which to view complex education disparities.
"Education is at the core of civil-rights issues in the next century, in the next decade," he said. "I wouldn't reduce it to just the question of school choice, because I don't think that choice automatically equals high-quality education. It's a much more complex issue than just whether or not parents and school children can choose schools. It has more to do with the availability of resources to kids wherever they go to school. It has to do with a recognition of the interconnection between housing issues and school issues and a whole range of opportunity issues."
Even Andrew Campanella, the president of National School Choice Week, demurs. Because he "has never gone through any of the struggles in this country personally for civil rights," he doesn't feel comfortable making the comparison.
"I'm going to let others characterize this issue in terms of civil rights, because they're more qualified to talk about it than I am," he told National Journal. "I just view it through the lens of, this is essential for kids achieving the American Dream."
Rev. Marshall Hatch, pastor at the New Mount Pilgrim Missionary Baptist Church on Chicago's West Side and a charter-school advocate, agrees. Of the myriad other civil-rights problems facing the country—immigration, affordable housing, poverty, income inequality—high-quality education is at the core "when you boil it all down," he told National Journal.
Hatch considers himself a Democrat. But after sitting on the board of a charter school in Chicago with Bruce Rauner, Hatch threw his support to the Republican in the Illinois gubernatorial race, which Rauner won last fall. The GOP, Hatch said, is using the issue of school choice to appeal more to communities like his.
"The Republicans in general are kind of scrambling, trying to see how they can broaden their party," he said. Minority communities should take advantage of it, he said, and shouldn't be beholden to one party.
But Hatch doesn't have confidence in Cruz as the point man for that undertaking. And he bristles at the Texas Republican's invocation of the civil-rights movement. "He's too far to the right to be a credible voice talking about civil rights in the 21st century."
Of the Republicans in the crowded 2016 field, Hatch said African-American communities wouldn't accept Cruz, an "incendiary" Republican, as the standard-bearer of something so crucial to their future. But he's been pleasantly surprised by Sen. Rand Paul's outreach to the black community. On mass incarceration, sentencing disparities and prison reform, all-too familiar roadblocks for African-Americans, Paul has been "very engaging," he said.
Former Florida Gov. Jeb Bush, too, has strived to welcome minorities into the Republican fold, announcing important steps in his exploration of a presidential run in Spanish as well as English. Sen. Marco Rubio of Florida could also have an edge with minority voters, given his compelling personal background and his 2013 push for immigration reform.
To compete, Cruz has painted himself as following in the footsteps of Martin Luther King Jr.
"One of Sen. Cruz's greatest passions and goals is to see low-income children across this nation have the same opportunity to receive a good education as all other children," Cruz spokeswoman Catherine Frazier told National Journal in an email. His mission, she said, is "not unlike that which Dr. King and many civil-rights leaders fought to achieve during the civil-rights movement of the 1960s, to secure equal opportunity for African-Americans. This is the most important effort to securing a promising future for all American children, regardless of race or ZIP code."
But no matter how much Cruz likens his mission to those of civil-rights luminaries, he'll have a tough time making the case that he's the messenger people most affected by school choice say they are looking for—regardless of the veracity of his claims.